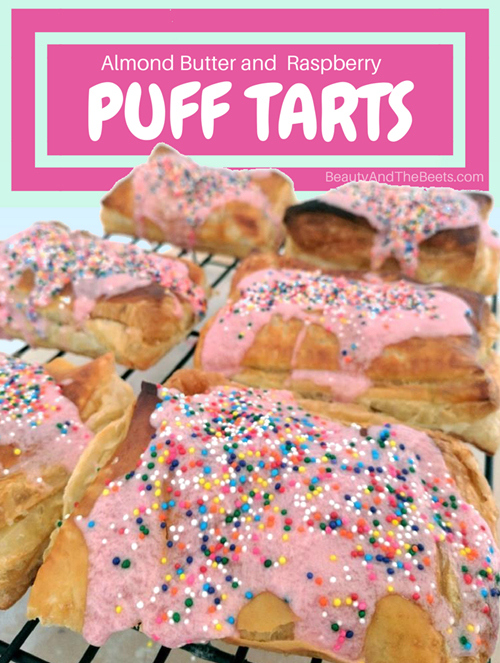 There's two camps to breakfast pastries, those who love pop tarts and those who love toaster strudels. One is a dense pie-like crust with frosting while the other is of a flaky texture with an icing drizzle. So why can't a girl have both, at the same time? Why do I have to choose? I made Raspberry Puff Tarts.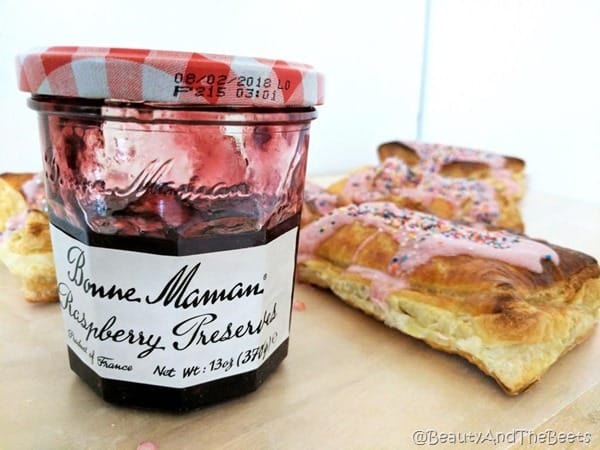 With Mother's Day fast approaching, I am searching for a recipe that is easy for the family to make, to serve Mom breakfast in bed.
I was also asked to create a recipe using Bonne Maman Raspberry Preserves so I found this to be the perfect opportunity to create my Puff Tarts. This particular project was exciting for me as I have been a long time fan of Bonne Maman products. First of all, their jellies and preserves are made in France without high fructose corn syrup, no artificial coloring and no preservatives.
My jar of raspberry preserves contained only ingredients I can pronounce including raspberries, sugar, cane sugar, and lemon juice.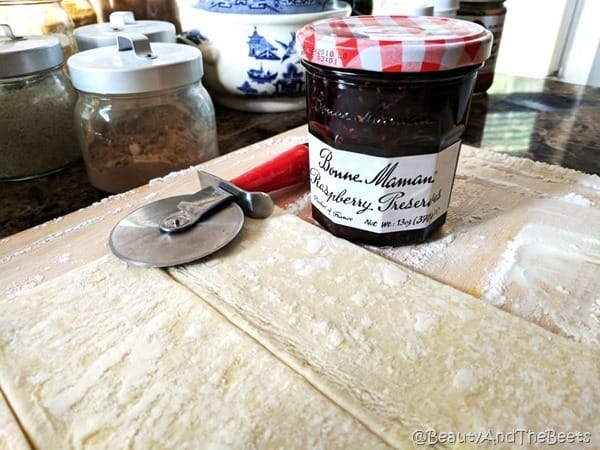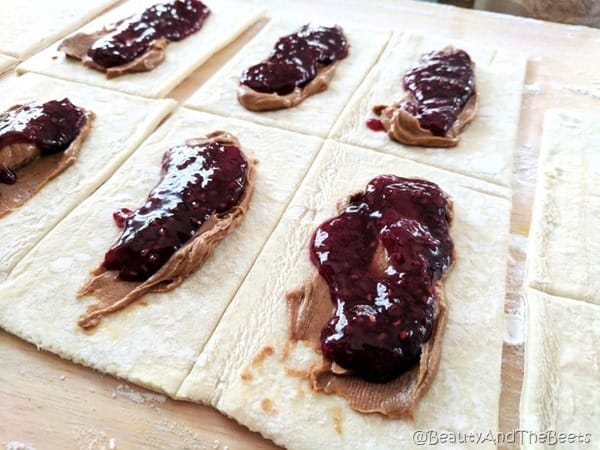 This was my first time working with puff pastry and I am surprised how easy it was to work with. There was no need to be rolling out dough or pie crust, I simply cut the thawed dough into the size I wanted my puff tarts to be and added the filling. I used almond butter along with my Bonne Maman Raspberry Preserves (mixed with a little cornstarch to thicken it slightly.)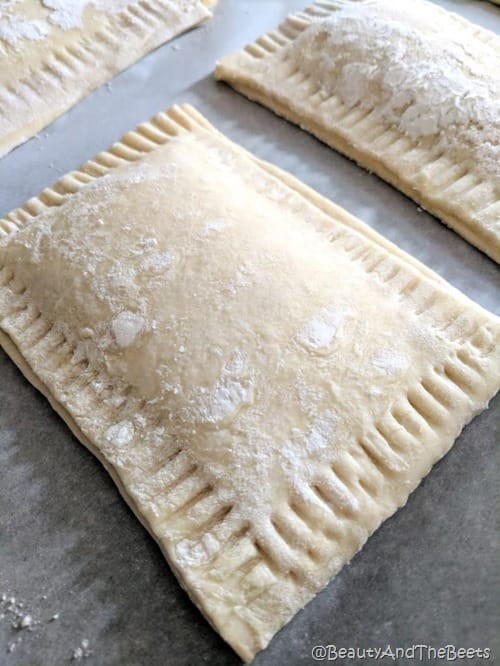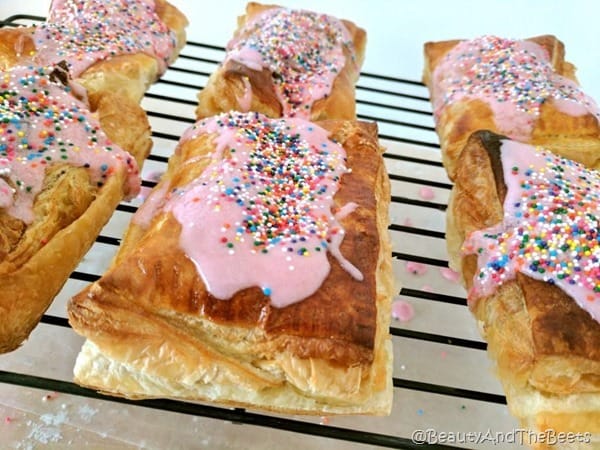 I then added another puff pastry on top of my fillings and used an egg mixed with water to create the "glue" to hold the tart together. Fifteen minutes in the oven, add some icing and my puff tarts are ready to go.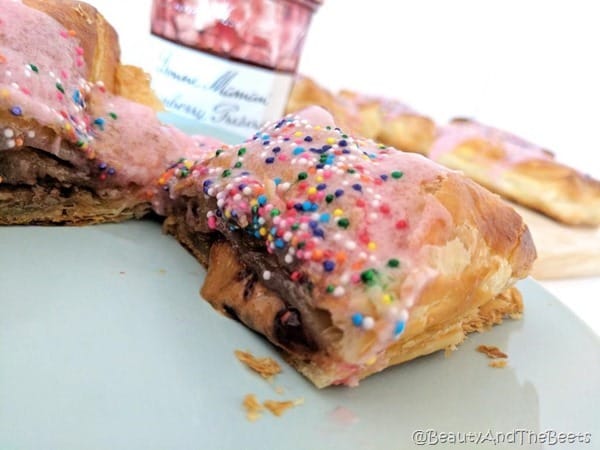 My icing is nothing more than a mix of a little butter, powdered sugar, heavy whipping cream and some beet juice for color. Breakfast has been served. I present to you Raspberry Puff Tarts.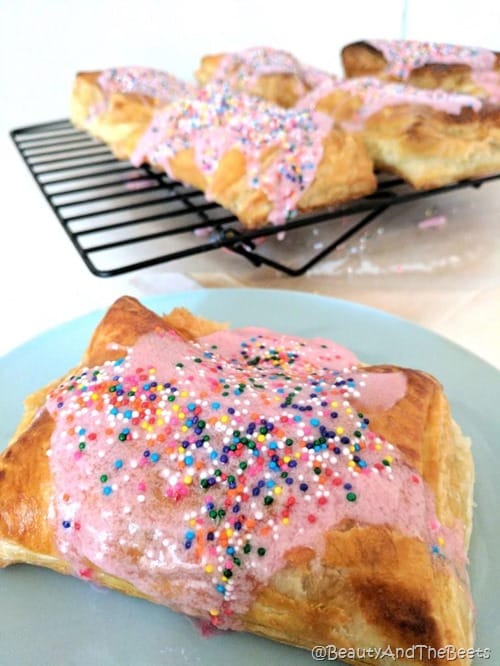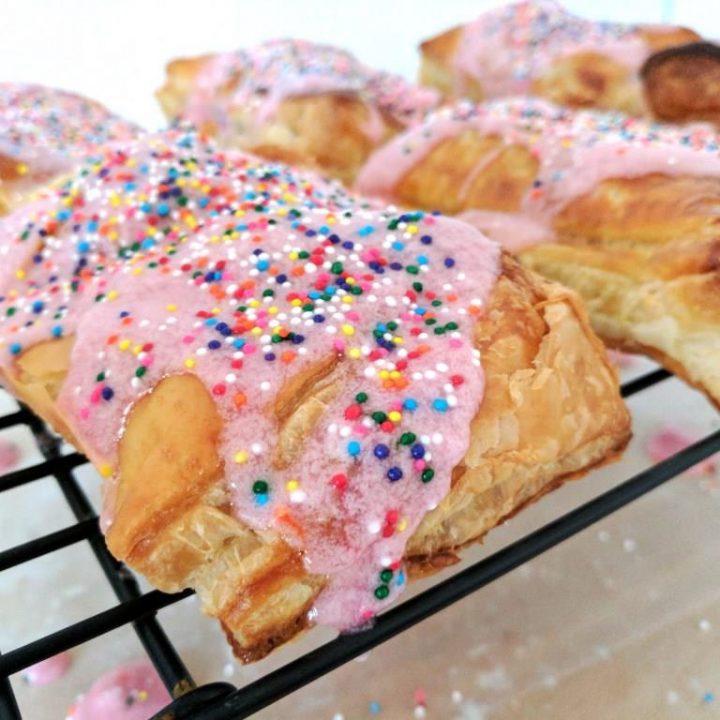 Almond Butter and Raspberry Puff Tarts
A cross between the pie-like crust of a pop tart and the light flaky layers of a toaster strudel.
Ingredients
For the Puff Tart:
2 sheets puff pastry,, thawed
1/2 cup Bonne Maman Raspberry Preserves
2 tsp. cornstarch
1 large egg
1 tbsp. water
For the frosting:
2 tbsp. butter, melted
1 cup powdered sugar
2 tbsp. heavy whipping cream
1 1/2 tbsp. juice from a can of beets, optional, for color
Sprinkles, optional, for garnish
Instructions
Preheat oven to 375° Line a large baking sheet with parchment paper.
In a medium bowl, combine the raspberry preserves with the cornstarch.
In a separate bowl, whish together the egg and the water.
Unroll one sheet of the puff pasty on a lightly floured surface. Cut the pastry sheet into 6 equal rectangles. Carefully place the rectangles on a separate plate and set aside.
Unroll the second shhet of the puff pastry on a lightly floured surface. Again cut the pastry into 6 equal rectangles.
On each rectangle, spread an equal amount of the almond butter down the center of the pastry. Add the raspberry preserves mixture equally to the tp of each row of almond butter.
Using a pastry brush, brush some of the egg mixture along the edge of each rectangle with the almond butter and jelly, then top with one the pastry rectangles that were set aside. Repeat with each pastry until you have 6 puff tarts ready to be baked.
Using a fork, gently pressed the sides of each rectangle to secure the top and bottom pastry. Brush the tart tops with the remaining egg mixture.
Bake until golden brown, 15-20 minutes.
Transfer the puff tarts to a cooling rack and allow the puff pastry to fall and cool.
While the puff tarts are cooling, combine all the frosting ingredients in a bowl and stir until smooth and well combined. (use a whisk if neccessary)
Spread some frosting onto each puff tart and decorate with sprinkles if desired.
Serve immediately or store in the fridge until ready to enjoy.
Pin this recipe for later:

And here is a contest for a chance to win over 1000 prizes from Bonne Maman including a 12-piece cookware set.


*I have been compensated for the creation of my recipe and collaboration with Bonne Maman. All opinions are my own and your support is greatly appreciated.*