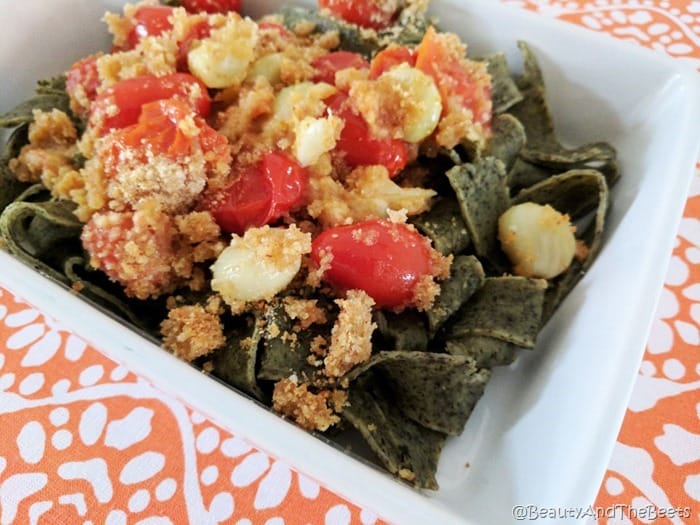 My favorite food is Brussels sprouts. It's true. The other food I love is roasted tomatoes. Whether slow roasted, parmesan roasted, or roasted in a casserole, roasted tomatoes are truly magical.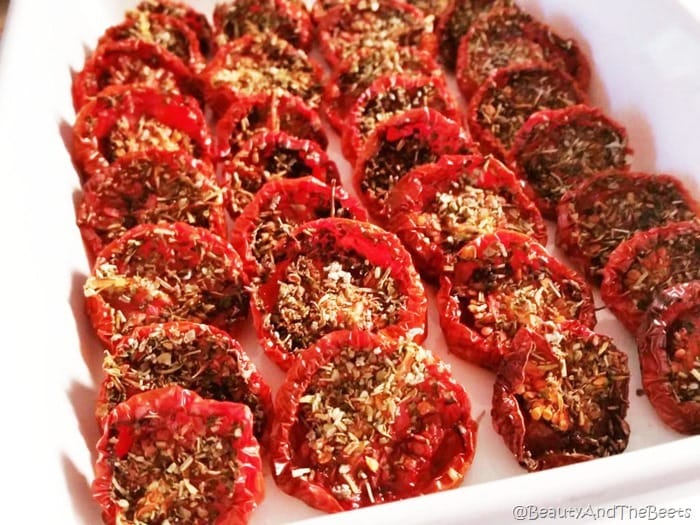 And healthy. The anti-oxidants found in tomatoes are significantly boosted when the tomatoes are heated. Pair roasted tomatoes with roasted garlic and you become a cancer-fighting, karate cancer-chopping machine! Roasted garlic is filled with potent anti-cancer compounds as well.
Mr. Beet and I tend to eat a lot of pasta. We love buying fresh pasta at our local Farmer's market, or we experiment with spinach, black bean or the chick pea versions we find at the grocery store. White flour pasta is boring to us anymore. And so is topping pasta with a jar of store bought tomato sauce. First of all, the sugar alone in those name brand sauces is enough to raise your sugar intake to a dangerous level. However, making your own sauce, while healthy, can be time consuming, and who has time for that?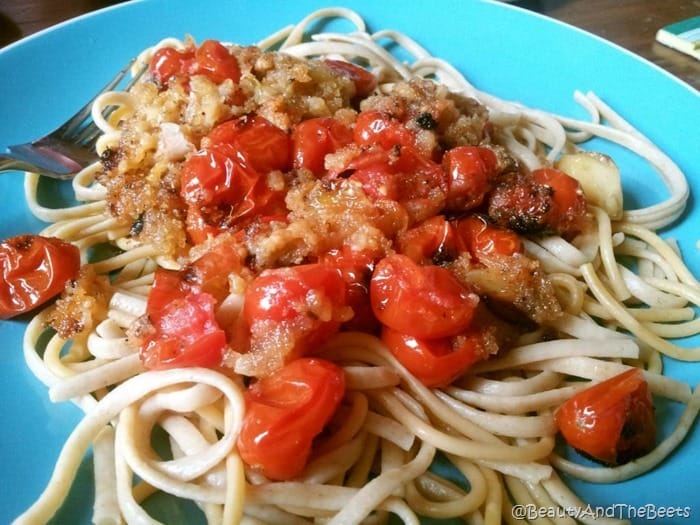 You give me 20 minutes in the kitchen, and I will give a healthy roasted tomato and garlic pasta to knock your socks off. First of all, you are using fresh tomatoes, not canned. Second of all, while most breadcrumbs do have some sugar, you can control how little or much you use. It would be easy enough to omit the breadcrumbs all together here and the taste would still be delicious.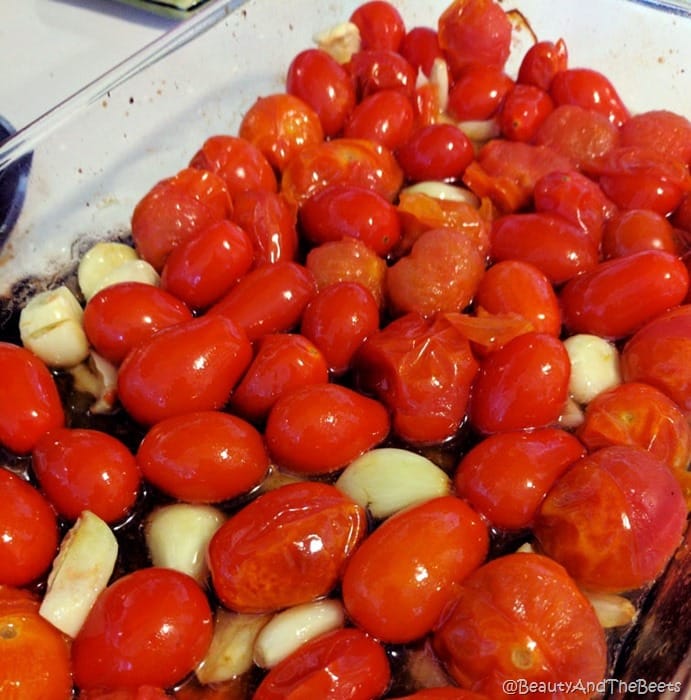 Get your tomatoes and garlic roasting in the oven, then cook your pasta and everything will come together at the same time.
I love how the roasted tomatoes become soft and blistered, how they practically melt in your mouth. And I love how sweet they become on their own…without adding any sugar. And I love how this all comes together with 5 ingredients. Just sayin' …..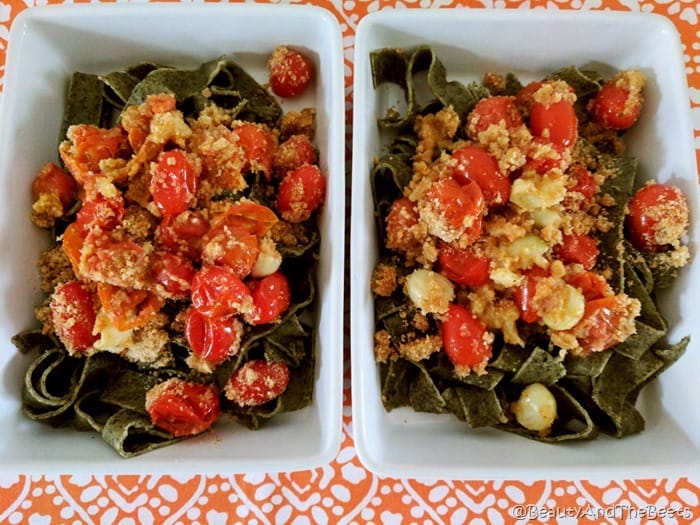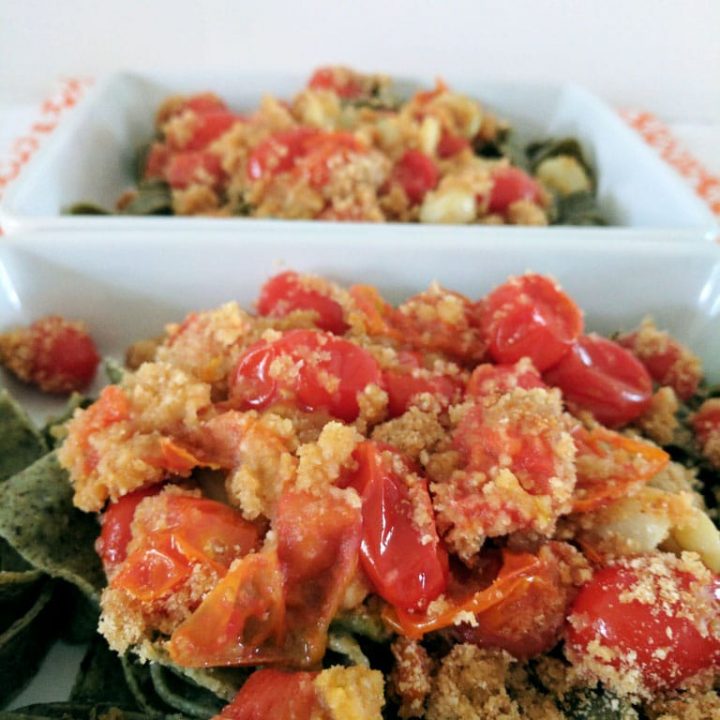 Roasted Tomato and Garlic Pasta
Ditch the store bought sugar filled jars of pasta sauce. Give me 20 minutes and 5 ingredients, and you will have a healthy pasta dish with roasted tomatoes and garlic.
Ingredients
8 ounces pasta,, enough for 4 servings, any type or flavor
1 lb. cherry tomatoes
olive oil,, for light drizzle, roughly 2 tbsp.
6-8 cloves garlic
1/2 cup Italian breadcrumbs
2 tbsp. freshly grated parmesan
Instructions
Preheat oven to 450°
In a 13x9 baking dish, add the tomatoes and garlic in a single layer. Drizzle olive oil lightly over the tomatoes.
Bake tomatoes in the oven for 15 minutes, until the tomatoes begin to soften and wrinkle.
While the tomatoes are roasting, cook the pasta according package directions.
Mix the breadcrumbs and parmesan in a bowl. Sprinkle mixture over the tomatoes and cook another 5 minutes.
Divide the pasta amoong 4 serving plates, and top each pasta plate with a scoop of the roasted tomatoes and garlic.
Serve immediately.
Pin this recipe for later:

What do you like to top your pasta with?