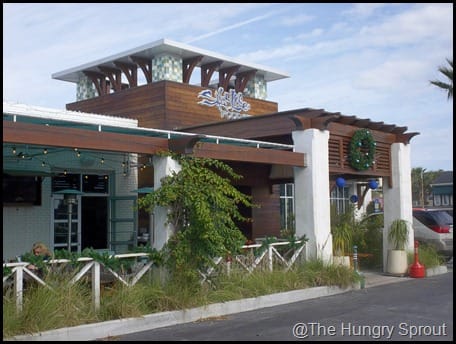 Driving around the Jacksonville area it seems that every third car is plastered with a "Salt Life" sticker.  Salt Life was just a brand of T-shirts, stickers and surfing gear until they branched out into the restaurant business in 2009 opening the Salt Life Food Shack in Jacksonville Beach.  I think they did good.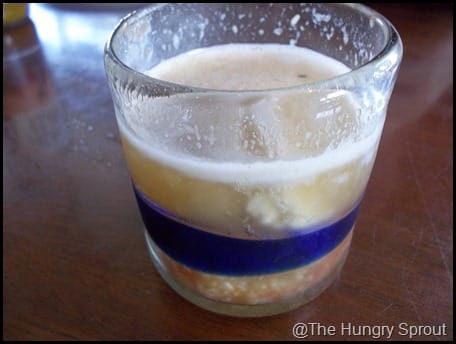 The first thing I saw online when I was doing my research for this place was their one dollar oyster shooters.  A raw oyster in beer, cocktail sauce and a little horseradish.  The idea is to swig it back like an alcoholic shot but in my case my oyster was enormous and it was physically impossible to throw that back (yes- even with my big mouth it couldn't be done.)  Not that I didn't enjoy it- I just fished out the oyster, swallowed that first then choked back the cocktail concoction.  And it was so tasty I probably could've have ordered 20 more.  However, I had my eye on one thing listed on the menu- the Soft Shell Crab BLT.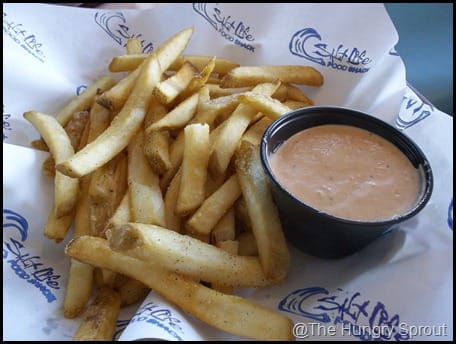 But first, we opted to order the Shack Fries as an appetizer.  They were cooked just right, seasoned perfectly and served with a cilantro lime red pepper aioli that I could have eaten straight with a spoon.  The idea was to order the fries so that we could enjoy them with our sandwiches (which are served solo) but we didn't have any fries left when we got our entrees. (You can order a side of fries to arrive with your sandwich but we didn't go that route.  Shame on us for devouring those tasty little potato slices so quickly.)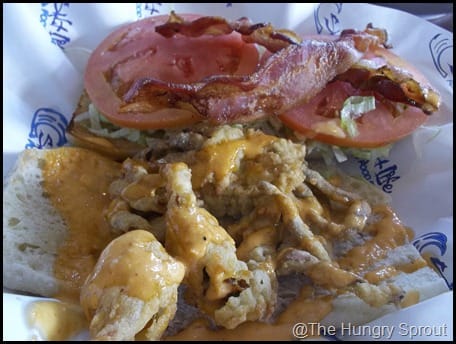 When my Soft Shell Crab BLT arrived I thought that maybe the crab itself was a little skimpy.  I was actually surprised that once I put the sandwich together I had a bit of crab in every bite.  It was very tasty- nothing was too overpowering to ruin the whole sandwich.  It really was a perfect balance.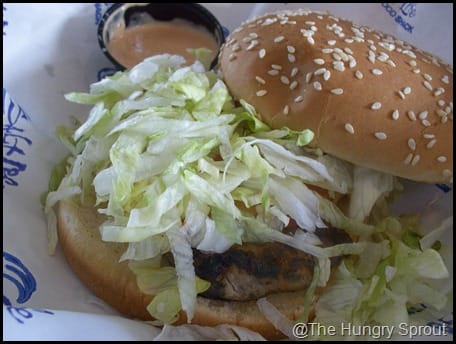 Chad had ordered the Woodgrilled Fish Sandwich and on the day we were there the fish was Mahi Mahi.  It was served with a side with their homemade red pepper aioli which added just a slight kick to the sandwich but didn't make it too spicy.  It was a great dish- not soggy, not too spicy and very flavorful.
The menu is very unusual for a beach food "shack" – there are a few sandwiches I will have to go back and try like the tuna burger and the grilled veggie sandwich.  They also serve ribs, pasta and "poke" bowls which appear to be fish, rice and veggies bowls.  So now I have a Salt Life food bucket list.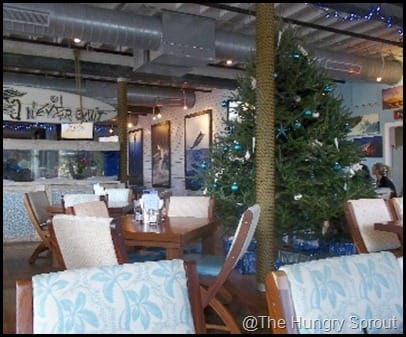 Pulling up to this food "shack" it looks very much like a typical chain type restaurant but once you step inside you realize it really isn't. Bright seaside colors and décor adorn the walls, a huge fish aquarium separates the bar from the rest of the tables and huge expansive windows allow you to view life and the sunshine outside. There is also an outdoor area with picnic tables, heat lamps and a fire pit for those cold Florida evenings.
I thought this was going to be a gimmicky restaurant riding the coattails of the well known brand of T-shirts and stickers but I was very wrong.  They have done an incredible job of establishing a great dining experience from the décor to the menu- I give this joint 5 out of 5 sprouts.  Let's hope the Salt Life Food Shack keeps it up for my next adventure.
Here is the Eat Drink and Be Salty website- Salt Life Food Shack