In this case the Savannah Marathon was a bust..well sort of….I was planning on completing my first half marathon (notice I used the word completing as opposed to running.) Unfortunately, I had been battling the flu the few days before so we decided it was best that I don't run/walk/over-exert myself. Chad was running his second FULL marathon.  We drove up to Savannah Friday night -stopping at Cracker Barrel for some pre-race fuel then we checked into the hotel and got some sleep.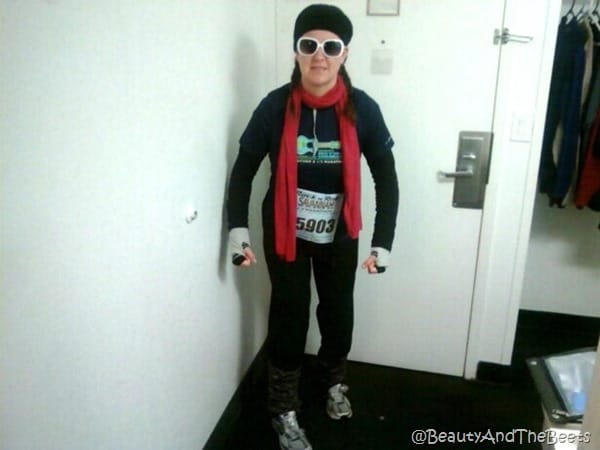 4:45am came REALLY early- we got up and dressed appropriately for the 47 degrees we were about to endure at the race start….well..some of us dressed appropriately- others dressed like a crazy man about to run 26 miles….in 47 degree weather…I had my race number on and was ready to go just in case I decided to give it a go- but my scratchy voice and persistent cough were enough make me decide to just gracefully accept my fate…..
There were over 23,000 participants in this inaugural event – we thought parking in downtown Savannah was going to be a nightmare but it really wasn't bad.  We had plenty of time to park and make it to the race start.  I saw Chad off…….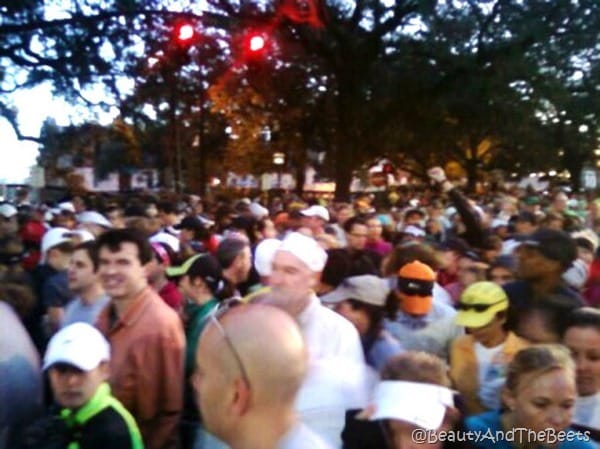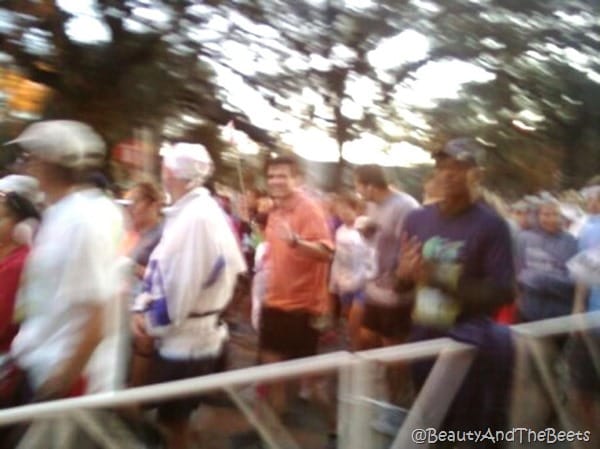 Well, now I had 4 hours to kill in downtown Savannah..what could I do in the middle of Savannah at 7am that would not require large amounts of physical exertion………..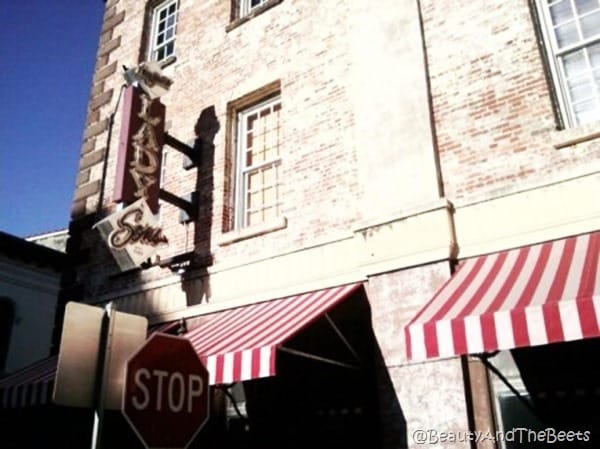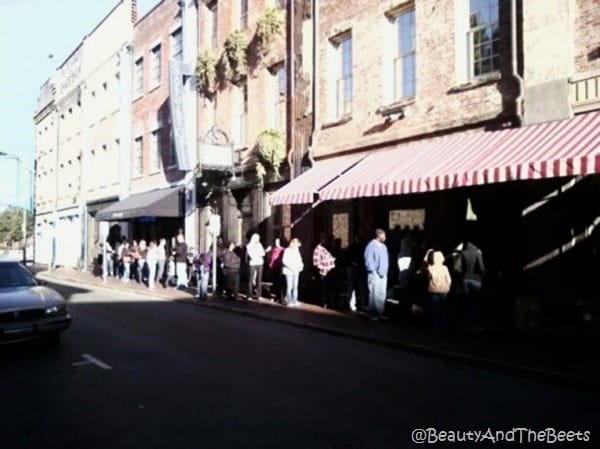 But of course!  Stand in line at The Lady and Sons for that highly coveted dinner reservation.  I was #2 in line – at 7:30 the line was getting bigger- and they don't even start taking reservations until 9:30am.  Apparently, the only way to get into this popular Paula Deen joint is to stand in line the morning of your desired fried butter meal…they do not take reservations over the phone unless you are a group of 200 million or larger….
OK- 7pm dinner reservation for 2 – check….after 2 hours of standing in line I still had 2 hours to kill before Chad was going to cross the finish line…what to do…what to do….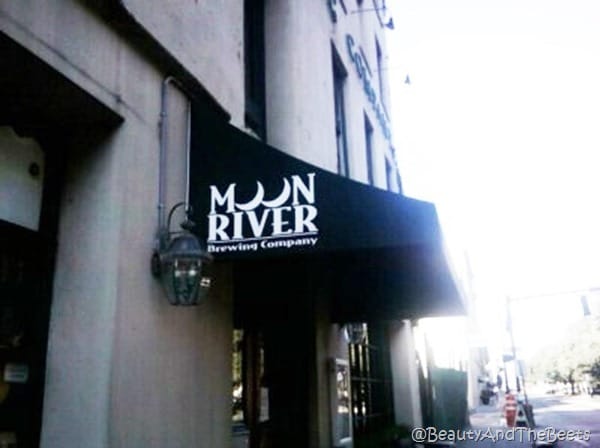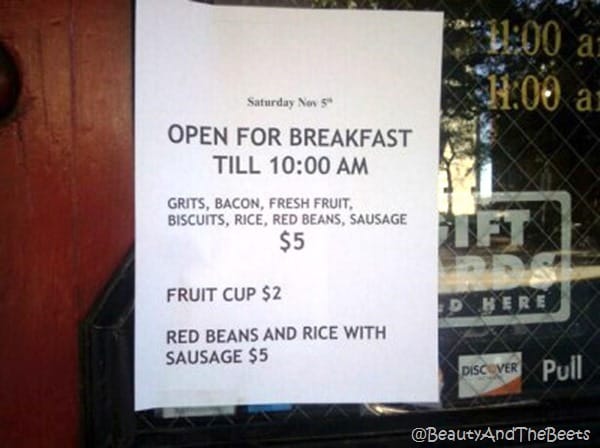 Oh yay!!  REAL southern food – I ducked into this place and ordered this $5 Southern heavenly breakfast – I added a cup of orange juice and had a very very tasty meal – grits, bacon, red beans, rice and sausage -PERFECT for my vegetarian diet – and it was soooo good…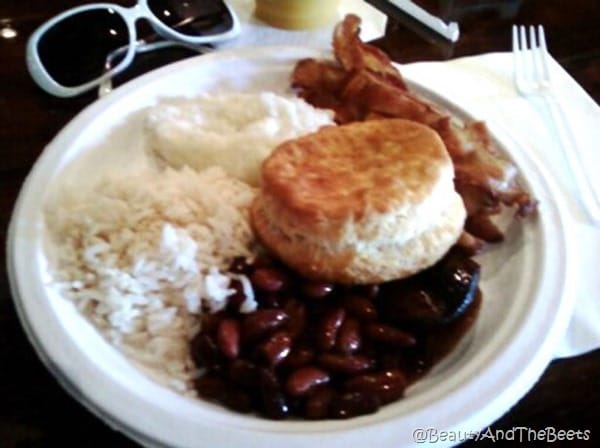 (Look – I never claimed to be a vegetarian – I try to eat mostly veggies and other plant based foods- but come on!  I am in SAVANNAH and all bets are off- wait until you get to the fried butter, sauteed butter, baked butter….we will get to that later….)
I met Chad at the finish line- he did very well – he even beat his last marathon time – but he was tired.
We went back to the hotel so Chad could rest his poor weary limbs – I allowed him a few hours of rest and then……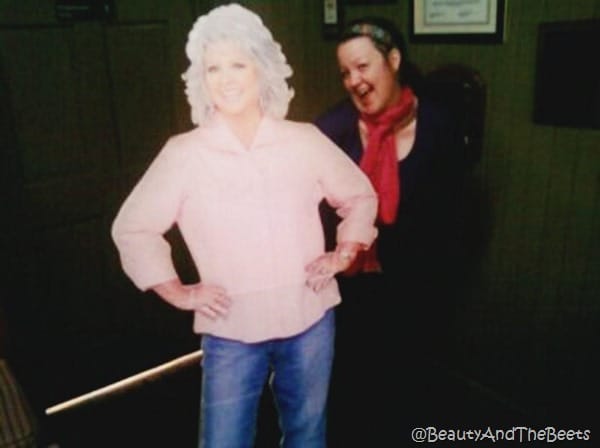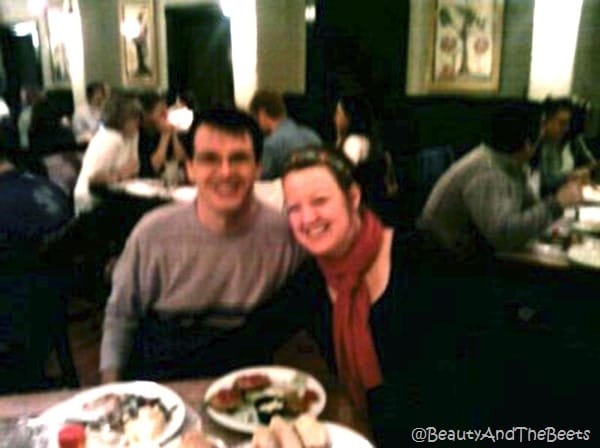 Time for Lady and Sons!!! – we were sat promptly at our 7pm reservation time up on the third floor – the place was so romantic even though we were surrounded by 150 of fellow hungry people-
Chad opted for the Southern buffet- he chose some of the veggie and bean dishes even though they were covered in butter and oil (remember- we were in Savannah and all bets and diets were off)  I opted for the fried greentomato appetizer which Chad and I split and then I got the crab stuffed portabello appetizer as my entree – it was HUGE and sooo delicious…..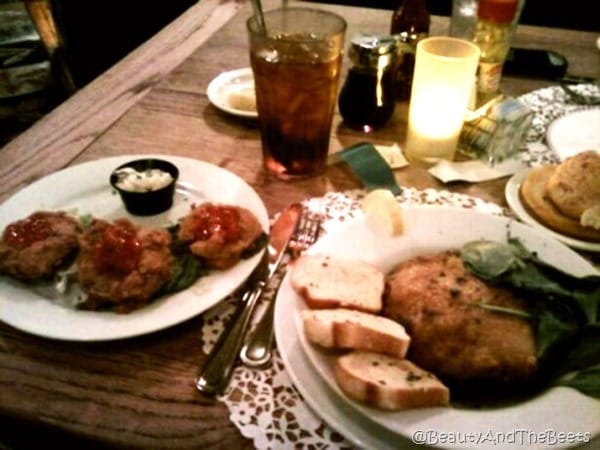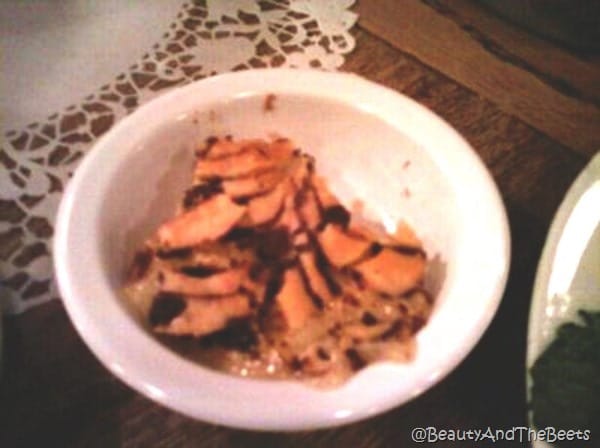 We loved the Ooey Gooey Butter Cake.
The iced tea was really good too – I ordered the unsweetened (I know- very UN Southern of me but something had to counter balance all that butter….) The tea was served with fresh mint leaves…I did not need to add any sugar..the mint leaves added a perfect hint of sweet and spicy….
I am so happy to have finally had the opportunity to experience Lady and Sons – but of course no trip to Paula Deen's restaurant would be complete without a visit to the Paula Deen store that was so conveniently attached to the restaurant……and I found LIP BALM!! Egg Nog, Pecan Pie, Pumpkin Spice and of course BUTTER flavored lip balm! I had to stock up!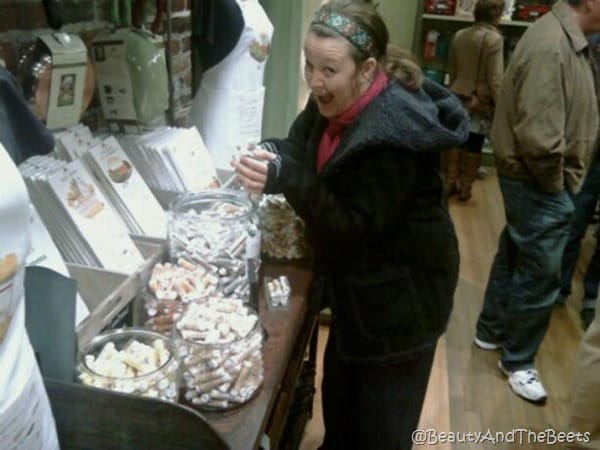 The next morning we checked out of the hotel and headed to River Street to find some grub.  One of my favorite places to eat in Savannah is a place called Huey's On The River. I have eaten here many times on previous visits and I told Chad about this place and "we HAVE to go there" ever since we booked this trip.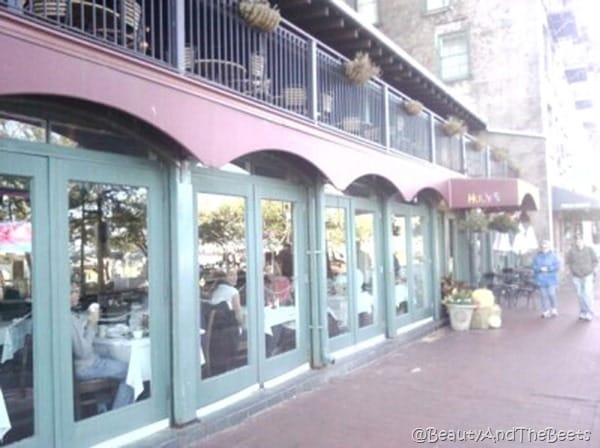 But we forgot about the other 23,000 other runners who were also in town and hungry…so we decided to find somewhere that didn't have an hour wait. Huey's was the only place in the area serving breakfast until 3pm so we had to forget about breakfast and just find lunch. Just a couple of storefronts down on River Street was a place called The Cotton Exchange – there was no line- perfect! We were seated on the second floor at a corner table with a big window facing River Street and the Savannah River. I immediately spotted a soft shell crab appetizer on the menu and had to order that even before I ordered my iced tea. The iced tea- by the way- was not served with fresh mint leaves however- it WAS served over crushed ice- a major win! For lunch Chad and I decided to split the fried green tomato BLT sandwich (shouldn't it be BLFGT? I mean fried green TOMATO BLT seems a little redundant doesn't it?) – Chad had also ordered the onion soup. All of it was delicious!!  By the time we finished lunch we saw crowds of people standing outside our restaurant waiting for a table…..whew!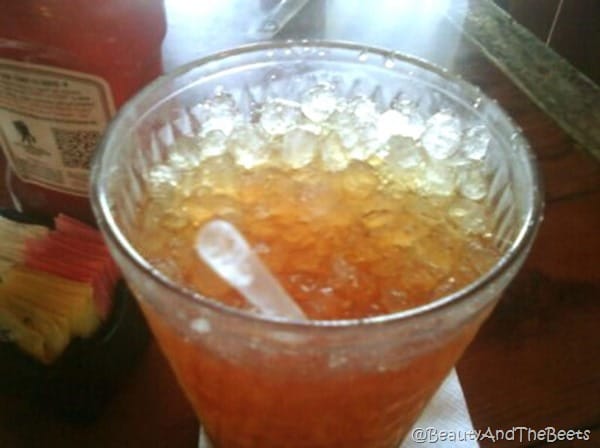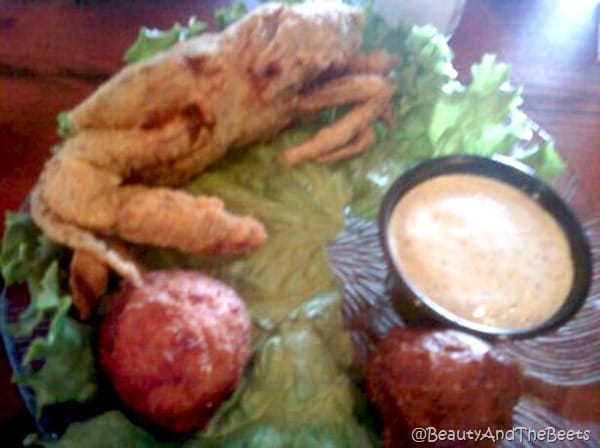 After lunch we walked up to the Savannah Candy Kitchen – a place I have been to many times before – this place has got to be an icon in Savannah – it's about four store fronts long and there is a toy train that runs the length of the store just above the heads of the candy addicted patrons…..We did find this cute "turkey" caramel apple –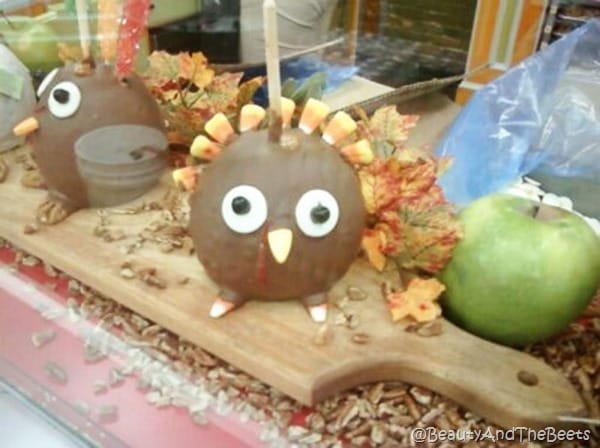 There a lots of these very steep stone steps to get down to River Street from the city. WOW- I mean VERY STEEP…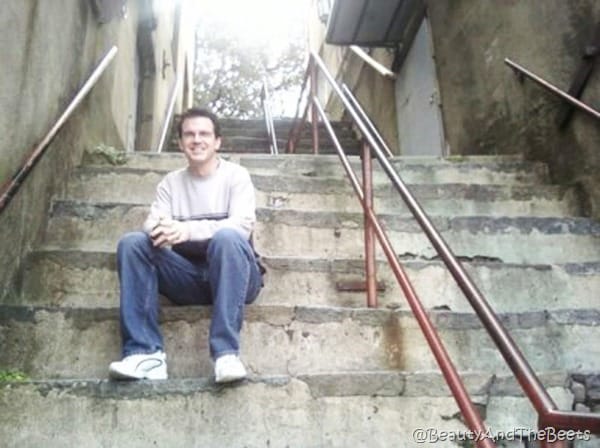 On the way out of Savannah we made a stop at the Bonaventure Cemetery just south of town – this is where  my grandparents and two uncles are buried. We picked up some flowers at a nearby florist and walked over to the gravesite- so breathtaking there- this is the cemetery that was used for the backdrop of the Midnight in the Garden of Good and Evil.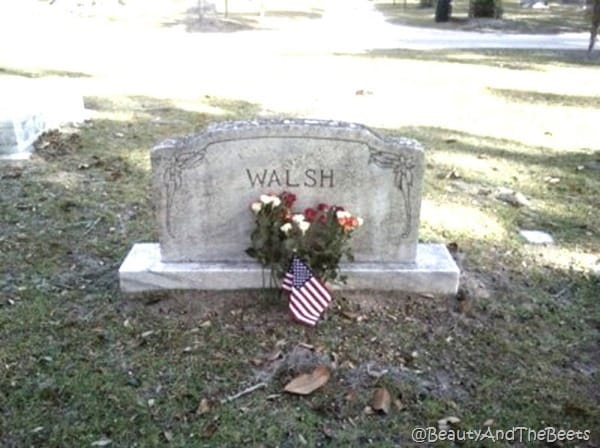 So next time Savannah, I won't be sick and I can run through your streets! Thanks for stopping by!