Ah- the Holiday Season is upon us- what a better time to enjoy a nice cup of….F-F-FROZEN HOT CHOCOLATE??? Perhaps this would be better enjoyed on a hot summer day but Serendipity 3 is a tourist staple in New York City and there are plenty of tourists wandering around New York this time of year- so here are my two cents.
Heavenly. Majestic. Tasty. There is a reason frozen hot chocolate is so popular here year 'round- because it is delicious and rich and everything you would expect a cup of hot cocoa to be- only frozen.
There are a few versions of the frozen concoction- the two most popular being the simple frozen hot chocolate and also a peanut butter version. We tried both.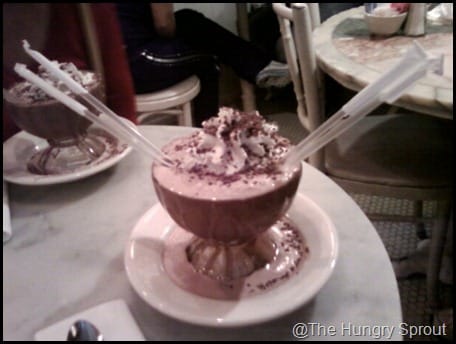 First of all- the drink comes out a mess. All dripping out of the glass and all over the underplate- and it is big and comes with a zillion straws so you can share with the next table over.
D-I-V-I-N-E! Somehow- as messy as it is it just adds to the charm.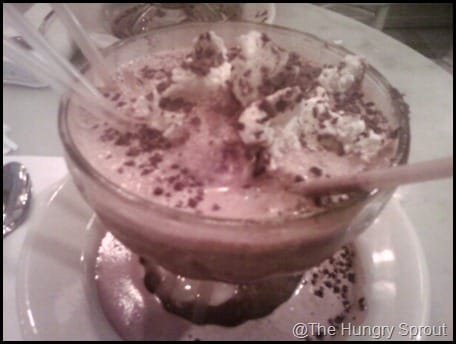 And no- it does not taste like a chocolate milkshake. It tastes like frozen hot chocolate. Almost a malty, smoky flavor. I don't know how else to describe what hot chocolate tastes like except that it doesn't taste like plain ol' chocolate milk, right?
The best part of it is that it doesn't taste like they threw a cup of hot chocolate into a blender and added ice- it is just really hard to explain. You just have to try it for yourself. It is so rich and filling and satisfying……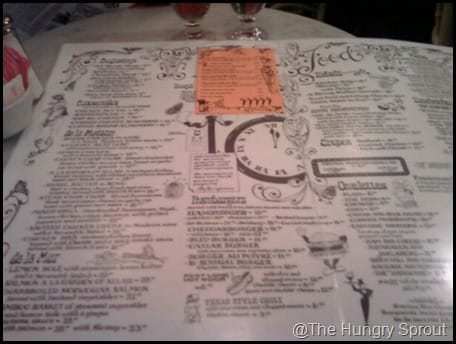 There is an entire menu of food at Serendipity 3 ranging from burgers to pasta to crepes. I am not going to lie- we only went there for the f-f-f-frozen hot chocolate. If you are planning on having a full lunch you can make reservations- if you are only going to use them for the f-f-f-frozen hot chocolate you will have to wait in line. When we had gone I don't think we had to wait more than 10 minutes. I think no matter what the wait it is worth it. I have had the opportunity to try frozen hot chocolate elsewhere (Dunkin' Donuts served frozen hot chocolate for a brief time) but it has just never been quite the gem that Serendipity III offers.
There is also a movie called "Serendipity" that begins right here in this very establishment. Just saying….It may be a novelty in New York City but it also well worthy and memorable. Someday I am going to visit their other two locations- one in Ft. Lauderdale and the other in Las Vegas. I can only base my sprout rating on dessert here- but I give it 5 out of 5 sprouts.