Why wouldn't you? Why would you not go to Serendipity 3 while in NYC?
FROZEN HOT CHOCOLATE….need I say more? Our favorite hot drink in the winter can also be enjoyed in the summer.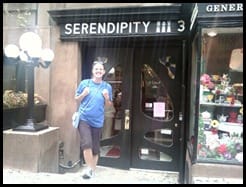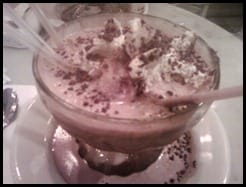 FROZEN hot chocolate you say? You may ask " isn't this just a chocolate milkshake?" The answer is no…..no…..NO!
You have probably had hot chocolate and you have probably noticed a certain flavor- a truer cocoa flavor. Hot chocolate or hot cocoa as it sometimes referred to is traditionally made with melted chocolate shavings and cocoa powder (while a chocolate milkshake is usually made with a chocolate syrup and ice cream- there is no ice cream in frozen hot chocolate). There is a reason why Serendipity III is well known for frozen hot chocolate. They capture that "hot chocolate" flavor.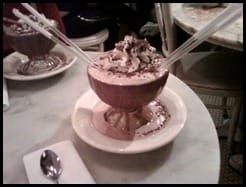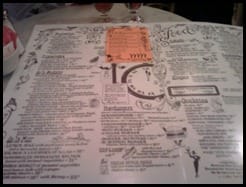 Serendipity III has a regular menu of salads, steaks, seafood and burgers (including a black bean burger, a vegetable steak burger as well as an all-vegetable chili) but they are definitely famous for the frozen hot chocolate. But be prepared- the drink is served with 4 straws for a reason- it is a HUGE serving. They offer many versions but in my opinion the original is the best. (But the peanut butter version is really good too).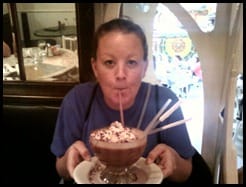 This establishment is known as the basis of the movie "Serendipity" with John Cusack and Kate Beckinsale – but really….it is better known for the frozen hot chocolate. I have tried other places that have frozen hot chocolate and really- it is just a chocolate shake- I've yet to find a place that even comes close to Serendipidity III.
************************************************
Well if you can't get to New York then here is a recipe from Paula Deen for frozen hot chocolate-
Ingredients
3 ounces best-quality chocolate (or a variety of your favorites)
2 teaspoons store bought hot chocolate mix (recommended: Serendipity Frozen Hot Chocolate Mix)
1 1/2 tablespoons sugar
1 1/2 cups milk
3 cups ice
Whipped cream, for garnish
Chocolate shavings, for garnish
Directions
Chop the chocolate into small pieces and melt in a small heavy saucepan or in the top of a double boiler over simmering water. Stir occasionally until melted. Add the hot chocolate mix and sugar, stirring constantly until blended.
Remove from heat and slowly add 1/2 cup of the milk, stirring until smooth. Cool to room temperature.
In a blender, place the remaining 1 cup of milk, the chocolate mixture, and the ice. Blend on high speed until smooth and the consistency of a frozen daiquiri. Pour into a giant goblet and top with whipped cram and chocolate shavings.
************************************************
If you can make it to New York City check out Serendipidity III –
225 East 60th Street
between 2nd and 3rd Avenues
New York, NY 10022
(There are also locations in Miami, Las Vegas and Washington,DC)
CHOW!!