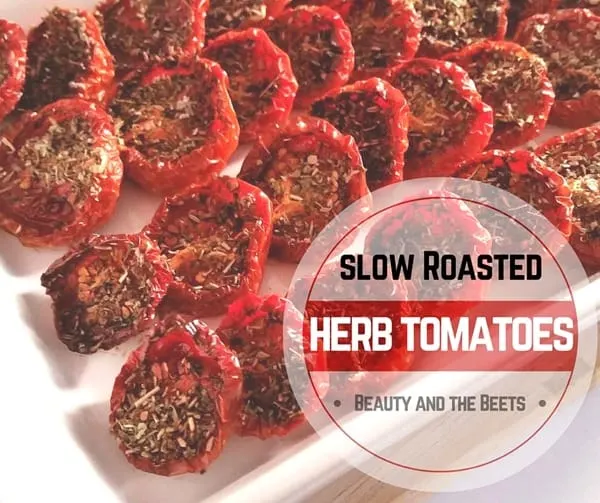 I love cooked tomatoes. Tomatoes on their own, in a raw state, are delicious on salads and in sandwiches, but tomatoes, when cooked properly, are on another level entirely. I made very simple steamed potatoes, carrots and asparagus, adding some slow roasted tomatoes and suddenly my meal was elevated to this sophistication you can only attain from patience and love.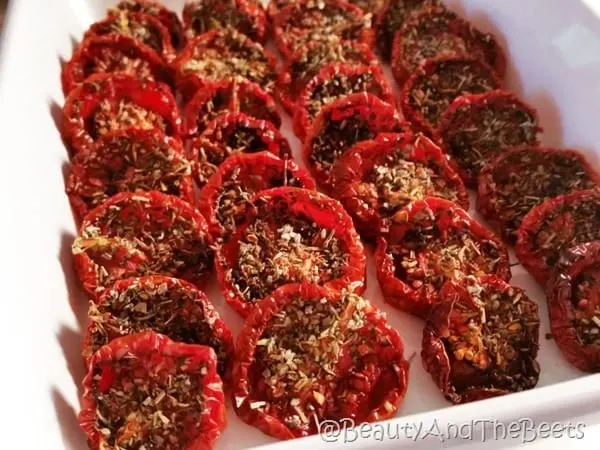 Just a few weeks ago I would have cut up some tomatoes, drizzled some olive oil on them and roasted them in a 400° oven for 20 minutes and called it a day. But now I am in this fancy Forks Over Knives cooking class and I am learning new things- like cooking without oil. While oil helps roasted veggies get crisp and caramelized, you can get the same results without the oil and without the oil-y taste.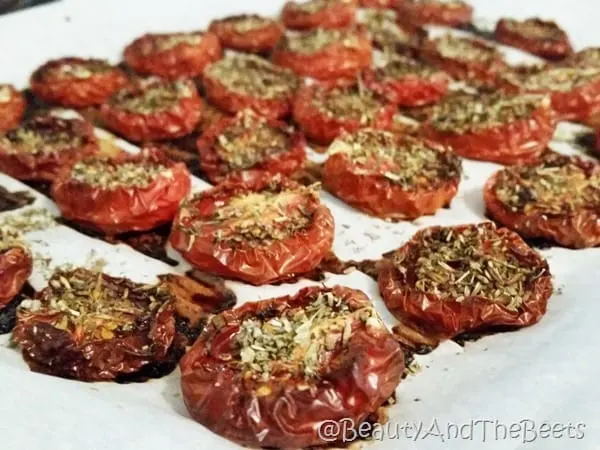 The key here to a beautiful juicy roasted tomato is patience. Like 4-6 hours worth. And the longer you let the tomato cook, the more of sun dried flavor it will take on.
I remember my Mom telling me she does this to tomatoes- slow roasts them for hours and while it sounded interesting, it sounded like a long time to invest for a side dish. Then I did it myself. and I learned that time is a well made investment when it comes to cooking.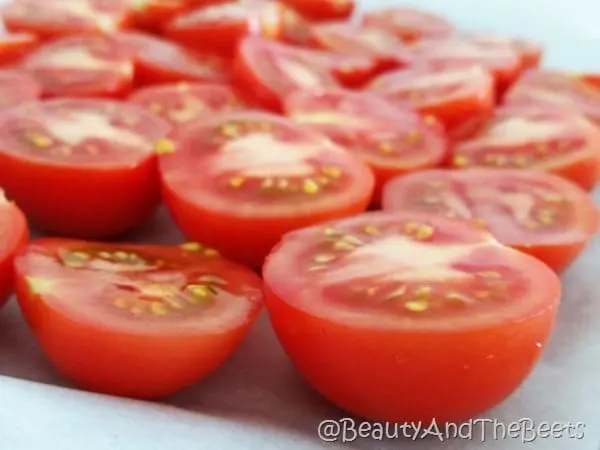 And just in case you want more benefits than just texture and flavor, studies show that cooking tomatoes raises the amount of anti-oxidants and lycopene they contain. And once cooked, they will store in the refrigerator for up to 2 weeks. Toss them into salads, onto veggie casseroles or as added flavor to mac and cheese.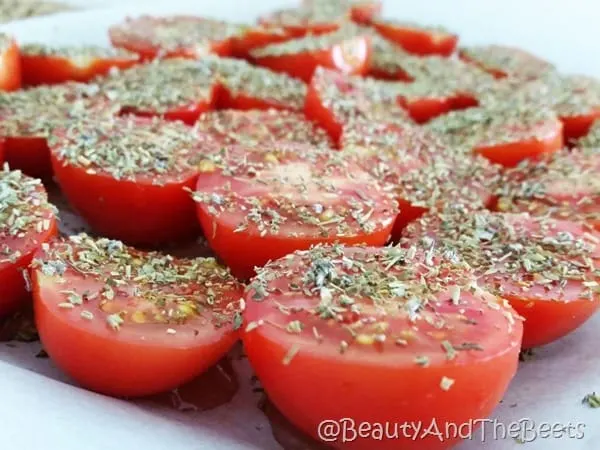 I personally love using herbs de provence for a slow roasted vegetable like this. A mix of lavender, rosemary, thyme, oregano and marjoram, the herbs stand up to the robust flavor of roasted tomatoes and don't overpower its flavor. However, be open to any other seasoning like parsley, sage or even cumin. Whatever tickles your fancy. And whatever you want to compliment the other foods you are serving.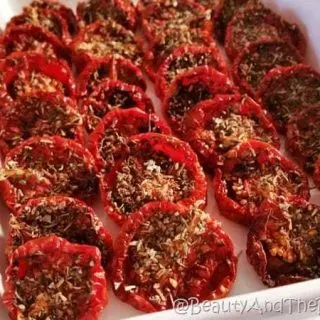 Slow Roasted Herb Tomatoes
Total Time:
4 hours
2 minutes
Ingredients
12 ripe tomatoes, variety- Roma, heirloom, large cherry etc. **
1/4 cup vegetable stock
herbs de provence, for sprinkling
Instructions
Preheat oven to 250° Line a baking sheet with parchment paper.
Slice each tomato in half and place on the baking sheer, cut side facing up.
Spoon a small amount of vegetable stock onto each tomato and top with the herbs.
Slow roast the tomatoes for 4-6 hours.
The longer the tomatoes roast, the more concentrated the flavor will become.
Notes
**Bear in mind the smaller the tomato, the less amount of cooking time you will need to achieve a strong flavor.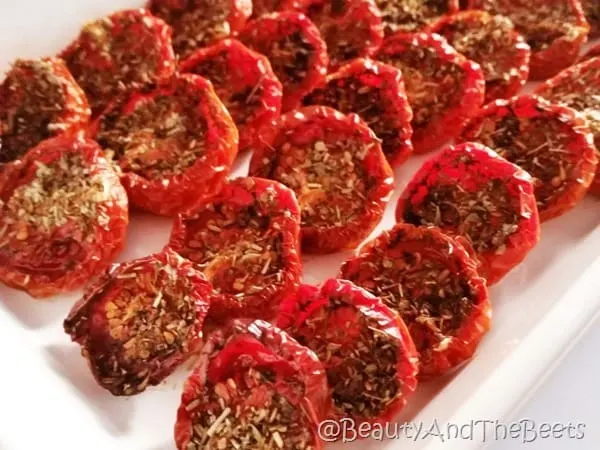 Do you have the patience for this recipe?