Son Cubano Port Imperial is an incredible Cuban restaurant with two locations- one located in the Chelsea neighborhood in Manhattan where they only serve dinner, and another just across the Hudson in the Port Imperial section of West New York, New Jersey. The New Jersey location serves both lunch and dinner- and good thing because both locations are packed during dinner hours, so lunch was a great opportunity for us to check out the place.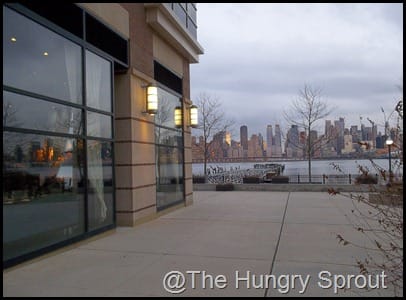 First of all, the Port Imperial location offers amazing panoramic views of the Manhattan Skyline just across the Hudson River. My Mother and I were there on a cold day- and had a table just in front of the floor to ceiling windows where we watched the ferries cruise the river and the sun shine onto Manhattan's architecture- just an incredibly neat way to see the largest city in the United States.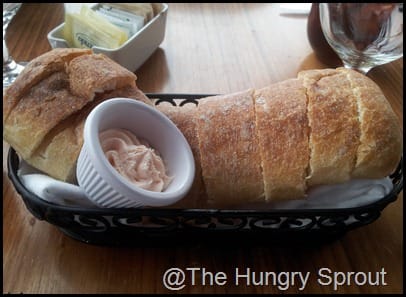 The first thing we were served was a basket of freshly baked sourdough bread with strawberry butter. While I didn't think it sounded tasty, it was. It was so good I could have just eaten the bread and butter and been happy. But we had to soldier on…….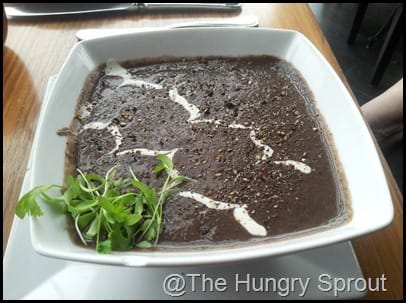 We started with the Sopa Negra– or Black Bean Soup. It was creamy, thick and hearty with a delicious cilantro cream sauce drizzled on top. It was hot, spicy and full of so much flavor. We were happy girls. Now I will be spending a large amount of time making various black bean soup recipes just to try to mimic the soup of Son Cubano.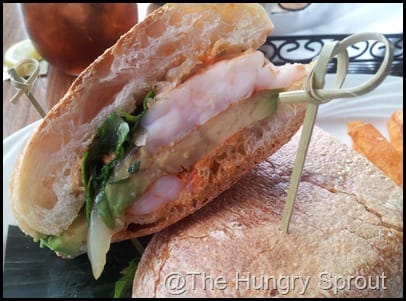 For lunch we both ordered a Cuban version of a Shrimp Po' Boy. It was meaty with avocado and escarole. What really made the sandwich though was the spicy tomato aoli sauce. It was tangy, spicy and sweet all at the same time. Accompanying the shrimp sandwich was a handful of hand cut sweet potato fries and a side of tamarind ketchup.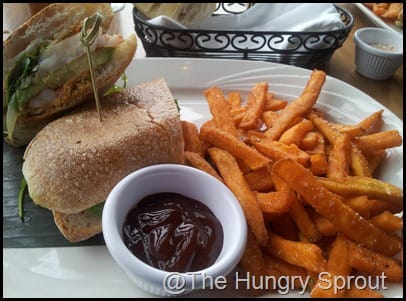 I am not much of a ketchup fan but something about mixing tamarind and tomato sauce intrigued me and it was delicious with the sweet potatoes!
These next few pictures are quite blurry and do not do Son Cubano justice but you can get the basic idea. Beautiful décor.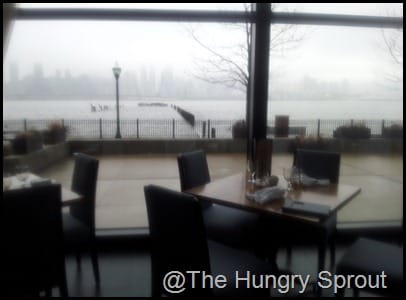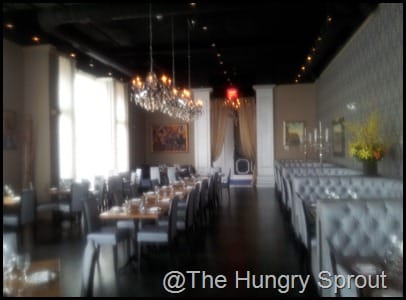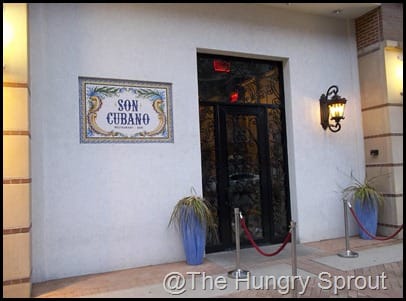 So I don't know if it was the incredible views of Manhattan or the richness of the black bean soup but this was about as perfect of a lunch I have ever had. Maybe it was just the fact that I was at the beginning of my trip to New York City and this set the tone for my many still to come culinary adventures in the city.
Next time we will try Son Cubano for dinner, if we can even get in. Like I said, the place is PACKED at dinnertime so reservations are highly suggested. However, if you just want a casual delicious lunch, try the Port Imperial location and ask to be seated near the windows. 5 out of 5 sprouts.
Son Cubano Port Imperial website