The original Starbucks Pink Drink Copycat Recipe. Barista approved. Easy to make at home and keep in the fridge for up to a week.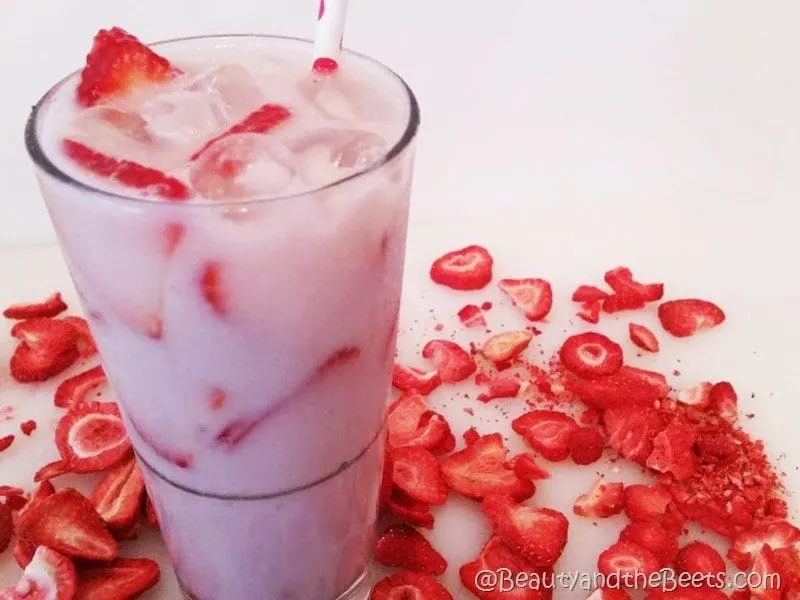 Do you remember back in the summer of 2016 when Starbucks introduced all these color drinks? It started with the Pink Drink, and then there was the Purple Drink, the Violet Drink, the Orange Drink, the Green Drink, and the Ombre Pink Drink. The Pink Drink made it on to the permanent Starbucks menu. It's delicious, but it's also easy to make at home. Here is my copycat version of the Starbucks Pink Drink copycat recipe.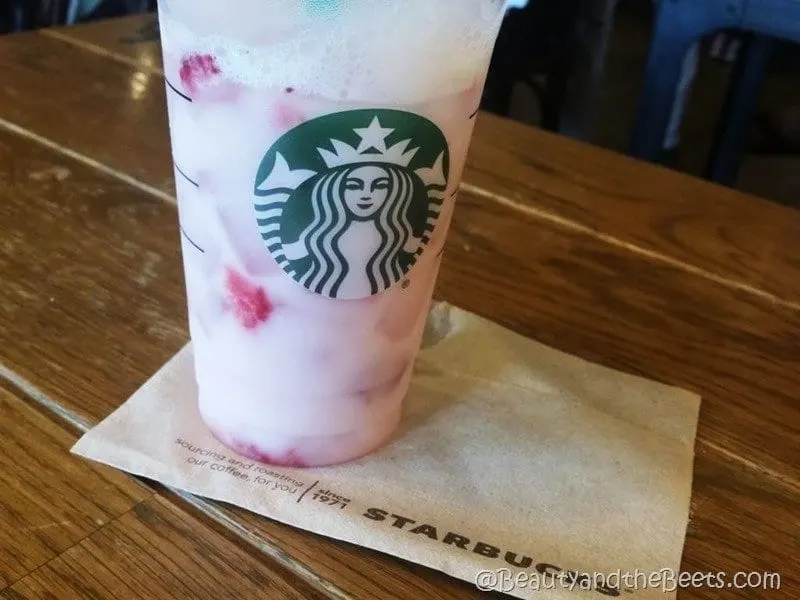 What is the Pink Drink?
I am all about trying to copycat Starbucks drinks (check out my copycat Very Berry Hibiscus Refresher). Here is how the Pink Drink has been explained to me – it is the Strawberry Acai Refresher made with Coconut Milk instead of water.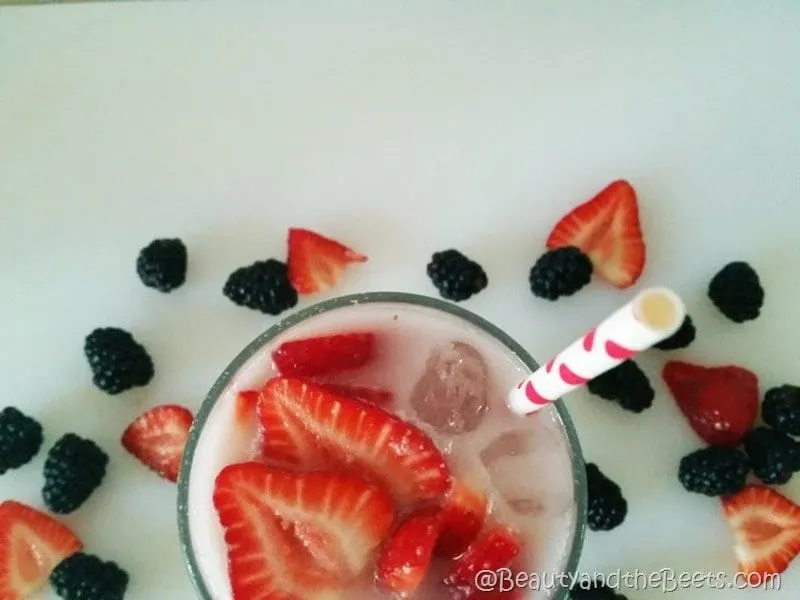 My local Starbucks in Orlando is next door to both a Publix Supermarket and a Trader Joe's, which made shopping for the Pink Drink copycat recipe easy. I know all the refreshers are made with white grape juice and green coffee bean extract as a base. I found mine at a health food store but Amazon sells the Green Coffee Bean Extract as a powder too.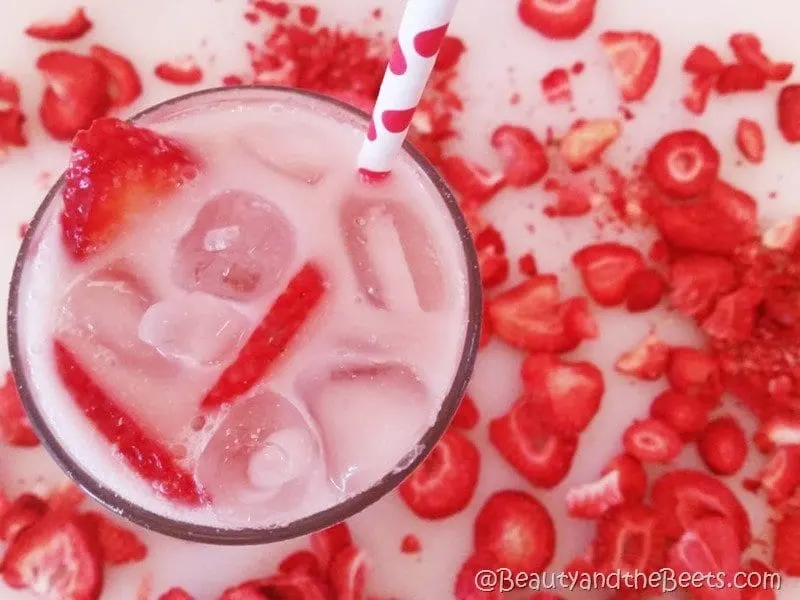 The Pink Drink copycat copycat recipe garnish
Start by making a strawberry simple syrup using freeze dried strawberries. The key is to push the solids gently with a spoon through the fine mesh strainer to get a thicker and more concentrated syrup.
Most Starbucks garnish the Pink Drink with freeze dried strawberries, and some stores used blackberries. I like it both ways, but I prefer adding fresh strawberries.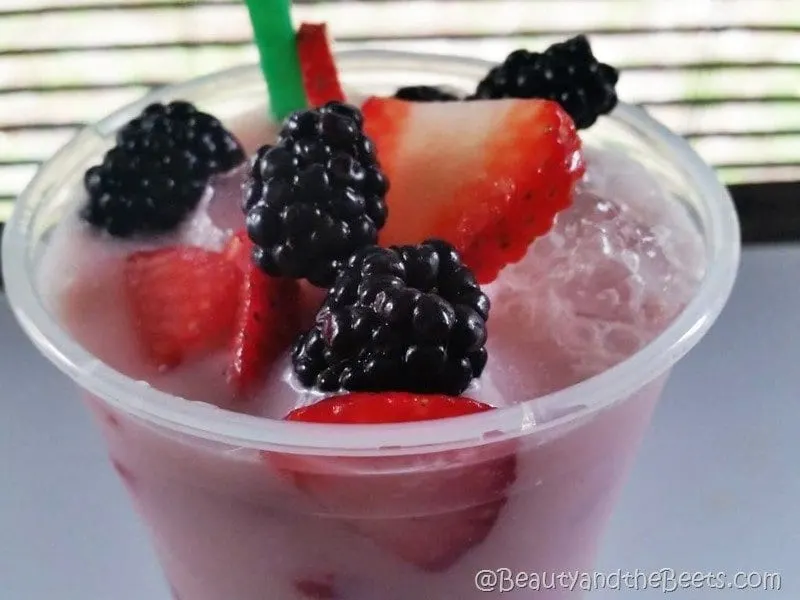 The copycat recipe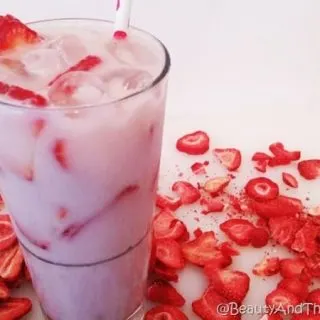 Starbucks Pink Drink Copycat Recipe
This is the original Starbucks Pink Drink copycat recipe.
Ingredients
For the Strawberry Simple Syrup
2 cups sugar
2 cups filtered water
For the Pink Drink
1 cup white grape juice
2 cups coconut milk
2 cups filtered water
ice
For the Garnish
1/2 cup fresh sliced or freeze dried strawberries
blackberries
Instructions
Add the freeze dried strawberries, sugar, filtered water, the green coffee bean powder, and the Acai powder to a saucepan and bring to a boil.
Reduce heat and simmer for 10 minutes
Pour through a fine mesh strainer, pushing on the fruit with the back of a spoon to extract the liquid, capturing the syrup in a wide lipped cup or bowl.
Allow the syrup to cool 30-45 minutes.
To a large pitcher, add the strawberry syrup, white grape juice, coconut milk, and filtered water.
To serve, add ice to a cocktail shaker and add enough refresher for one drink. Top with freeze dried or fresh strawberries.
Shake vigorously and pour into serving glass.
Notes
* I prefer substituting filtered water for the grape juice as the juice makes the drink very sweet.
**This post contains affiliate links. I only link to products that I use myself and believe in. Your support is greatly appreciated.**