So here is a great tip- if you are planning on going out of town sign up for Groupon in the city you are going to visit. Simple right?
I was getting ready to go visit New York City with my honey- I have lived there before but my Mr. Chad had never been to the city…….so what is more NYC than seeing the Statue of Liberty?
Well on Groupon, they were offering a huge discount on the NY Water Taxi– a one hour tour around Ellis Island and the Statue of Liberty. We bought two tickets. Score! We saved 63% of the regular tour…….
Up to NYC we went and we got onto the Water Taxi. It was a cute little yellow taxi on water.
We went right up to the Statue of Liberty.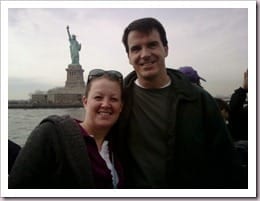 Then the boat took a little tour around the Brooklyn Bridge. How cool……..
So the moral of my story is start checking Groupon before you travel and you will get some amazing deals!!
CHOW!!