I love my blogging tribe- the Central Florida Lady Bloggers. Our event coordinator, Meghan from Meghan on the Move does a great job setting up gatherings for us at local restaurants and businesses. On a recent Sunday, a large group of us were treated to lunch at the new STK Steakhouse Disney Springs.
While steak isn't exactly my forte, there are plenty of other options for my veggie head appetite. Our meal started with several first course dishes including the Shaved Brussels Sprouts.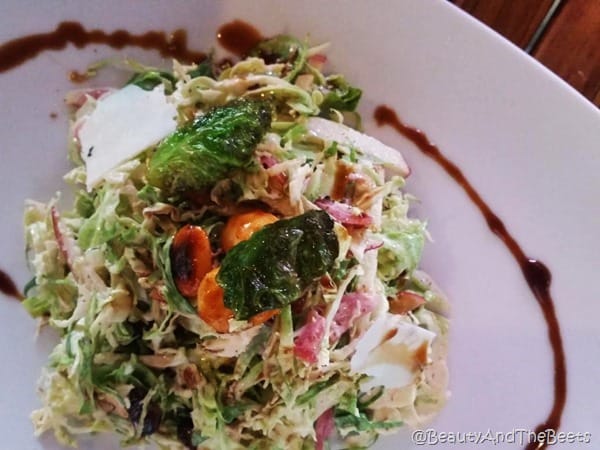 Basically any restaurant that serves Brussels Sprouts has already won me over no matter what else they serve. A tasty mix of sprouts, apple, cranberry, goat cheese and almonds, this ended up being my favorite dish of everything that we tried. Then again, anyone that knows me knows that I prefer a plate of Brussels Sprouts over a cupcake any day of the week.
We were also served Lil'BRGS, sliders of wagyu beef, cheese, tomatoes and a special sauce on an onion bun. While I do not normally eat red meat, I had to try these and they were very delicious. Very tender and flavored well.
For our second course we were able to chose from three items on the menu- the STK Salad, the Crispy Mahi Mahi Sandwich or the Filet Medallion. I ordered the Crispy Mahi Mahi Sandwich with its pickled slaw and chili remoulade. The Mahi Mahi was incredibly meaty though a bit over-breaded for me. The fries were hot and crispy, though they were without seasoning. Fairly ordinary fries. On the regular menu there is an option for a small side salad in place of the fries which would probably be my choice in the future.
I was able to sneak a picture of the STK salad– Asian greens with skirt steak, pickled mangos, avocados and peanuts. Looks good, yes?
As our third and final course we were brought several desserts, one of which was the Caramelito Bar, a layered dessert of cocoa nib marshmallow, Bavarian cream and more chocolate. Super rich. A dessert that could easily be split.
My favorite was the Bag O' Donuts, little round dough balls covered in sugar, filled with dulce de leche and served with a chocolate and a raspberry dipping sauce.
So, for a normal review I like to assign a Sprouts rating, from one to five sprouts. However, it is hard to truly give a fair rating during a special event. I will have to visit for a "normal" meal in the future and let you know how that goes. In the meantime, thank you to STK for feeding us hungry Lady Bloggers!!
STK Steakhouse Disney Springs website
*This was a special event for Central Florida Lady Bloggers. I was not compensated in exchange for my opinion. My opinions are my own.*