It's almost Valentine's Day!!!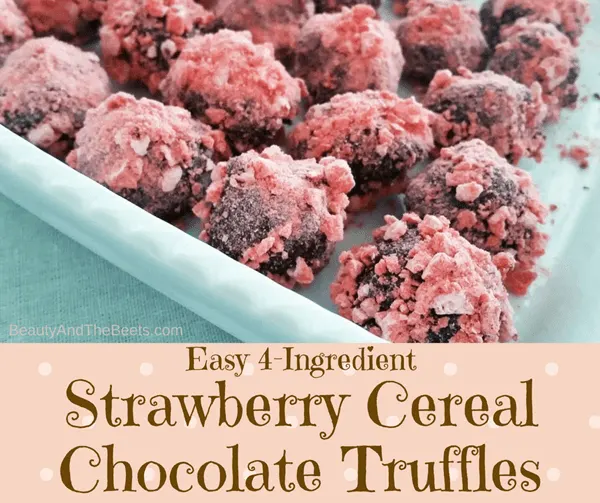 I ditched the kale and Brussels sprouts this weekend and started playing around with some ideas for Valentine's Day. What's more Valentine's Day appropriate than pink food? Try these super easy-to-make 4-ingredient Strawberry Cereal Chocolate Truffles.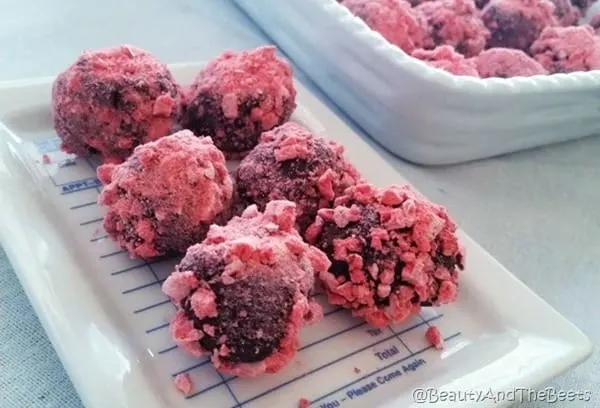 Since we eat pretty healthy around Beetsland I actually don't feel too bad splurging sometimes. It is OK to mix in some bad things with all those veggies. Chocolate covered strawberries are fairly traditional for Valentine's Day so how about strawberry covered chocolate?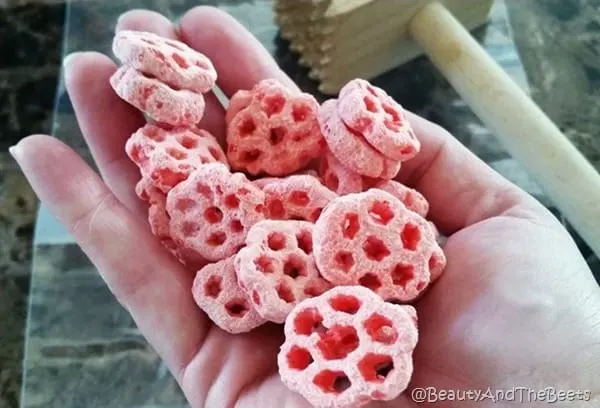 I used crushed strawberry cereal I found at the grocery store to coat my truffles. In this case I used Strawberry Honeycombs but there are plenty of other options – from the super-bad-for-you-but-delicious pink berry Cap'n'Crunch to the healthier Kellogg's Strawberry K.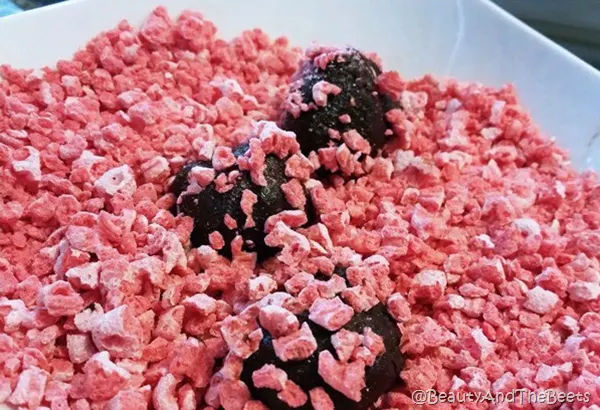 The beauty is that the truffle recipe is super easy and these can be easily adapted from one Holiday to another. Roll the truffles in red and green sugar cookies at Christmas, use black and orange sprinkles for Halloween….you get the idea. For these Strawberry Cereal Chocolate Truffles you could also use freeze dried crushed strawberries instead of cereal.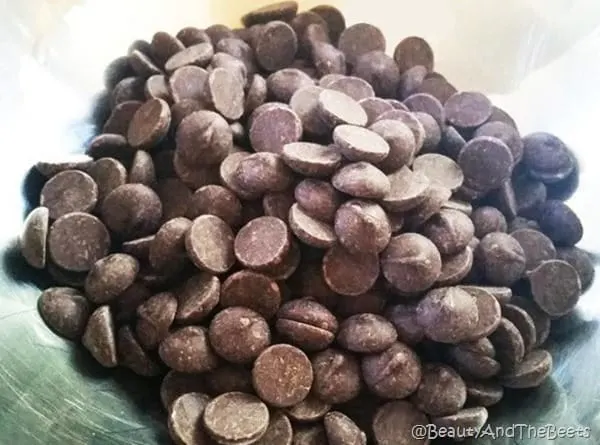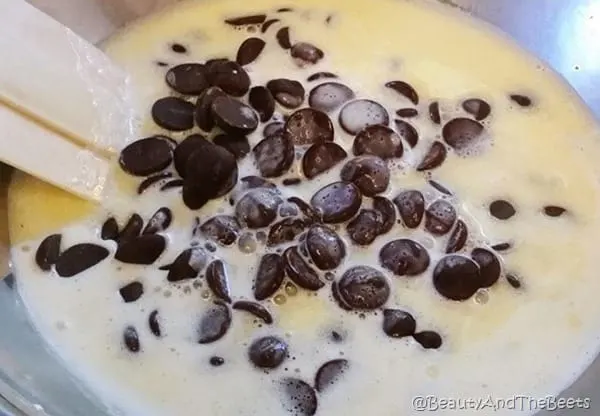 The recipe can also be easily adapted for a Vegan diet. Whisk together 1/2 cup of dairy-free milk with 4 tbsp. of melted dairy-free butter as a substitute for the heavy cream and use dairy-free chocolate chips. Use crushed freeze-dried strawberries instead of a sugary cereal.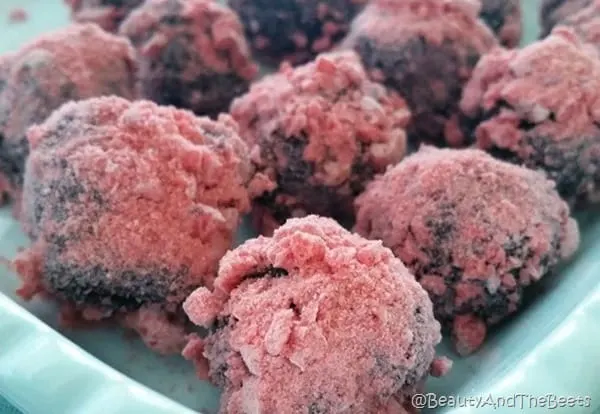 Well, however healthy or unhealthy these are, they were a lot of fun to make and I loved that they were pink for Valentine's Day. Aw, so romantic, right?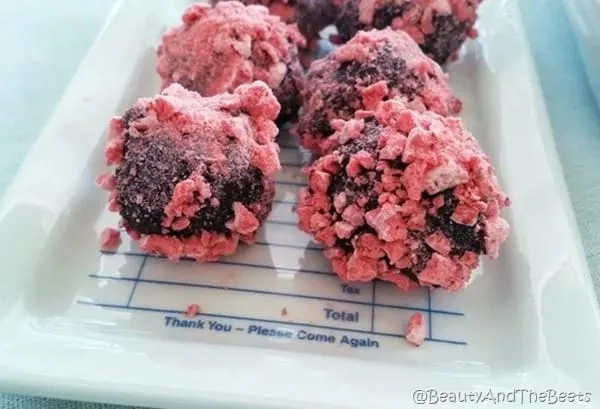 All I know is these are disappearing pretty quickly around my house and they won't live to see the actual day of Valentine's Day.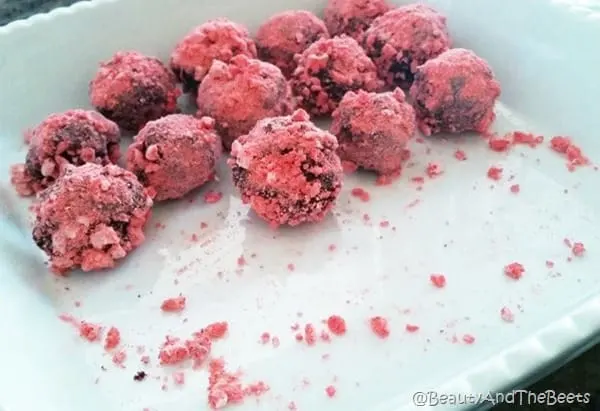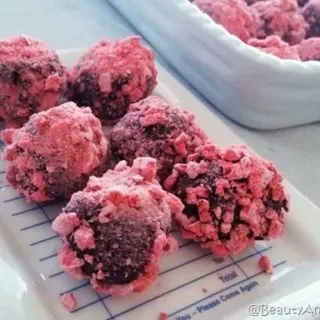 Strawberry Cereal Chocolate Truffles
Recipe adapted from Food Network Magazine
Ingredients
3 cups 18 oz. semi-sweet chocolate chips
1 14 oz. can sweet condensed milk
1 tbsp. vanilla extract
strawberry cereal or crushed freeze dried strawberries
Instructions
Combine chocolate chips and sweetened condensed milk in a large saucepan over medium heat.
Stir continuosly until chocolate chips have melted.
Add the vanilla, stir well and pour mixture into a medium bowl. Cover and leave in the fridge for 15 minutes.
Place the cereal in a large zip lock bag and seal tightly, releasing any air.
Remove bowl from the fridge and scoop chocolate out, rolling into 1-inch balls.
Carefully crush the cereal using a kitchen mallet or other heavy object. Pour the crushed cereal onto a plate for rolling.
Roll truffles in the crushed cereal coating. Chill truffles until ready to eat.
Pin this recipe to save for later: