A bright and flavorful salad. Topped with an Apricot Vinaigrette, this simple salad is perfect for the warm summer months.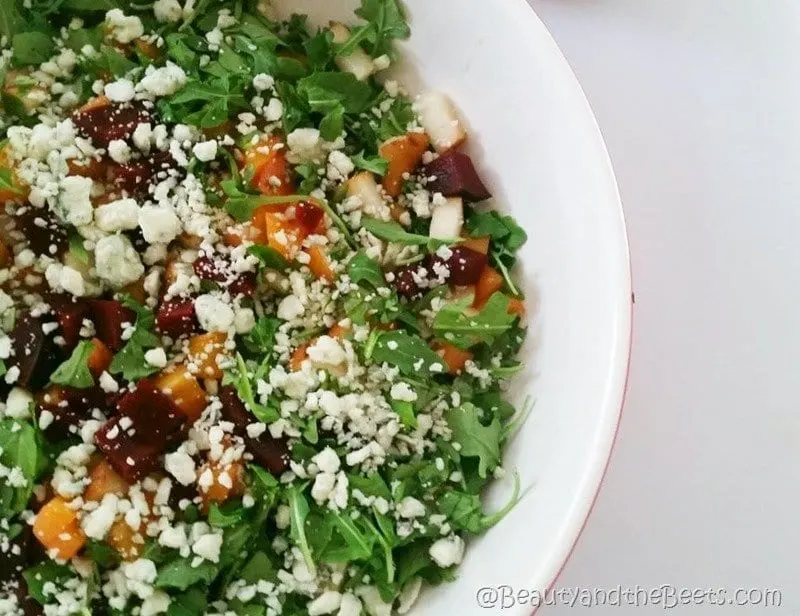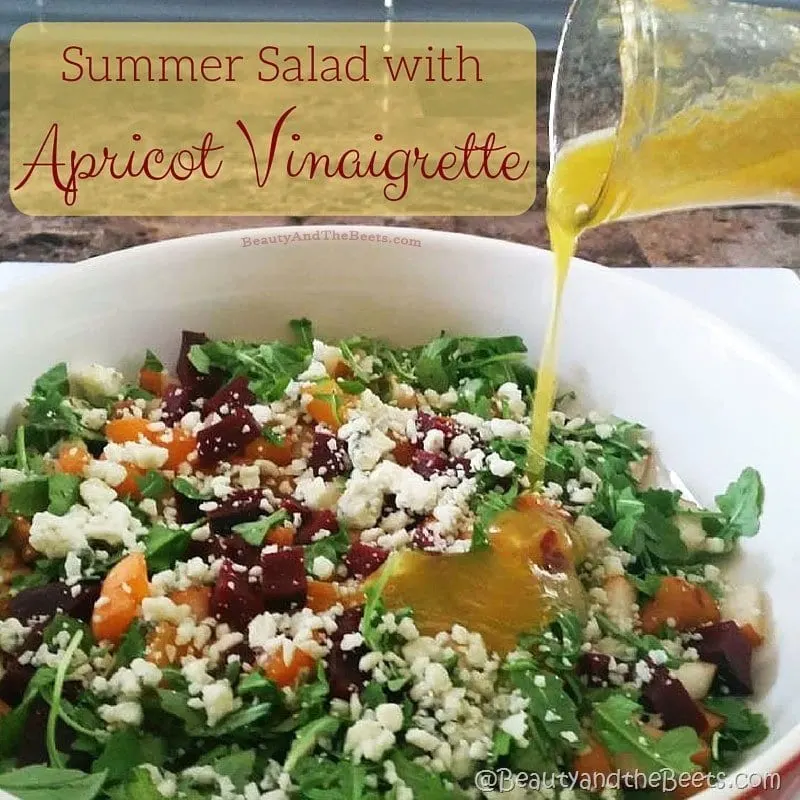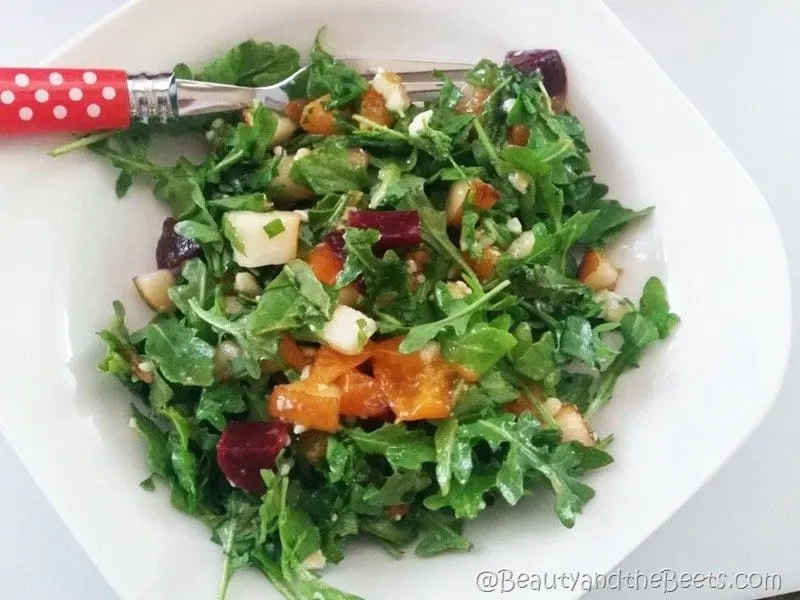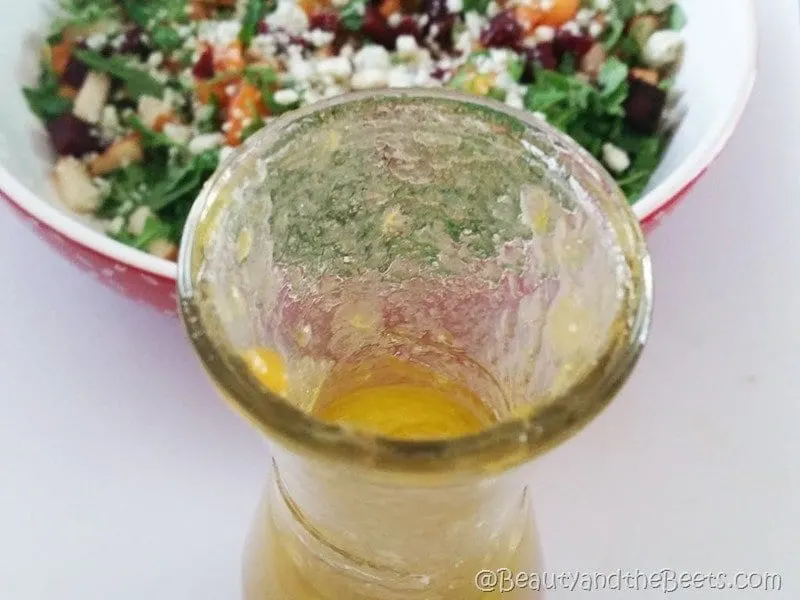 Summertime and the weather is warm, I want refreshing lemonade and summer salads. Lite crisp salads with loads of flavor. And no heavy dressings. This is the time for airy vinaigrettes. During a recent trip to Trader Joes, I found a box of organic apricots, a fruit I don't see in the stores very often and also a fruit I feel is very underrated. I was inspired to create a healthy salad using apricot as a starring role. The bright orange color of an apricot needed a compliment that was bright and flavorful, so I chose a beet. Being that Beets is in the name of my blog, many people ask why I don't work with Beets more often. So here you go. And Beets are just so darn healthy for you so how can you go wrong? I used ingredients that each on their own could be the star of a dish, yet this salad is quite simple. Arugula is peppery, apricots are sweet, pears and beets both offer a hint of sweet spiciness and blue cheese is tangy. Add a light and refreshing apricot vinaigrette to anchor the salad and tone down the strong flavors. I think I have found the perfect summer salad. Of course, if apricots are not as readily available in your area, peaches would make a great substitute. Even mangos.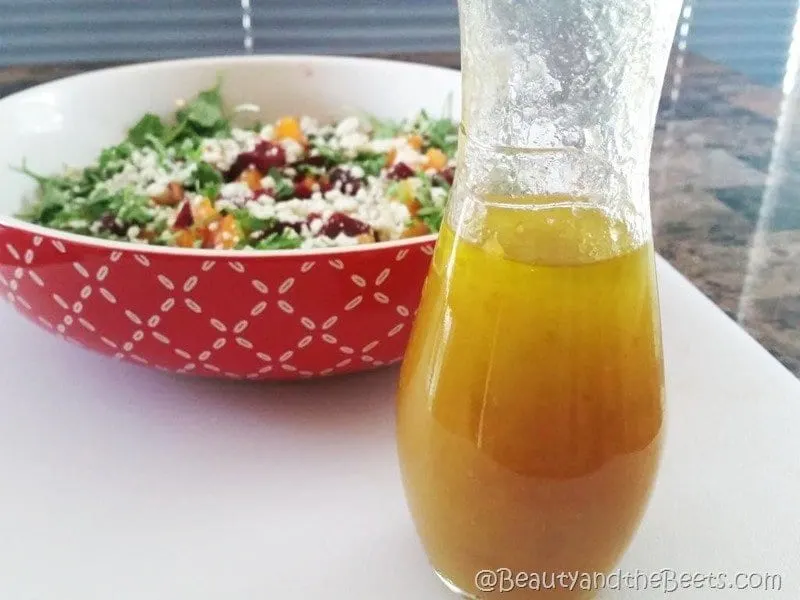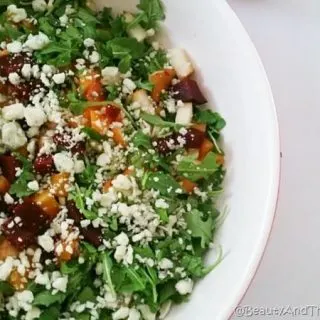 Summer Salad with Apricot Vinaigrette
Ingredients
For the salad:
1 4-5oz. bag arugula
2 apricots,, diced
2 pears,, diced
1 cup canned beets,, diced
1 cup crumbled blue cheese
For the vinaigrette:
2 tbsp white balsamic vinegar,, (or white wine vinegar)
1/3 cup apricot preserves
1/3 cup pure extra virgin olive oil
1 tsp ground pepper
Instructions
For the vinaigrette:
Add the balsamic vinegar, apricot preserves, olive oil and pepper to a jar. Place the lid toghtly on the jar and shake until well combined. (Alternatively whisk all the ingredients in a medium sized mixing bowl)
For the salad:
Add the arugula to a serving bowl. Layer the diced apricot, diced pear and diced beets ontop of the arugula. Sprinkle the crumbled blue cheese over the salad.
Drizzle the salad with the apricot vinaigrette and serve immediately.
Pin this recipe for later: