A delicious recipe for a Sweet Potato Black Bean Burger with a tangy homemade BBQ sauce. I also have some great ideas for the leftovers.
I created this Sweet Potato Black Bean burger a few years ago after tasting a similar version in St. Augustine at a restaurant called The Floridian. They been offering it for years, as far back as I can remember. Their version is served with a side of chipotle mayonnaise, I chose to prepare my burger with homemade BBQ sauce. Read on for this delicious recipe and an idea for the leftovers.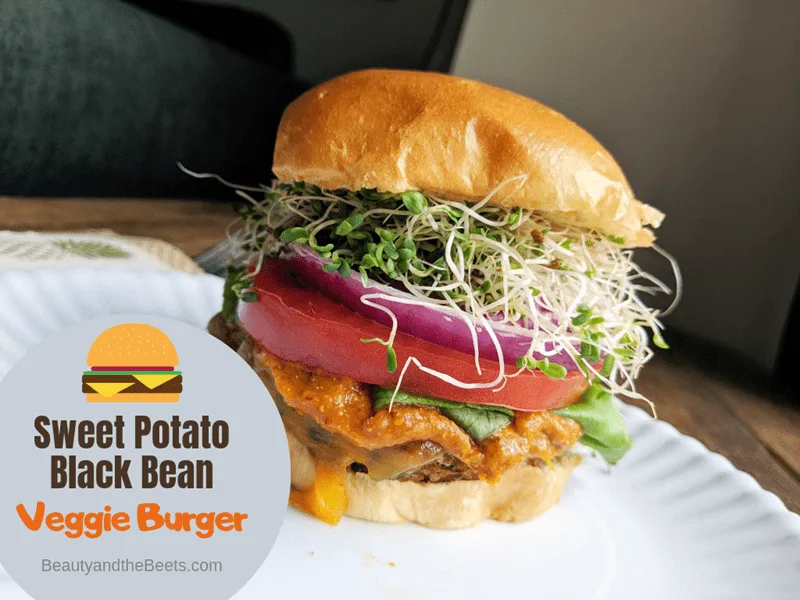 I remember when the Impossible Burger was only found in a handful of restaurants. You really had to search far and wide to find one. Now, it's everywhere. The Impossible Burger is even at fast food restaurants nationwide. And that is perfectly OK with me. It's nice to be out, especially when traveling, and have options. However, there is much debate over how "Vegetarian" veggie burgers really are when they are prepared in the same kitchen and on the same equipment as their meat counterparts.
While I will eat meat on occasion, Mr. Beet does not. He has been a Pescatarian for almost 8 years now, so all meals I prepare at home are meat free. And, interestingly enough, Mr. Beet does not like faux meat products, the Impossible Burger included.
I happen to love veggie burgers, though there are a few brands out there I am not a fan of. I happen to love the Impossible burger, but nothing can compare to making my own veggie creations at home. And veggie burgers are really easy to make.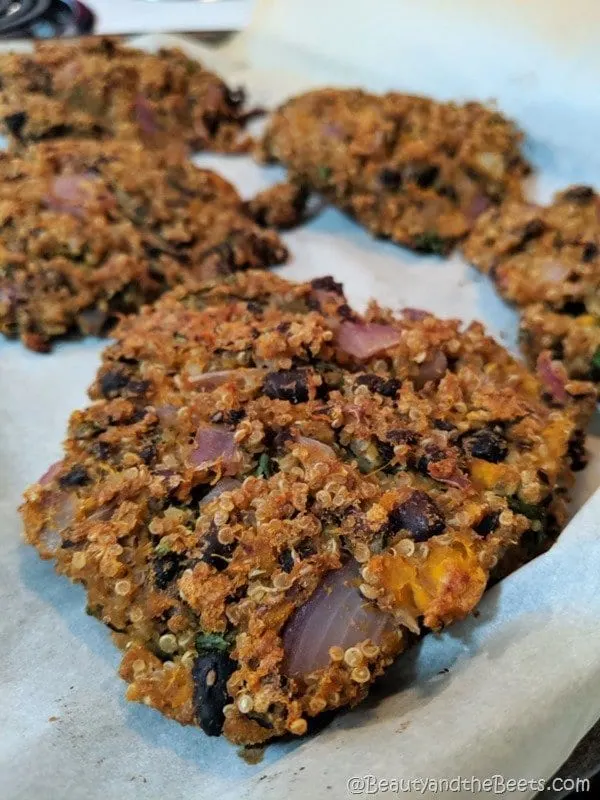 Most veggie burgers are one bowl recipes, throw a bunch of ingredients into a bowl, mix, and shape into patties. Then bake, or fry, or whatever your cooking preference is. And this Sweet Potato Black Bean veggie burger recipe is exactly that- one bowl.
The cool thing about veggie burger recipes is that many ingredients are interchangeable. I use quinoa in my version, but you can use rice. I use black beans, you can substitute red kidney beans if that is your preference. Be creative. Make it your own.
This recipe makes 6 hearty sized burgers. I crumbled the leftover patties and threw them into marinara sauce the following night for "meaty" Vegetarian spaghetti dinner.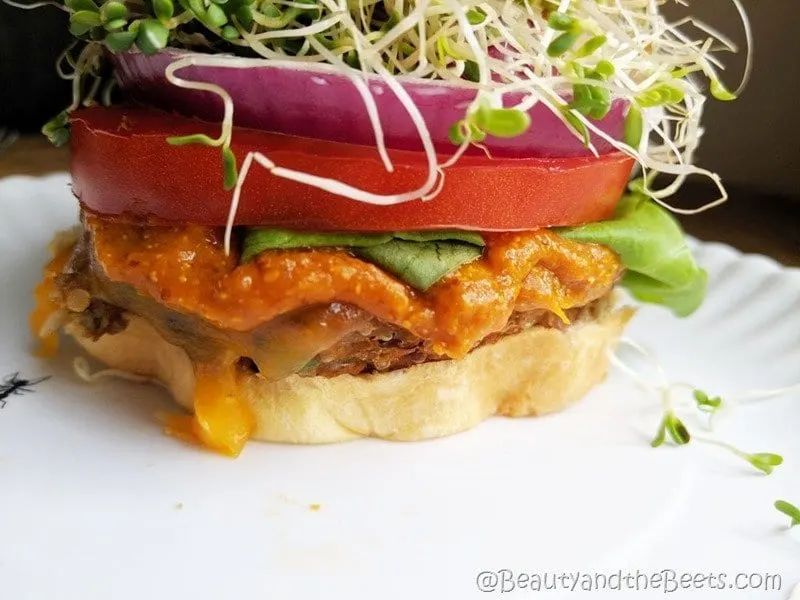 And the leftover BBQ sauce goes well with my BBQ Pulled Squash Sandwiches.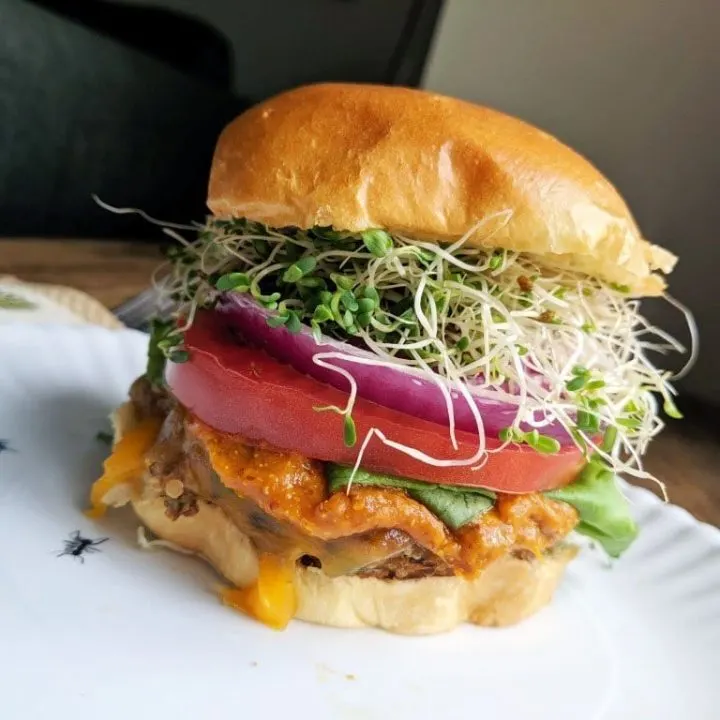 Sweet Potato Black Bean Burger with homemade BBQ Sauce
Veggie burgers are so easy to make at home and this sweet and tangy BBQ sauce kicks it up a notch.
Ingredients
For the Veggie Burgers:
2 medium to large sweet potatoes,, washed and patted dry
1/3 cup uncooked quinoa
1 15 oz. canned black beans,, drained and rinsed
1/2 red onion,, diced
1/3 cup chopped fresh parsley
2 tbsp cumin
1/2 tsp paprika
1 tsp garlic powder
pinch salt
For the BBQ sauce (makes 1 cup)
1 tbsp vegetable or canola oil
1 small yellow onion,, peeled and diced
2 garlic cloves,, peeled and diced
1 tsp hot sauce
1/4 cup cider vinegar
1/2 cup ketchup,, (no high fructose corn syrup or no sugar added)
3 tbsp smoked mustard,, (use Dijon if you cannot find smoked)
2 tbsp dark brown sugar,, (use 3 tbsp if you want your sauce to be more sweet than tangy)
1/2 tsp turmeric
2-4 tbsp filtered water,, only if thinning sauce
Instructions
Cook the quinoa according to package instructions.
Pierce the potatoes with a fork, place on microwavable safe plate. Cook on high for 2 1/2 minutes.
Carefully flip the potatoes and cook and additional 2 - 2/1 minutes, until potatoes are tender.
Preheat the oven to 375 degrees. Line a baking sheet with parchment paper.
(While the potatoes and the quinoa cool, this is a good time to make the BBQ sauce)
When the potatoes are cooled enough to handle, slice each potato in half and scoop out the flesh. Add to a medium sized mixing bowl.
Add the black beans to the sweet potatoes. Using a potato masher, mash the sweet potatoes and black beans until they are mashed but still slightly chunky.
Add the cooked quinoa, diced onion, chopped parsley, cumin, paprika, garlic powder, and salt to the mixing bowl with the sweet potato and black beans.
Using your hands or a spoon, mix the ingredients together.
Scoop out a handful of the burger mixture and gently form into a patty. Place on the parchment lined baking sheet.
Continue with the remaining mixture,placing patties about an inch apart.
Bake at 375 degrees for 20 minutes.
Carefully flip burgers (so they don't fall apart) and bake for an additional 20 minutes.
Serve immediately with BBQ sauce.
Top burgers with lettuce, tomatoes, onions, sprouts, etc.
Make the BBQ Sauce:
Heat the oil in a medium saucepan over medium high heat.
Add the onion and garlic and sauté until softened, about 3 minutes.
Add the vinegar and stir for 1 minute.
Stir in the hot sauce, ketchup, mustard, sugar and turmeric.
Simmer on low heat for 15 minutes. (The next 2 steps are optional if you want a thinner sauce)
(optional) Remove sauce from pan and add to a small food processor.
(optional) Add 2 tbsp water and pulse. If sauce is still too thick add 1 tbsp water and pulse until sauce is more liquefied. Repeat with 1 tbsp of water at a time. Don't add too much water so you do not dilute the sauce. The sauce will still be slightly thick, even with 3-4 tbsp water.
Pin this recipe for later: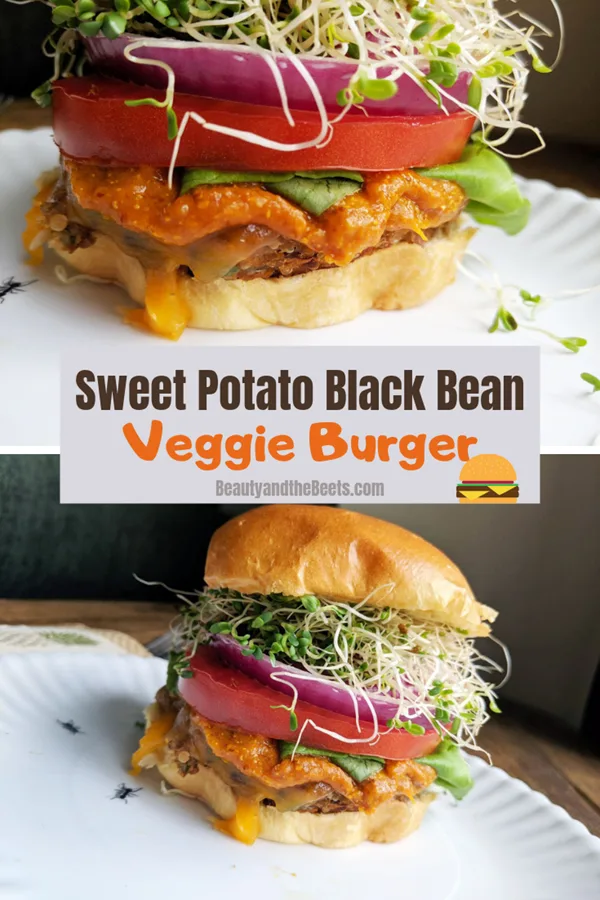 Read my review of The Floridian in St. Augustine here. (<—it's a really old post so pardon the images)
You may also like: