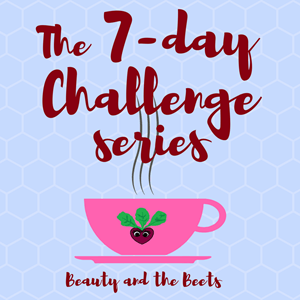 So, here we are two weeks into the new year, how are your resolutions going? Last Thursday I talked about starting this 7-day challenge series with the hope that some of the challenges I set up for myself will result in making permanent changes in my life. I hope you will join me in trying to make some positive changes in your life as well (see the resources link below for some challenge ideas for yourself). Doing something for 7 days seems way less overwhelming than committing to a full year.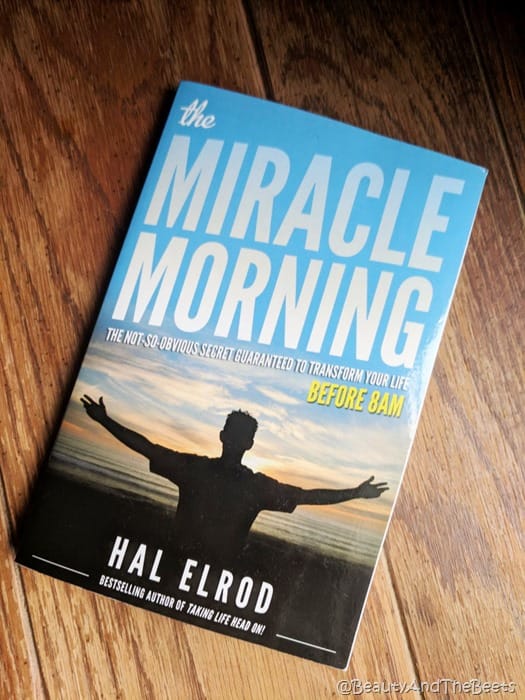 My challenge for myself last week was to try to read at least one chapter a day of my book. I didn't quite make it – I have had a migraine headache the past few days that has made reading difficult. But I tried. I did manage to finish the book I was reading – The Miracle Morning: The Not-So-Obvious Secret Guaranteed To Transform Your Life (Before 8am) but I haven't really started a new book yet. I loved the idea behind The Miracle Morning and I may find myself incorporating some of his ideas into a 7-day challenge soon.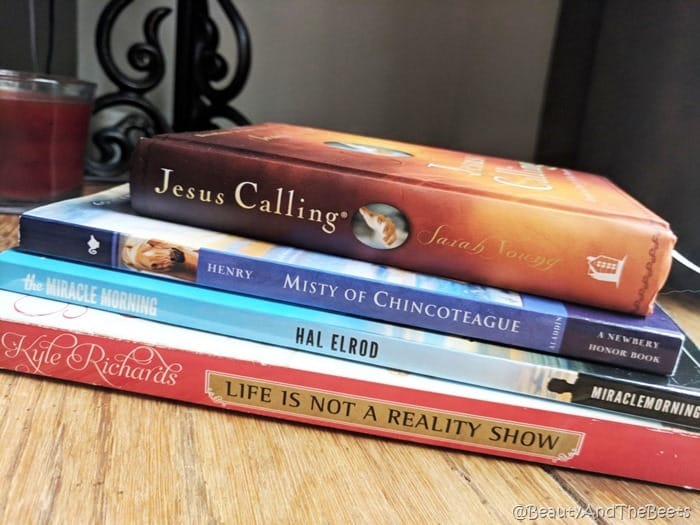 And, yes, my current selection of books to read are varied, and yes, there is a children's book in there (Misty of Chincoteague) and a book by one of the Real Housewives. Don't judge me. I have lots of other books I plan on reading this year as well from fiction novels to other self help books.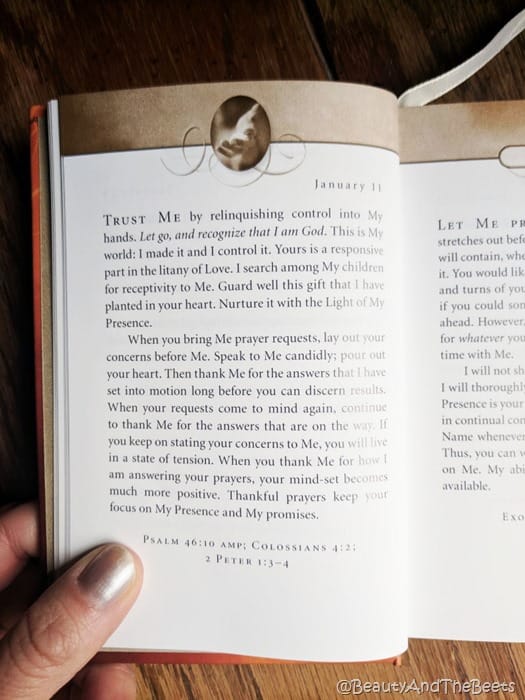 One thing I have been managing to read every day is my Jesus Calling book. It's a collection of inspirational devotions for every day of the year. Very short daily reading.
So for my next challenge, I am going to relax with a nice hot cup of tea every day for the next week. I think we don't take enough time out of our daily lives to sit down, relax, and just be in the moment. So that will be my goal for the next 7 days. And perhaps that will also be the time when I incorporate more reading into my routine as well.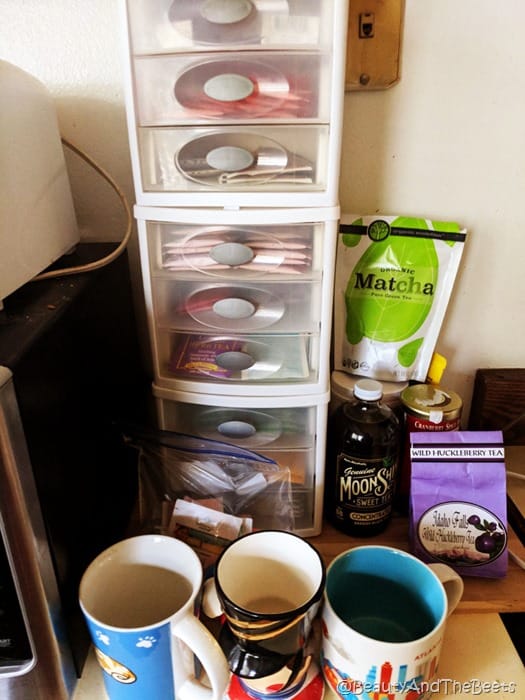 I have a tea station in my kitchen. I keep all my tea bags in plastic drawers with my tea cups close by. The one thing I will not be doing is adding sugar to my tea, as I still doing No Sugar January with Lindsay from Pinch of Yum (which is going quite well).
So what's your challenge for the next 7 days? I have a list of ideas here (there is also a permanent link to the ideas page under the header of this page) but of course feel free to invent your own to fit your own life. I suggest you write your challenge down, then tape it to the bathroom mirror, or the fridge, where ever you can remind yourself of your challenge.
Then come back next Thursday and let's talk about the ups and the downs. I have made a downloadable and printable PDF file here –> The 7-day challenge recap so you can record your progress. I plan on saving all of my follow up checklists so I can see my progress at the end of the year- what worked, what didn't.
[bctt tweet="I am joining the 7-day challenge with Beauty and the Beets. Will you change your life in 7 days? " username="BeautyandBeets"]
So pick something fun, pick something realistic (don't try to lost ten pounds in a week!) and enjoy your progress to becoming a better being. See you next week!
Resource Links:
A list of 7-day challenge ideas
See you next week and good luck!!
*This post contains affiliate links which are of no additional cost to you. I only link to products I believe in and use myself. As always, your support is greatly appreaciated.*