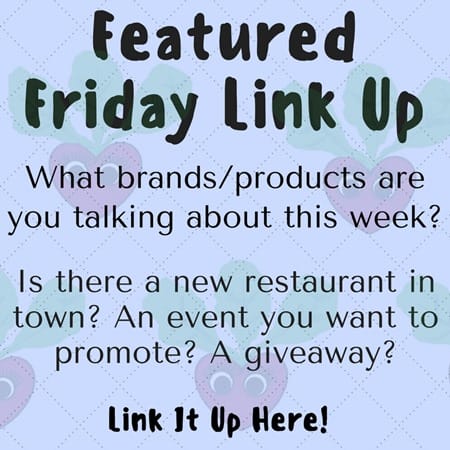 Happy Friday!! So this week I am starting a new link up called Featured Friday. Here is how it works- this will be a place for bloggers to share their work with brands- sponsored posts, giveaways and general screaming from the rooftops about brands you love!! It does not have to be sponsored, it could merely be a mention of a snack or a shoe you are loving this week. But PLEASE- no corporate bloggers, please be an individual freelance blogger with your own domain and not a writer for someone else's. That's all I ask. Super easy- just tell me what you are loving this week- whether it is a brand, a product, a giveaway- whatever!! Your link can be from your post on Friday or any post from this week featuring or talking about a brand that you love. Did you love the yogurt you had at breakfast? Post it! There will be lots of PR eyes on this link up starting this week so you never know who will click on your post.
Soooooooo, I have yet to post a recap of my amazing experience at the BlogHer '16 conference in Los Angeles. Here is a quick round up- I got a selfie with Kim Kardashian, partied on a RV with Jennie Garth and listened to keynotes by Sheryl Crow, Sarah Michelle Gellar and Miyam Bialik. I developed a very serious crush on Matt McGorry, got a picture or two or ten with "Adele" and ran into old blogging friends. OK, more on all that later- let's talk about a giveaway.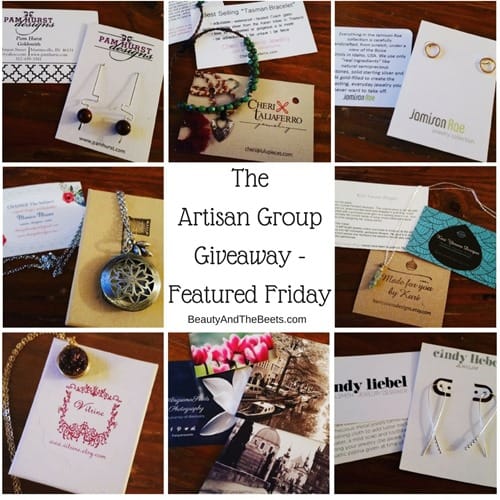 In our swag bag we received some amazing sponsor products but perhaps my most favorite was all the gifts from The Artisan Group. We got some beautiful jewelry and this week one lucky reader are going to each win their choice of one of these amazing pieces I am featuring here today.
First, let me tell you what The Artisan Group is all about. The company works with the costume designers of TV shows. The Artisan Group provides much of the handcrafted jewelry you see on hit shows such as Scandal, The Vampire Diaries and Jane the Virgin. The jewelry has also been featured on Days of Our Lives, The Young & The Restless, How To Get Away With Murder and Pretty Little Liars.
So where does that gorgeous handcrafted jewelry come from? It all comes from over 700 carefully selected artists. The Artisan Group has featured almost 600 of these artists on over 35 hit television shows. I can personally vouch for the high quality, beauty and authenticity of each piece that I received in my BlogHer gift bag. Such beautiful jewelry!!
And by the way, it isn't just jewelry The Artisan Group features. There are artists of fine photography, stationery, handbags, pet products, apparel accessories and hair accessories just to name a few. Part of this giveaway also features some frameable prints.
Scroll through the gallery in this post of the pieces available in this giveaway and comment letting me know which piece you would like to win. A winner will be drawn at random via Rafflecopter and I will match the winner to the piece they requested in the comments! You can also click on a picture to be directed to the website or shop of each artist for more information.
And if you continue past the giveaway you will find the link up for bloggers to link up their Featured Friday posts. Your post can be from any day this past week- just link it up! Have a great weekend and good luck on the giveaway!
(Giveaway open from 12:01am Friday 8/19/16 and ends 10:00am EST on Friday 9/2/16. Must be a resident of the U.S.A. or Canada. Winner will be chosen at random via Rafflecopter on Friday 9/2/16 and notified by email. Winner must respond within 24 hours or a new winner will be chosen. Prize will be mailed to the address the winner provides.)
Well thank you for stopping by and don't forget to join the link up below. I am joining the Friday blog party with Heather from Life in Leggings and Andrea from Momfessionals. Happy Weekend everyone!