Here is another installment of our trip to the south. Previous trip recaps can be found at the end of this post.
We arrived very late in Columbia, SC. We checked into the hotel at 11pm, grabbed a quick bite close by (the only place open that late was the Carolina Ale House– another place not on my list of restaurants I have planned for us to visit during our trip.) Our only other option was a place called Rush's– a local fast food outlet offering burgers, chicken sandwiches and fries. Not exactly our taste.
Chad was out the door again at 5am after a night of not much sleep. I again stayed at the hotel and worked on the computer. We found an Extended Stay Deluxe near his work site. It was basically a studio apartment complete with a kitchen and a separate living and bedroom area.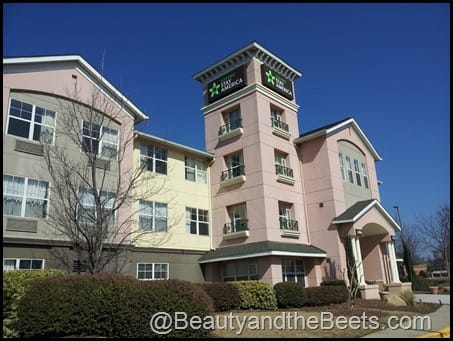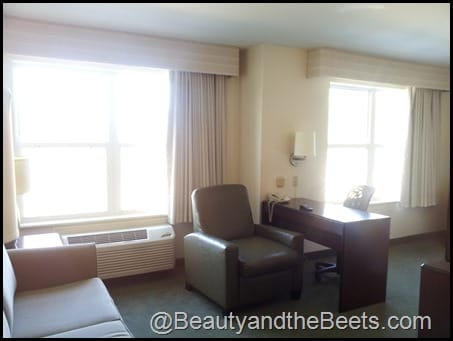 I was thrilled when he finished work a little earlier than he did the day before in Augusta. We were able to have a decent dinner and finally visit a restaurant from the list I had done so much research on.
There was an all Vegan restaurant 4 miles from the hotel called Ankh Life Vegan Cafe. The menu was pretty expansive with "Chicken" and "Steak" mock meat items- not normally our favorite of Vegan food. However, we started with a great little side salad with veggies, blueberries and nutritional yeast. It was delicious.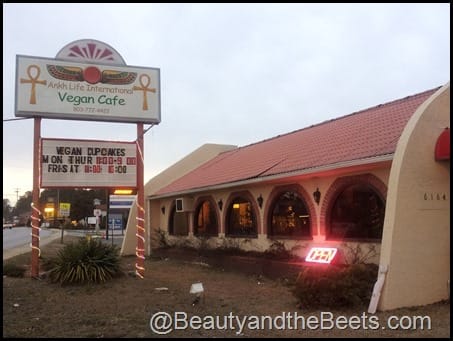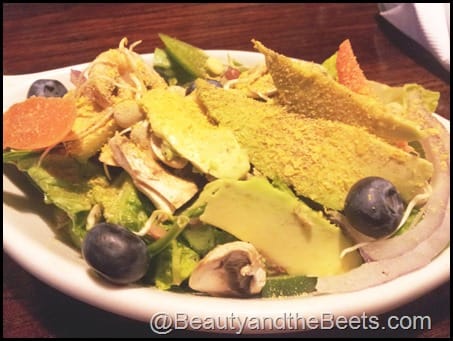 Chad had the black bean tacos which were huge and I had a tempeh ruben sandwich. We actually were happy to have a nice meal that wasn't from a greasy corporate kitchen. We liked the local vibe.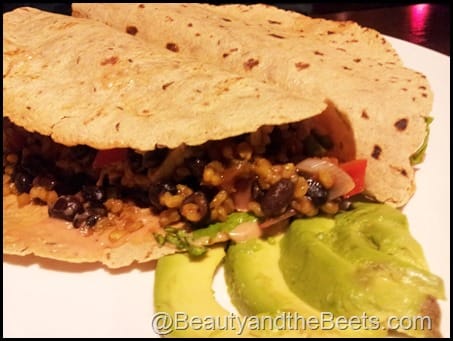 The next day Chad was off so we decided to explore Columbia a little. We started with lunch at Zoës Kitchen in the downtown area of the city. Though not a local restaurant (there are locations in 15 states) but they serve some items I would consider to be very Southern. I had the Grilled Pimento Cheese Sandwich. Pretty good but probably not the healthiest thing I have ever had.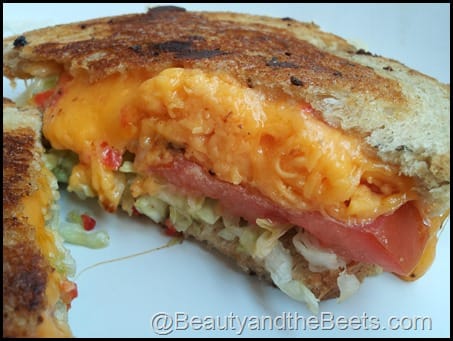 We then walked over to the South Carolina Capitol building just down the street. We climbed the steps and got a few pictures of the downtown area but there wasn't much to the center of the city.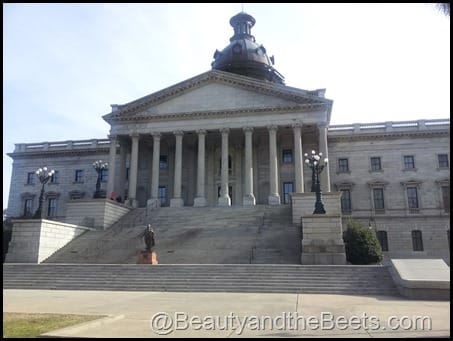 Columbia is mostly a college town, home to the University of South Carolina Gamecocks. We drove a little through the campus then went over to the University of South Carolina Gamecock's Football Stadium. The stadium was locked up so we couldn't go in but we walked around it anyway.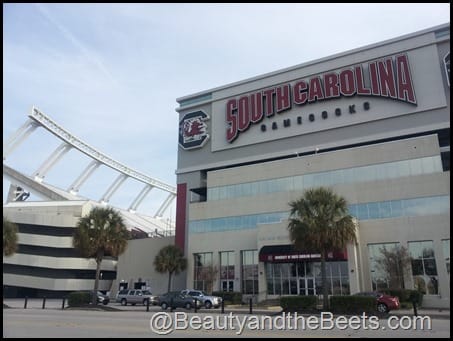 Towards the back of the stadium we came across a long row of red Caboose cars, many with large decks on top of them. There were about twenty of them all lined up in front of what we think were either dorms or apartments. However, the Caboose cars didn't look occupied but they were outfitted with Gamecock flags and BBQ grills on their decks.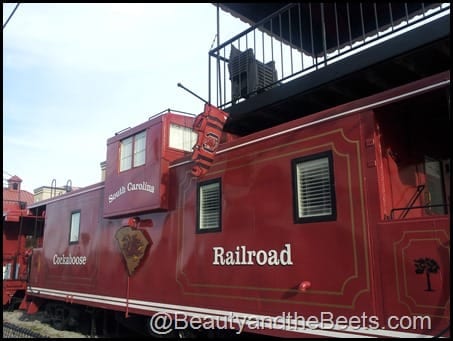 After a Google search on our phone, we discovered we stumbled across the Cockaboose Railroad. Each caboose is privately owned by a die hard Gamecocks fan and the railcars are used for tailgaters and parties for both home and away games. We found one for sale online and for a whopping $200,000, you too can own one of these Cockaboose cars with a kitchen, bathroom, living room, running water, air conditioning and cable TV.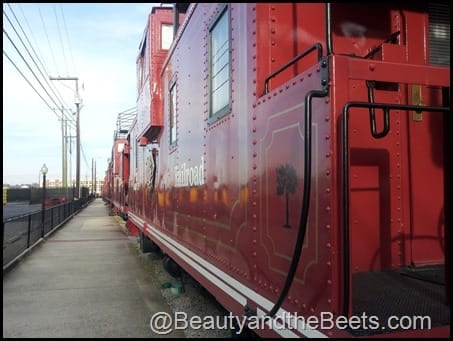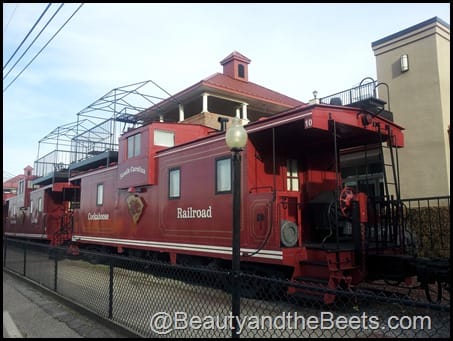 Before leaving downtown Columbia, we stumbled across the Governor's Mansion. It was hard to see the actual mansion as it was hidden by trees but the surrounding buildings and grounds were pretty grand and beautiful.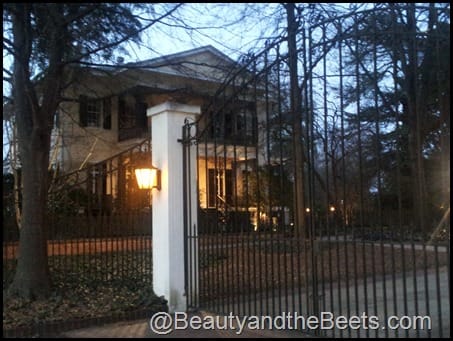 We decided to "eat in" for dinner and we found the local Whole Foods Market, only 3 miles from downtown. I decided I could live in Columbia. The Whole Foods store is next door to an Ulta– my favorite place for my makeup and beauty supplies. I could get all my shopping done at once! All I would need is a Charming Charlie close by and I would be all set!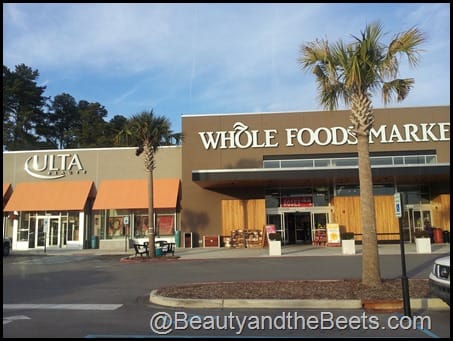 Anyway, at Whole Foods we hit the salad bar and loaded up our containers with fresh veggies, legumes and tofu. We then headed back to the hotel and had a relaxing night back with our salads and the TV.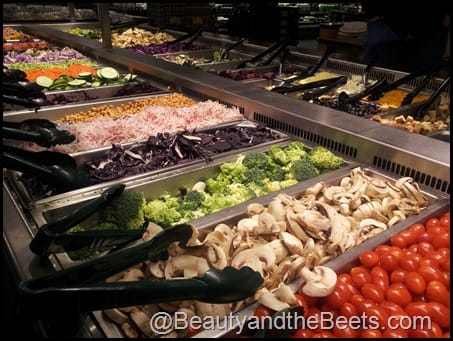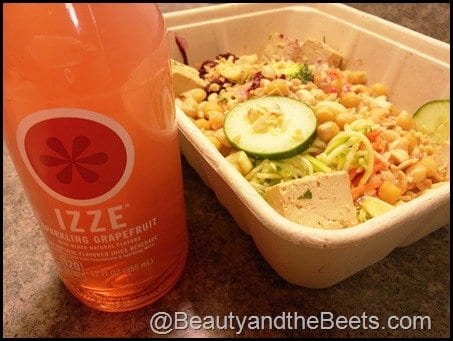 Next up? On to Myrtle Beach!

Recaps from the trip so far: