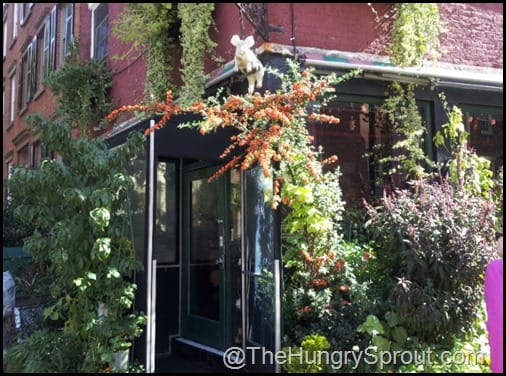 If you find yourself walking around West Village- step off the main drag of Hudson Street and get to West 11th Street. Look for what you might think is a florist shop. There is no sign- just a spotted pig hanging over the door. You've arrived. Welcome to The Spotted Pig.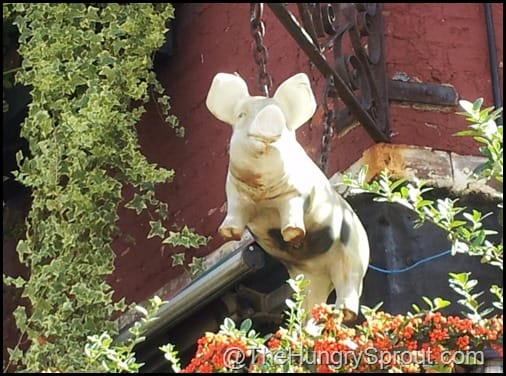 Most days you will find a crowd of people waiting for a table. It could be minutes. It could be hours. But they are waiting. Waiting to get a taste of this eclectic establishment, partially owned by Jay-Z and Mario Batali. If you get lucky, you may even see them here, or any of the other celebrities known to frequent here. David Schwimmer, Michael Stipe or Luke Wilson among others.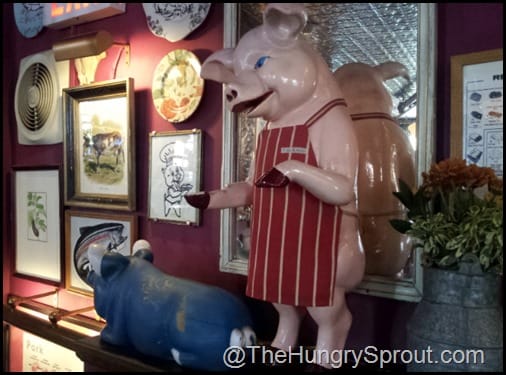 It is worth the wait. We, however, got lucky and were able to get a table right away (a late Tuesday afternoon.) Our table felt more like we were dining in a garden. Potted plants and flowers line the window sills that mirror the entrance. A tiny bar and dining room downstairs and a bigger bar/dining area upstairs.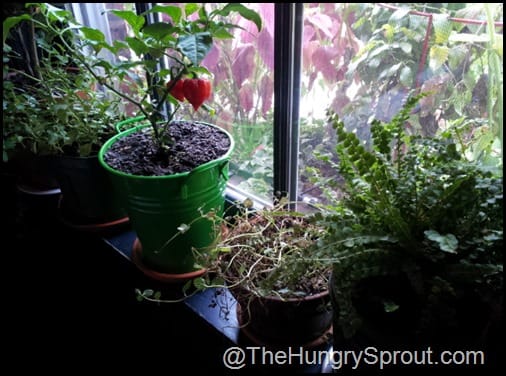 We were having a girls lunch out and we couldn't have picked a better spot. Order a pot of pickles, a plate of deviled eggs or the Chicken Liver Toast while you wait for the main course.
My companion (my Mother) has come back for the Grilled Cheese Sandwich with Mustard and Onion Marmalade. This is not your average grilled cheese- toasted on thick bread with gourmet cheese dripping down the sides (don't even know what kind of cheese they use but we didn't care- it was delicious.)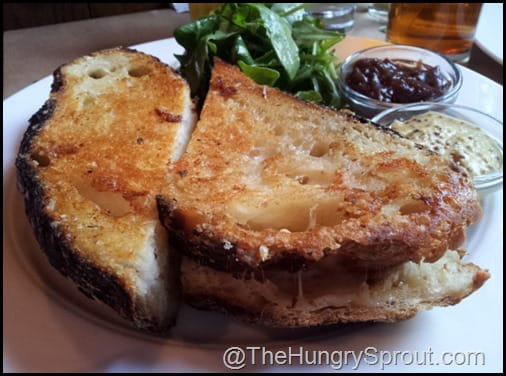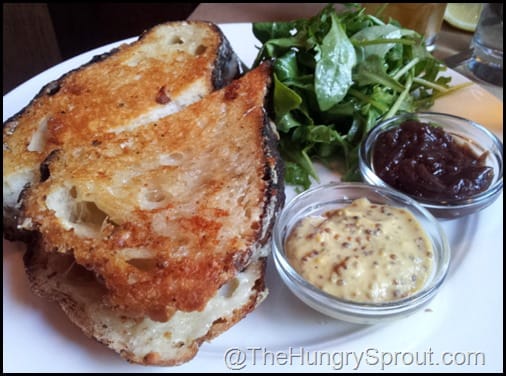 The fries are a la carte. But the portion is enormous so no need to have everyone at the table order their own. Thin shoestring fries served with fresh rosemary. Go ahead- dip them in the side of the onion marmalade or the spicy mustard that came on the side of the grilled cheese sandwich. Your taste buds can thank me later. You're welcome.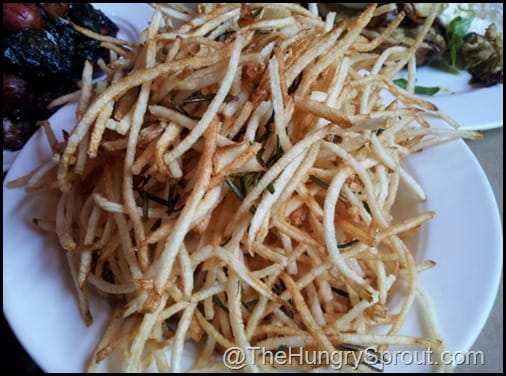 I ordered the Burrata with Wild Mushrooms on Toast. Burrata is a soft Italian cheese made from Mozzarella and cream that just oozed across my thick cut toast. Topped with a variety of wild mushrooms including the Maitake or the "dancing mushroom", this was comfort food at its finest.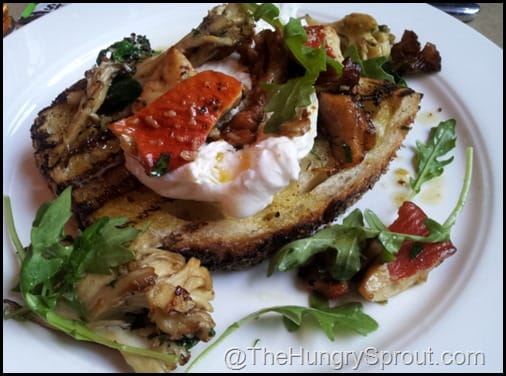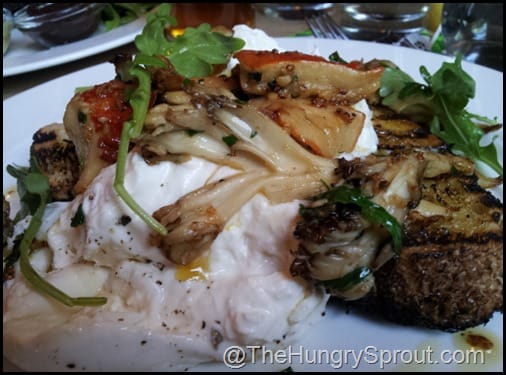 We also ordered a side of the beets and greens. Whole baby beets, roasted and mixed with bitter greens. You will never turn up your nose at beets again and I can now say I have experienced bitter greens that literally melted in my mouth.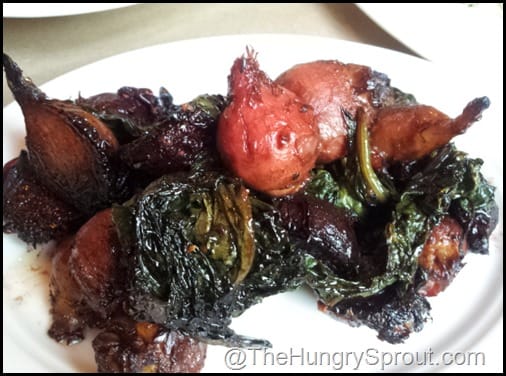 Forget I even mentioned Jay-Z. British Chef April Bloomfield was recently on Late Night with Jimmy Fallon as well as the Today show. The Spotted Pig has been featured in The New York Times, The Wall Street Journal, The New Yorker, The Los Angeles Times, Bon Appetit and now, lucky for them, here on The Hungry Sprout. Or I guess lucky for me for being able to experience this.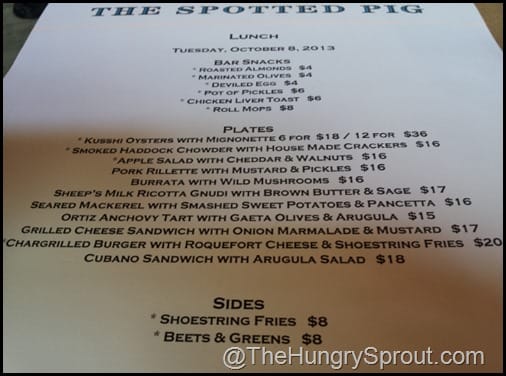 Did I mention they have even been awarded a Michelin star which is a top honor given to only the best of the best restaurants in the world? Ya, they have one of those too.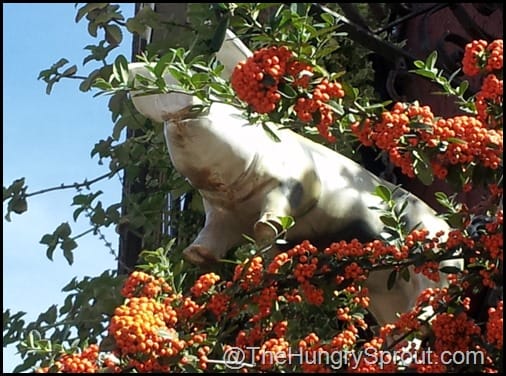 My only complaint is the lack of space for tables. Some of the tables are very close together and you may find yourself sitting almost on top of the strangers sitting next to you.
Then again, forget you read this. I don't want to have to wait for a table in line behind you…….