Since my commitment to eating more veggies and less meat, there is only one major thing that I really really miss the most. THE BIG MAC. I miss the special sauce, the diced onions, the shredded lettuce, the melted cheese- ooey gooey goodness!
I decided to give into my BIG MAC obsession vegetarian style. However, since McDonald's doesn't offer veggie burger patties, I decided to tackle this at home. First, I found a recipe for the "special sauce" which surprising to most people, is NOT Thousand Island dressing, but similar.
I used vegan American Cheese (I could not tell the difference) and vegan mayonnaise instead of their more higher fat counterparts. (Interesting to note- a real Big Mac only uses one slice of cheese where I used two.) The sauce tasted exactly like the real thing- the longer I let it sit the better the flavors blended. And by making it at home, you are also avoiding all of those preservatives the real thing probably has. I was impressed.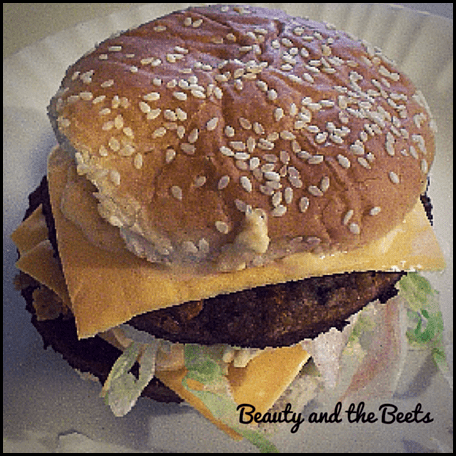 Vegetarian Big Mac
Make the sauce ahead of time so it has time to blend the flavors together. The recipe for the sauce will make more than enough for four burgers, however, the remaining list of ingredients are per sandwich. **This recipe is only Vegetarian if you use cheese made from Vegetarian rennet. Most cheese is made from animal rennet so be sure to check the label**
Ingredients
For the sauce
1/2 cup Veganaise
2 tbsp french dressing
4 tsp sweet pickle relish
1 tbsp finely minced onion
1 tsp white vinegar
t tsp sugar
1/8 tsp salt
For each burger
1 sesame seed bun plus one extra bun bottom
1/2 cup shredded lettuce
1 slice American cheese slices
2 cooked veggie patties
3 dill pickle chips
1/2 cup diced onion
Instructions
TO MAKE THE SAUCE:
Combine the mayo, french dressing, pickle relish, minced onion, white vinegar, sugar and salt into a small bowl. Stir well.
Place sauce in a covered container and refrigerate for several hours, or overnight, so that the flavors blend. Stir the sauce a couple of times as it chills.
TO ASSEMBLE THE SANDWICH:
Sesame Seed bun bottom
Sauce
Shredded Lettuce
Cheese
Veggie Patty
Diced Onions
Sesame Seed bun bottom
Sauce
Shredded Lettuce
Pickle Chips
Veggie Patty
Diced Onions
Sesame Seed Top Bun
Notes
Sauce recipe is from www.topsecretrecipes.com - I substituted the regular mayo for Vegannaise to make the recipe more vegan friendly.
For me the sauce had to sit overnight because when I had first made it, I had all of my ingredients out ready to assemble the sandwich, only to discover what I thought were veggie patties in my freezer were actually "Chik'n" patties. So I went ahead and made a "Chik'n" Big Mac. It was pretty good too but I definitely prefer the veggie "beef" patties.

CHOW!!