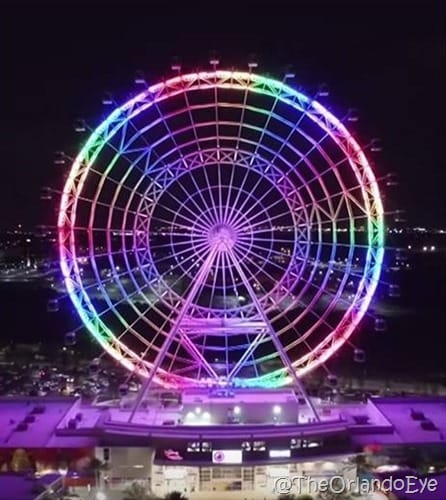 I am skipping my usual Friday Favorite's post. There has not been a lot to celebrate this past week. But we are #OrlandoStrong
On June 12, 2016, the world awoke to the news of a horrific mass shooting, right here in my hometown of Orlando, Florida. I first read about it on Facebook, confused I turned on the TV and tuned into our local NBC affiliate. I don't think I had any understanding of what it was exactly that had happened. We in Orlando were still trying to wrap our heads around the shooting of the incredibly talented Christina Grimmie of "The Voice" just the night before. Immediately following that incident, there was a lot of chatter about the safety of our local nightclubs and venues. How was someone with a gun able to get in? So upon waking on Sunday, I felt like everything that was being said on the news was surreal. How and why? Why would a gunman go into a club and open fire? Why Orlando? Why the Pulse Nightclub?
I took the news particularly hard as I once worked for the owners of Pulse in a sister restaurant. Pulse was often a place my co-workers and I would go and grab a drink after work. Now here is the thing about Pulse, it was not just a gay nightclub. It was a really fun and vibrant spot that welcomed everyone, gay or straight. We had our Christmas parties there. We had celebrations there.
As the news spread, the death toll went up and the horror set in, Orlandoans began to fight back. We lined up at blood banks. We brought food, juice and water to those waiting in line battling the summer heat at those blood banks. There is still a need for blood all these days later, but priority is being given to those with O negative and O positive blood types, so the rest of us are being placed on a waiting list for appointments at a future date.
Sunday evening I had tickets to see Cyndi Lauper in St. Augustine. We debated not going, even thought she would maybe cancel the show, but alas, the show went on. I decided there was nobody else I would rather see that night than her. And she did not disappoint. She walked out onto the stage before the show and said some words for those who lost their lives and those grieving. And then the show went on. Cyndi ended the show with an a cappella rendition of "True Colors". An audience member gave her a rainbow flag which she draped herself in and I am not sure there was a dry eye in the house after that.
The drive back to Orlando was sad, and the closer we got to the city, the heavier the air got. There was definitely something looming in the atmosphere that night. Something was amiss. You could feel it all around you. Every billboard along the highway read "#OrlandoStrong" or "#OrlandoUnited". On the radio, our local deejays gathered together for one big broadcast on most of the local stations. Music was pre-empted and the deejays talked about feelings, not the latest rumors rumbling on CNN, not the speculations of why, not thoughts of gun control or political agenda, just feelings.
So life carried on. Monday the air was still heavy. Local TV was still very focused on the event. While the major networks like CNN and Fox News focused on who the shooter was and how this will affect the upcoming election, our local news focused on the victims, sharing their stories, expressing the grief felt by our city, and how are city was coming together.
By Tuesday, the rest of the world was talking about other things- sharing vacation pictures, talking about a daughter's upcoming wedding, being happy…..and I felt like I was still in mourning. Now, I did not know any of the victims personally, but this was a giant massacre that affected my city, my neighborhood, my fellow Orlandoans. We were a city knocked off our feet and we are trying to stand up, brush ourselves off and carry on. There is nowhere to go in Orlando that you do not see some kind of reminder – an #OrlandoStrong poster, a T-shirt, a bouquet of flowers lying on the front lawn of a house.
Thursday I had lunch with some fellow Orlando bloggers. And we talked…for hours about what happened, how we felt, what we can do, how the city just seems so dark. And I think it is just what I needed. To be able to sit with friends from this great city and talk. I bragged about our close knit Orlando blogging community on my recent trip to Utah for a blogging conference and this was proof. Bloggers in Orlando are supportive of each other. There is no cattiness, no competitiveness, no jealousy. We are one group. And that is how I feel about Orlando in general, especially after the events at Pulse. And I am amazed at how proud Orlando bloggers are of our city.
Today is Friday and I feel like this is the first day Orlando is beginning to heal, or maybe it's just me. This is the first day that I feel like somehow someway we will be able to move on. People know us as a happy city. We are home to the happiest place on Earth, but we are so much more than that. Only a small percentage of Orlandoans work at the theme parks. Most of us have more typical jobs. We have top rated hospitals, tech and research facilities. We have an incredible community of the arts, from opera to ballet to the orchestra and local theatre. We have big league sports teams. We have amazing restaurants. We have local festivals, 5k races and concerts. We have one tiny part of our town that the tourists flock to but the theme parks do not define our city.
This horrible tragedy hit close to home. I now understand the anger and hurt cities like Boston and Blacksburg felt. The anger and hurt of why. Why here. The anger and hurt of other cities moving on while we still grieve. The anger and hurt we share with each other. So please understand, as you are moving on we are trying our best. We are trying to show the rest of the world how strong we are. And we are OK because we have each other. We will not let this massacre define our city. Anyone that knows me knows that I have struggled in recent years about whether to stay in Orlando or move to another city. I have been rethinking this the last few days. While we may leave eventually, I think we will stay put for now. Orlando is our home and I am proud to be an Orlandoan. #OrlandoStrong