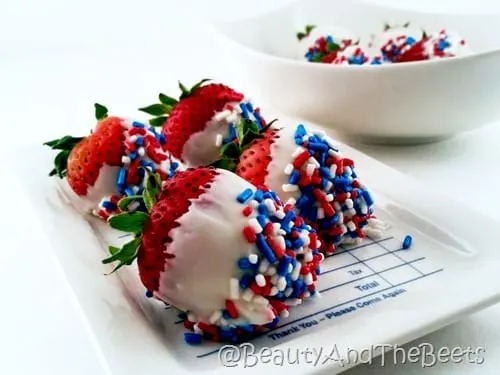 Happy Monday! We are less than a week away from the July 4th holiday here in the United States, an occasion that brings out the red, white and blue in all of us.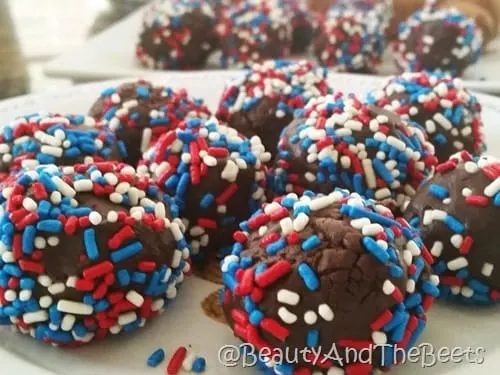 I decided to get a little festive by making some treats, something I don't so very often. Lucky Chad, the only homemade goodies he normally gets usually involves Brussels sprouts….or broccoli. Short of dipping sprouts in patriotic sprinkles, I spent an afternoon in the kitchen having a little fun with chocolate.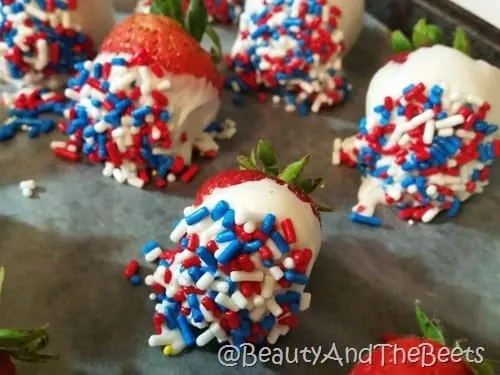 Last Valentines Day I made truffles dipped in strawberry cereal crumbs, this time I replaced the pink for red, white and blue. I also used sweet condensed milk instead of heavy cream. They are so delicious either way (but not so friendly to the waistline so eat in moderation!) Super easy, super simple.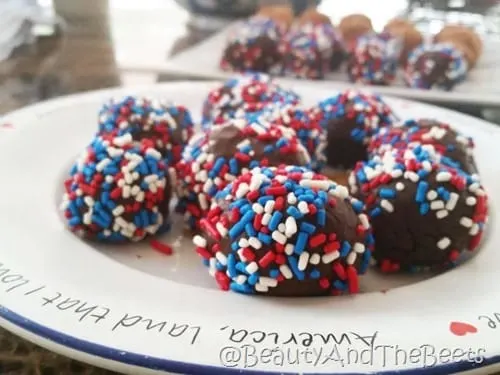 I also made white fudge and added blueberries and raspberries. Slightly healthier than the truffles, at least there was some fruit involved.
Lastly, I dipped fresh strawberries into melted white chocolate and rolled them in those same red, white and blue sprinkles as I used for the truffles. These were perhaps the most healthy of the treats as they were more fresh strawberries than chocolate.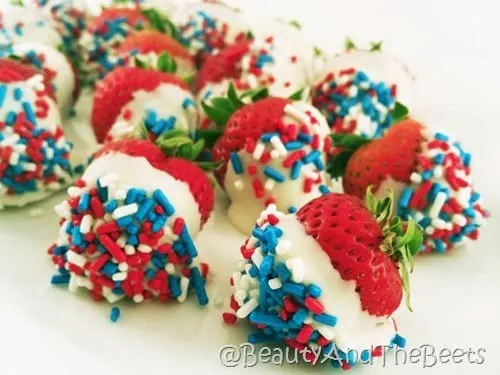 And that's it. There's some super easy ideas for your July 4th. What do you have planned to celebrate our Nation's Birthday?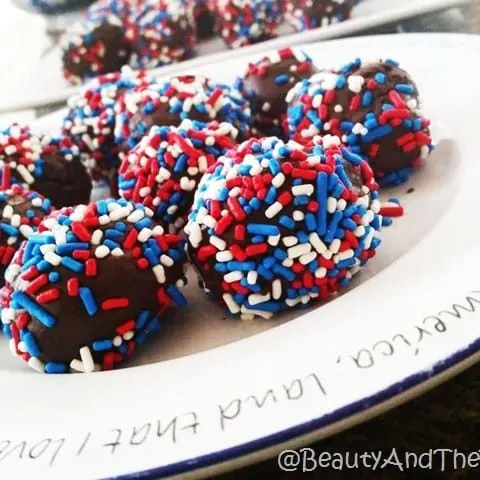 Chocolate Festive Truffles
These truffles can be dipped in anything from sprinkles to cocoa powder to powdered sugar- anything in any color to celebrate the current holiday.
Ingredients
3 cups 18 oz. semi-sweet chocolate chips
1 14 oz. can sweet condensed milk
1 tbsp. vanilla extract
Instructions
Combine chocolate chips and sweetened condensed milk in a large saucepan over medium heat.
Stir continuosly until chocolate chips have melted.
Add the vanilla, stir well and pour mixture into a medium bowl. Cover and leave in the fridge for 15 minutes.
Remove bowl from the fridge and scoop chocolate out, rolling into 1-inch balls.
Roll truffles in your choice of coatings. Chill truffles another hour until coating has set.