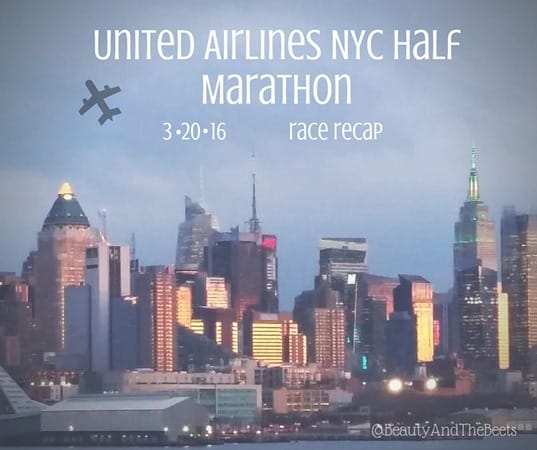 Last month I went up to New York City to participate in a little run through Manhattan. This little run was called the United Airlines Half Marathon and is the first of the New York Road Runners Five-Borough Series. And the five races are simply a lead up to one of the biggest marathon races in the world- The New York City Marathon.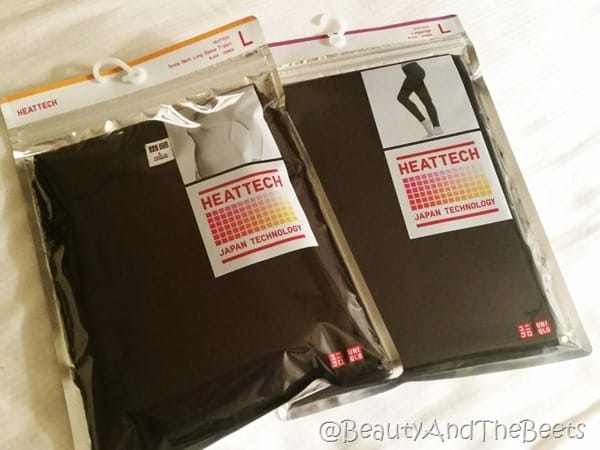 I spent a week in the city prior to the race eating doughnuts and dumplings with my Mom. At the time that I left Florida, the forecast was expected to be perfect running weather, lows in the 50's, highs in the 60's. Over the course of a week the forecast changed very drastically. At one point there was even talk of up to 9" of snow on race morning. Needless to say, this Florida girl was not prepared and in between doughnut runs, my Mom and I spent a lot of time in running stores trying to find leggings, hats, mittens, anything to keep warm. Ew. Eventually, the Beet Dad suggested I try the heattech line from Uniqlo, something he swears by in his own workout regimes. I loved that both the leggings and the thermal top were so thin they weren't going to interfere with my running and in the end it was the wisest decision I made all week.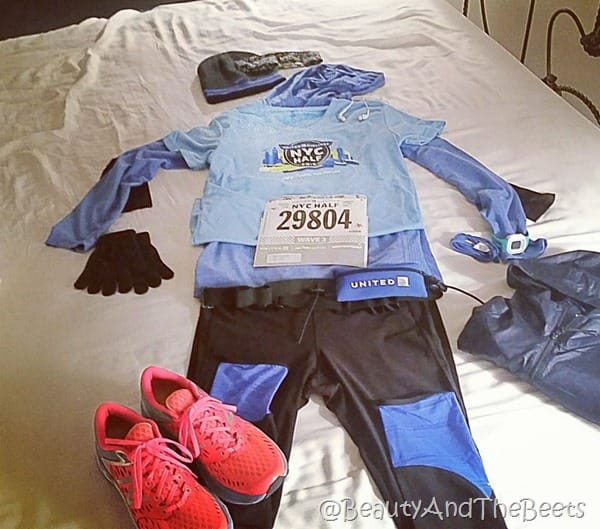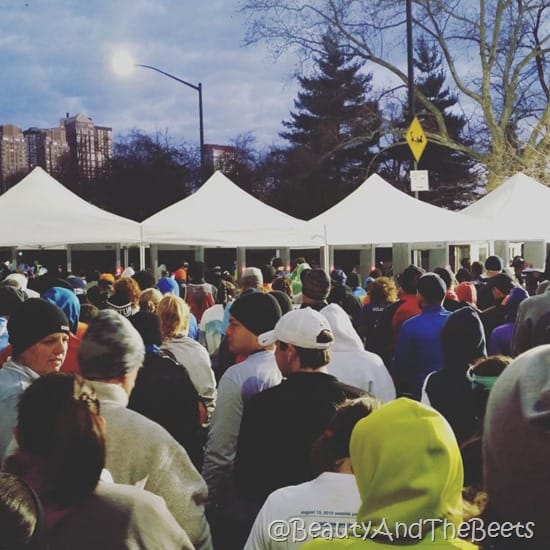 On race morning over 20,000 runners gathered in Central Park. We walked through a series of security screeners and were directed towards our respective waves. The field was divided among three waves- Wave 1 being the elite, Wave 2 being the "can't wait to run this" people, and Wave 3 being the "I signed up to do what????" Yes, I was one of those in Wave 3. Not only was I in the last wave, I was also in the last corral of the wave. My registered finish time was 3:20 (3 hours 20 minutes) – one of the slowest in the field, but I was hoping to finish at the 3 hour mark. As a matter of fact, we were told the officials would be sweeping anyone who did not maintain a 3 hour pace.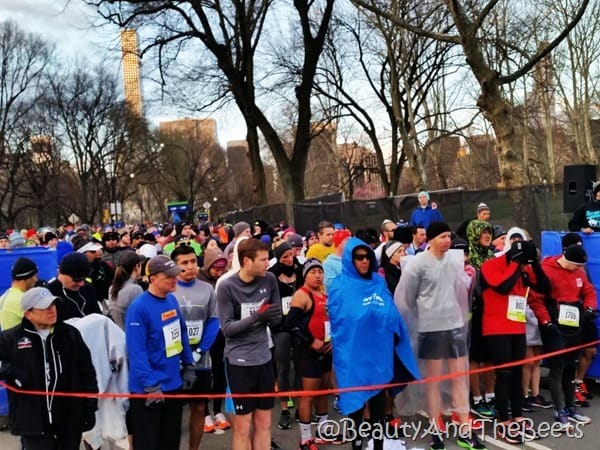 As we waited to start, I saw a few snow flurries but nothing near the snow that was originally predicted. And everyone was cold.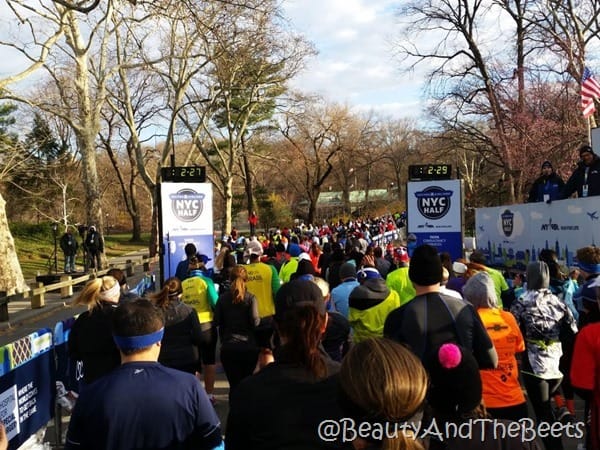 However, my wave was off before I knew it and I had one goal- to not get swept.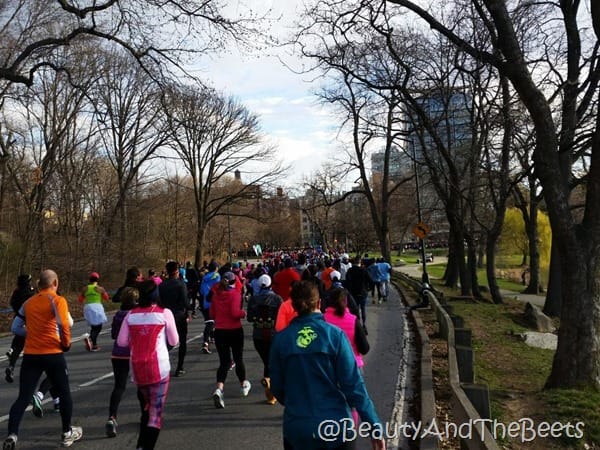 The first six miles of the race is through Central Park. This was the part of the race I was fearing the most as it was hilly. They were small steep hills but hilly nonetheless for this Florida girl. I relied on my pace band to keep me as close to the 3 hour mark as possible.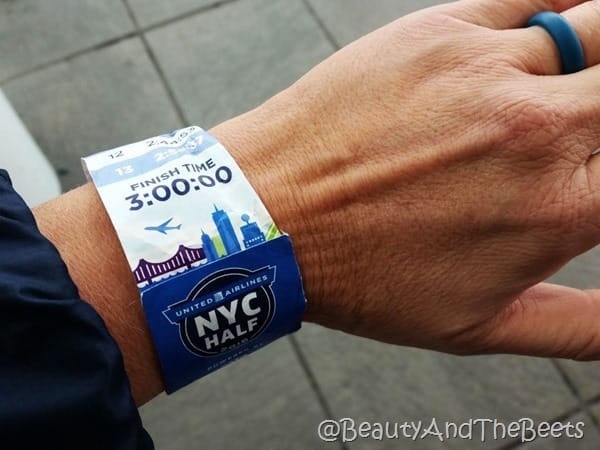 Next thing I knew I was crossing the 5K (3.1 mile) mark 3 minutes ahead of my pace band. And my pace only increased from there. By the 10K split I was 5 minutes ahead of my pace, and by 15K I was 8 minutes ahead.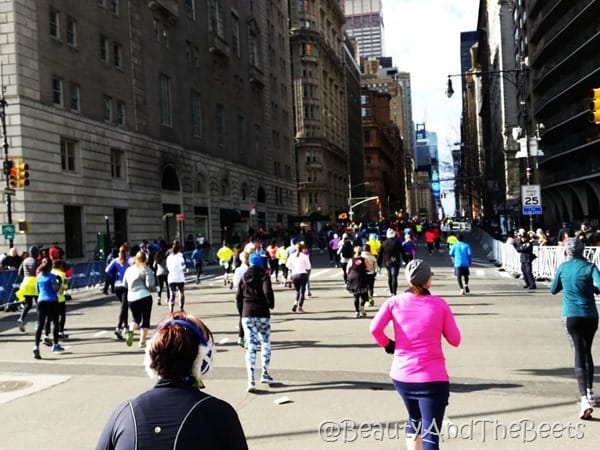 After the grueling hills of Central Park (ok- it wasn't really grueling) we were running down Seventh Avenue heading into Times Square and this is where the race became a blur to me.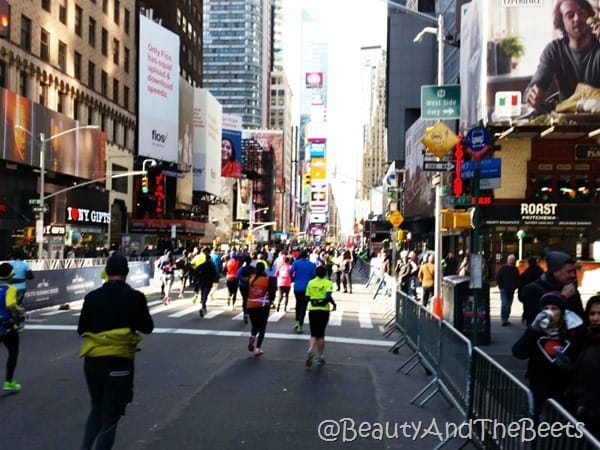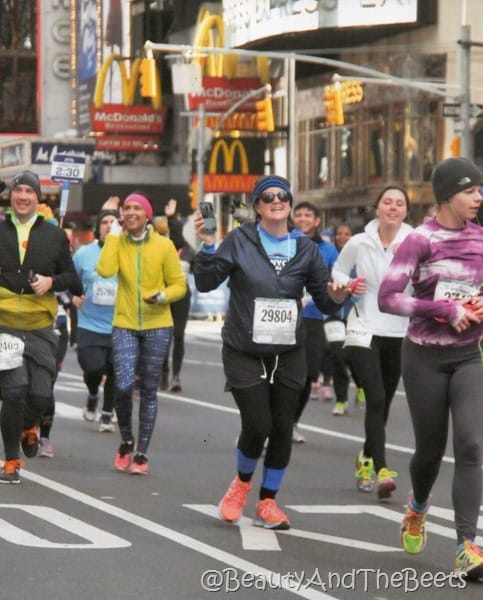 As we approached Times Square, there were a lot of spectators cheering us on, giving out high-fives, and screaming encouraging words.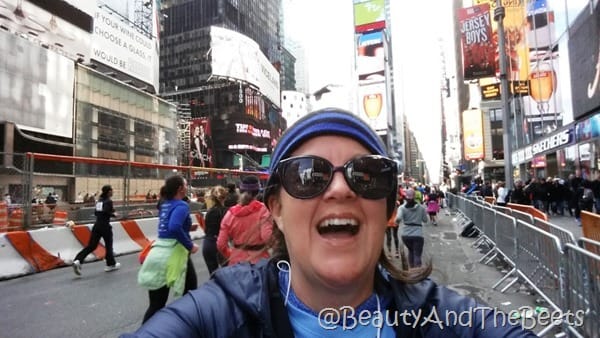 There was so much going on, so much to see, so many people around that I just ran through trying to take everything in. As we turned down 42nd Street towards the Hudson River I was reminded that it was still cold and we still had 6 miles to go.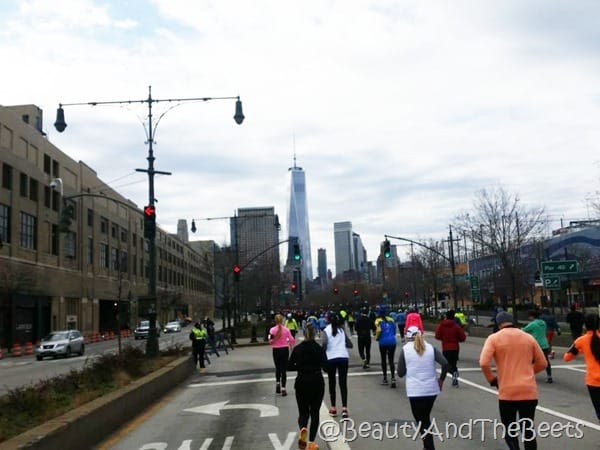 However, there was something pretty cool about running down the Westside Highway heading towards the One World Trade Center building. This part of the course was flat and long.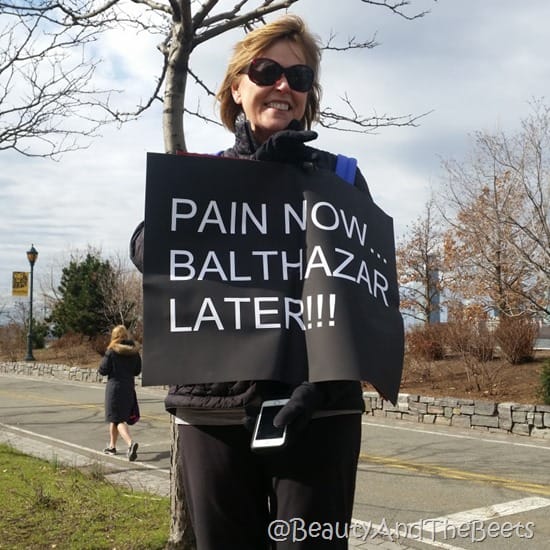 This is also where I spotted my favorite race sign – Balthazar (for those of you who don't know) is a very famous restaurant in the city, many would know it from the tv show Sex and the City, where Carrie and Samantha sat in a booth pretending to be famous. Sadly, there was no Balthazar for this girl.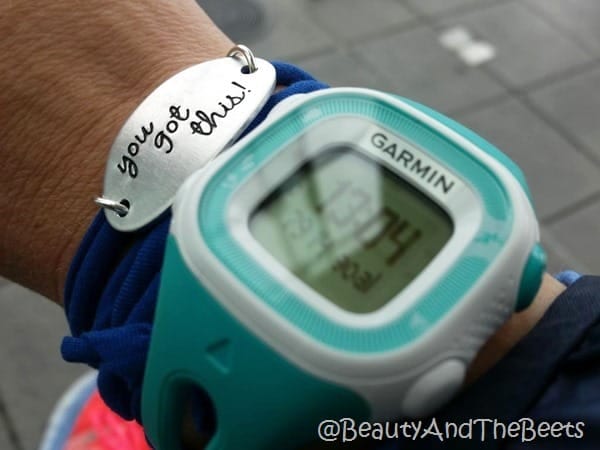 As I began to realize that I was most likely to crush my previous half marathon personal record, my adrenaline began to pump more and my feet began to hurt less. Part of the last mile was through the Battery Park underpass and there was a lot of screaming and echo-ing as we all began to approach the finish line.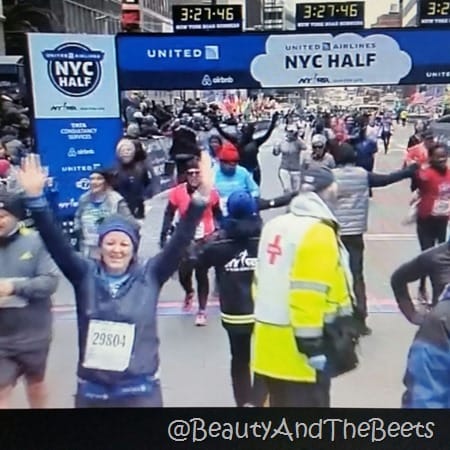 I crossed the line a full 12-minutes faster than my previous half marathon record. Wow. I was impressed with myself. Mr. Beet was at home in Florida watching the finish line on ESPN3 and managed to snap this picture of me finishing. While I did find the camera I sure look spooky there.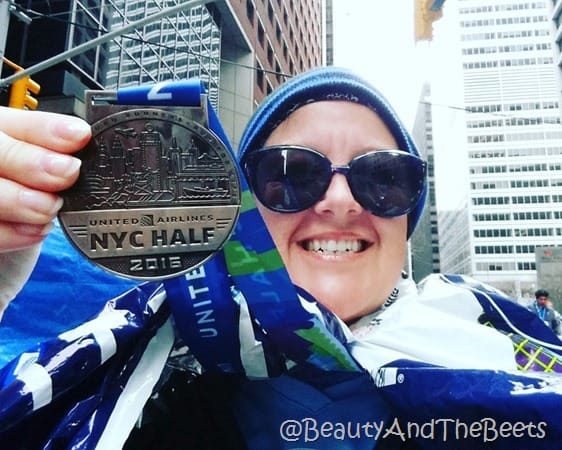 I had an amazing race but I will leave you with a little advice. Have an escape plan to get back to your hotel, house, car, wherever you go. I decided to take the subway home and on the weekends they close down a lot of lines for construction and maintenance. Seriously. What should have been one train home ended up being 5 trains and a lot of wasted time and confusion. And a lot of sore legs!! My adventure home was just as exciting as the race itself.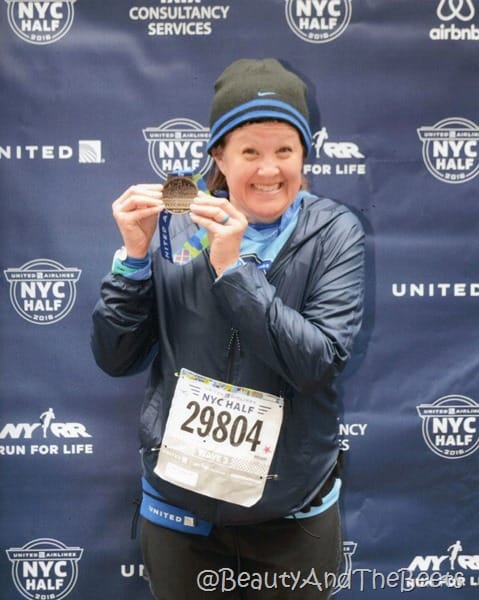 And the medal was cool.