Happy Monday y'all! Time to shake off all that yummy but bad-for-you food you indulged in this past weekend. I am starting the new week with a delicious and healthy Vegan Chocolate Chip Breakfast Cake. It started with the idea to make a homemade Vegan scone, but doesn't a cake just sound better? Why can't one have cake for breakfast? A cake is a little fluffier than a scone. And I like fluffy. However, my cake is also slightly more dense than a normal from-a-box cake. So I guess it could be categorized as a scone cake.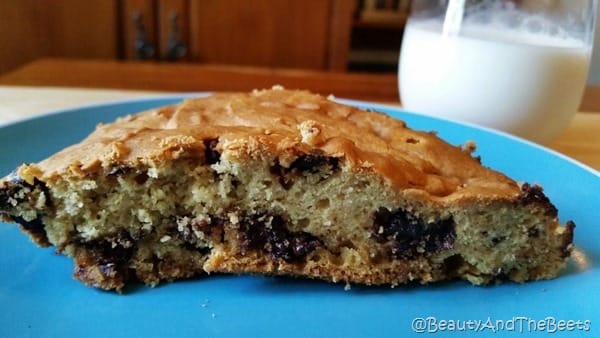 I am a big fan of invading the baked goods aisle at Whole Foods. Vegan yummies like muffins and scones are aplenty (usually) and Mr. Beet and I often grab a few pastries for breakfast when we are traveling. And this Vegan Chocolate Chip Breakfast Cake is easy enough to eat on the go.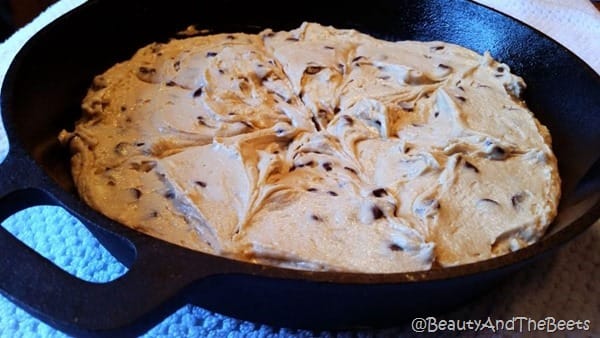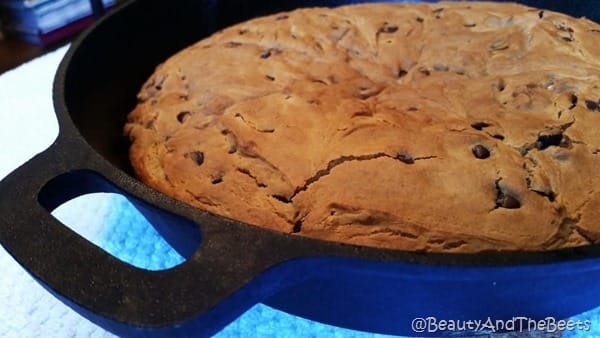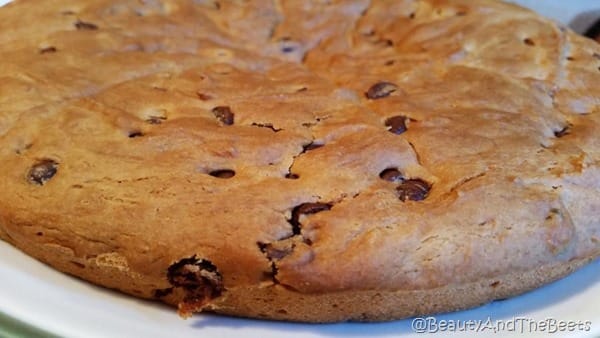 The recipe itself is extremely versatile. You can take out the chocolate chips (but why would you?) and add blueberries or raspberries, add pecans or walnuts, maybe add some vanilla protein powder or flax seed for an extra healthy boost. The cake is also very dry like a scone should be. Perfect for dipping into a nice cold glass of almond milk!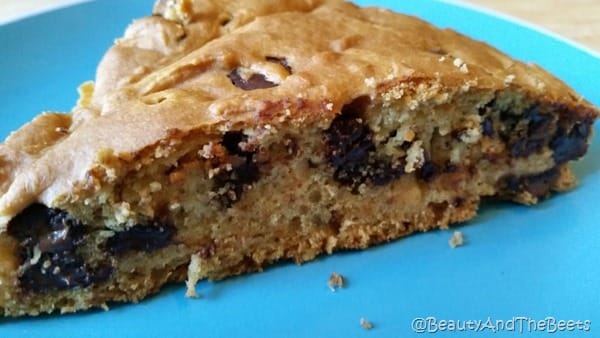 We didn't get too fancy this time, I just served the cake with a few fresh blueberries on the side. If I had a carton of frozen Vanilla yogurt, I would have topped each slice with a scoop, and then drown it in chocolate syrup. Yes, for breakfast. We eat yogurt in the morning all the time so why can't we eat it frozen in the morning too? I can justify cake and ice cream as a meal anytime of the day.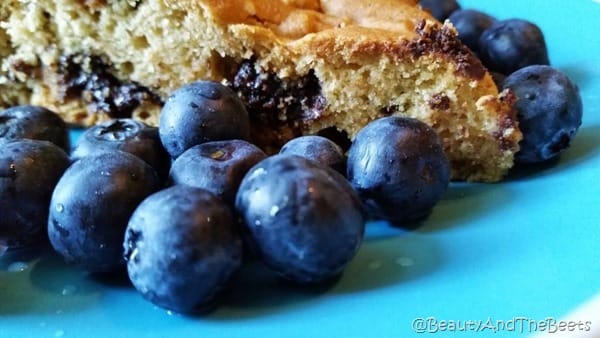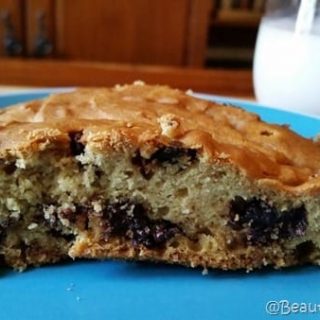 Chocolate Chip Breakfast Cake (Vegan)
This wonderful breakfast cake is Vegan and healthy. You can substitute fruit or nuts for the chocolate chips or add it all in. The cake is a bit on the dry side like a scone so it's perfect for dipping in a big cold glass of almond milk!
Ingredients
3 cups whole wheat flour
1 tbsp. baking powder
1 tsp. baking soda
1/2 cup white sugar
1/4 cup Vegan butter,, at room temperature
1 1/4 cup non-dairy milk
1 1/2 cup Vegan chocolate or Carob chips
Instructions
Preheat oven to 400°. Lightly spray or butter a 12-inch cast iron pan.
Mix all dry ingredients except the chocolate chips.
Add vanilla extract, butter and milk and slowly mix into the dry ingredients until blended.
Gently fold chocolate or Carob chips into batter.
Spread dough into the cast-iron batter pan and bake in the preheated oven for 30 minutes.
Let cool before cutting into pie slices.
Notes
**If you prefer the dairy than by all means, use real butter, chocolate chips and dairy milk.
Pin this recipe for later: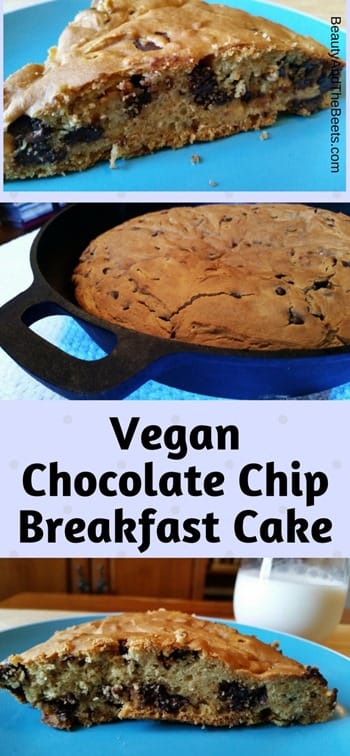 What are you serving up for breakfast this week?