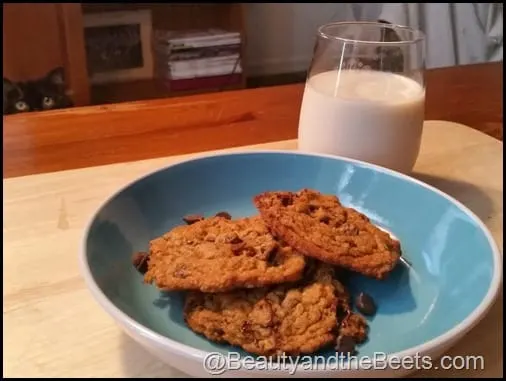 Welcome to the first Meatless Monday of the year. We've been making mostly entrees and side dishes so this week I decided to try dessert!! We found this package of Vegan chocolate chips at our Vegan grocery store so Chad and I thought why NOT dessert?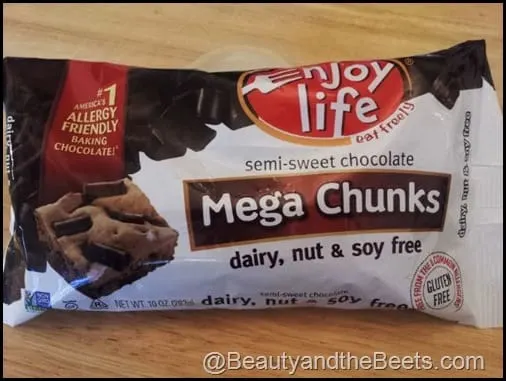 Well, I saw this recipe on TasteofHome.com for these Vegan chocolate chip cookies. It was noted that these were thought up by a competitive figure skater and they are completely Vegan- no eggs, no dairy. Vegan chocolate chips are fairly easy to find nowadays, especially if you go into a specialty grocery store. The ones I found were made simply from evaporated cane juice, natural chocolate liquor (non-alcoholic) and non-dairy cocoa butter. Others are called carob chips and are made from carob powder which is often used as substitute for chocolate. Point is, there are lots of varieties and brands of Vegan chocolate.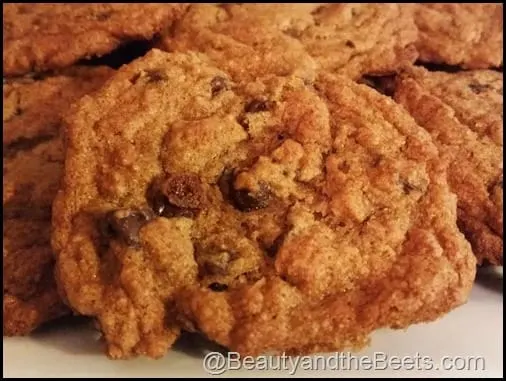 So, in the end these turned out more like the soft breakfast cookies I have been trying to perfect and Chad really likes them. (Even said they could be the best cookies I have ever made) Mine look nothing like the picture I found from the recipe from TasteOfHome.com- mine actually turned out ugly- really really ugly. I also used chocolate chunks instead of chips and made them a little bigger than the tbsp called for in the recipe. But they sure taste great!! Especially when served up with a ice cold glass of almond milk.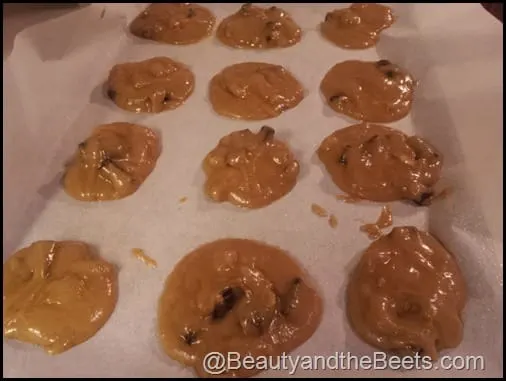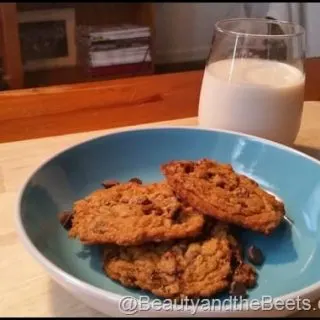 Vegan Chocolate Chip Cookies
Total Time:
1 hour
10 minutes
Mine didn't turn out quite as pretty as the icture on the TasteOfHome.com website, but they sure were delicious!!
Ingredients
1-1/4 cups packed dark brown sugar
1/2 cup canola oil
6 tablespoons vanilla soy milk
1/4 cup sugar
1/4 cup unsweetened applesauce
2 teaspoons vanilla extract
1 teaspoon baking soda
3/4 teaspoon salt
1 cup dairy-free semisweet chocolate chips
1/2 cup finely chopped walnuts
Instructions
In a large bowl, beat the first six ingredients until well blended. Combine the flour, baking soda and salt; gradually add to sugar mixture and mix well. Stir in chocolate chips and nuts. Cover and refrigerate for 1 hour.
Drop by rounded tablespoonfuls 2 in. apart onto parchment paper-lined baking sheets. Bake at 375° for 10-12 minutes or until edges are lightly browned. Cool for 1 minute before removing from pans to wire racks. Yield: 3-1/2 dozen.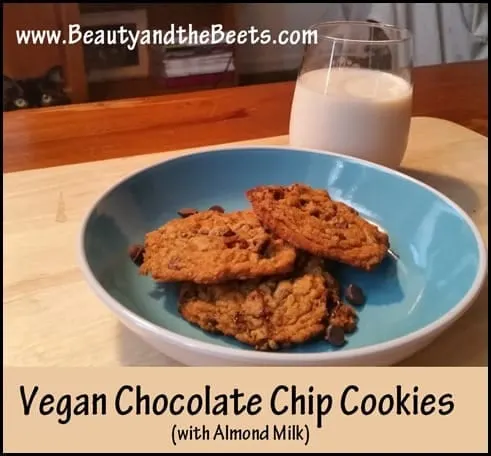 What are you cooking up this Vegan Monday?