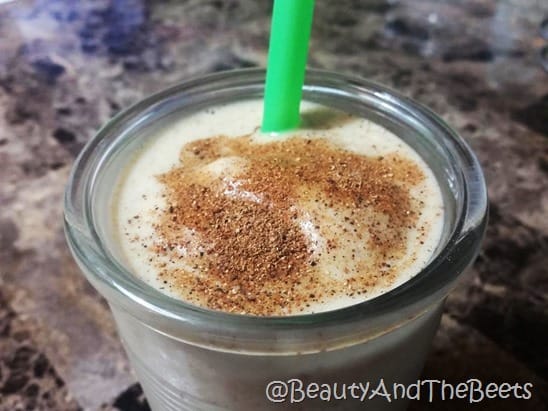 So, this one time, in Austin….I had a smoothie. Not just any smoothie. An Egg Nog Smoothie. A Vegan Egg Nog Smoothie. And it was magical.
One of my most favorite things to do is to try and re-create the different foods I experience during my travels. And this time I nailed it. #nailedit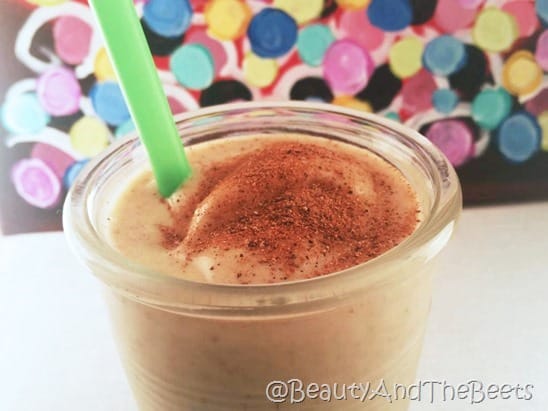 A Vegan Egg Nog Smoothie that is not only easy to make it home, but it will satisfy any cravings I will have for egg nog during the year….like in July.  Yes, that happens. We here in Beetsland are a smoothie family. We drink smoothies almost daily and we like them healthy. We drink green smoothies, fruit smoothies, veggie smoothies- we don't discriminate. We'll add ground flaxseed, protein powder, camu camu powder, wheat germ…almost anything to boost the nutritional value of the drink. If you want to add extra stuff to this Egg Nog Smoothie I guess you certainly could. I happen to like it simple. One thing that you could add to spruce this recipe up a bit could be pitted dates. Just be sure to blend extra well.
And I like it best in my Red Rockettes Christmas cup with a green straw. It tastes better that way because it seems more festive. Do you have a special Christmas cup?
And like regular egg nog, this is meant to be topped with ground nutmeg. Yum. And enjoy. Have a great Holiday everyone!
Yield: 1
Vegan Egg Nog Smoothie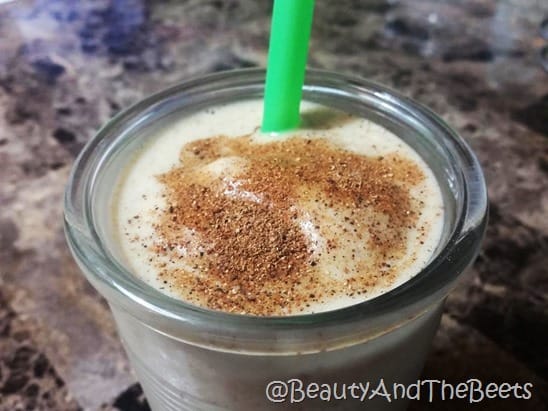 Ingredients
2 frozen bananas
1 1/2 cup almond milk
4 tablespoons raw crushed pecans
2 teaspoons coconut sugar
1 teaspoon ground nutmeg
1/2 teaspoon ground cinnamon
nutmeg sprinkle,, for garnish
Instructions
Add all ingredients to a blender and blend until smooth, about 2 minutes.
Pour immediately into a smoothie glass, sprinkle with ground nutmeg and serve.