This simple and hearty Vegetarian Chili is chock full of beans, fresh veggies, and warming spices. Perfect for a chilly game day.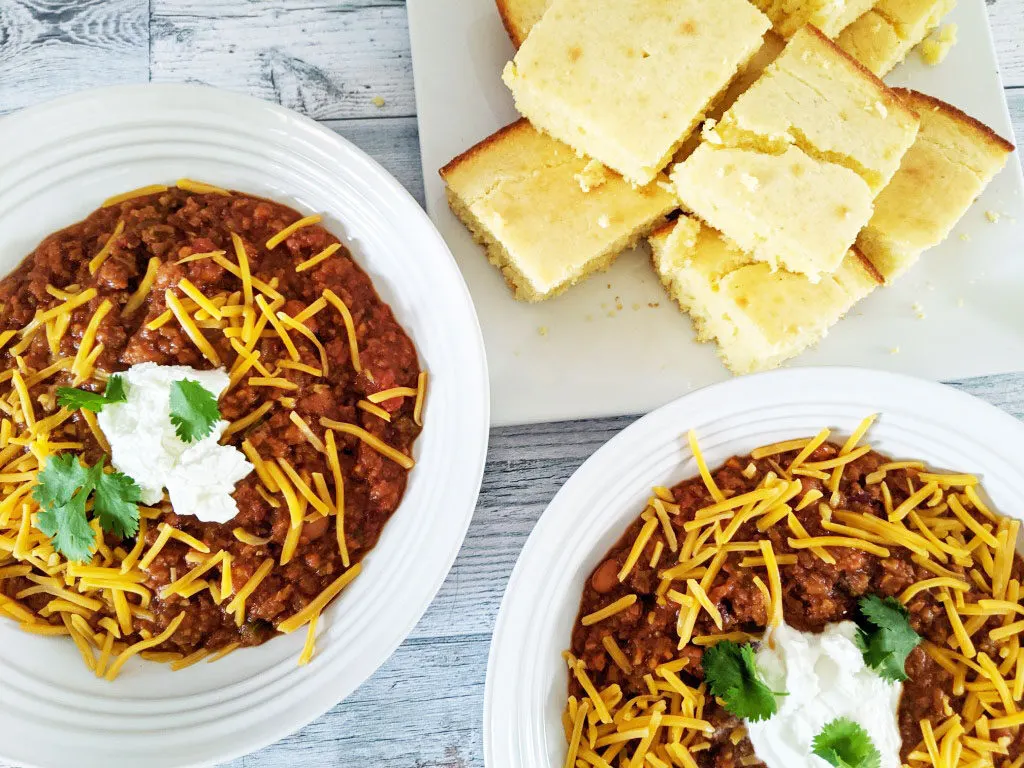 Fall came quickly this year to Florida. It seems like overnight we went from hot summery days to chilly wintery weather. I've doubled up on sleeping blankets and pulled out the flannel pajamas. And before you Northerners even start rolling your eyes, it's been in the upper 40s at night, and for Florida that's bring your plants and pets inside weather.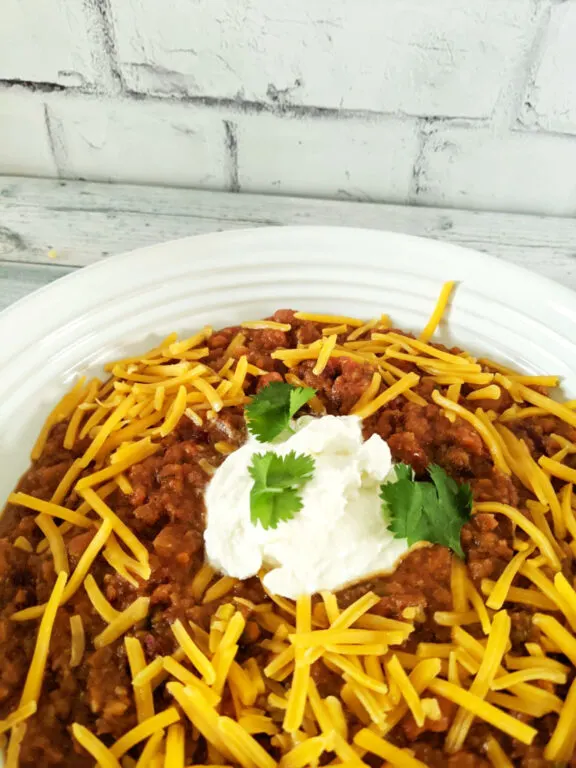 As soon as the weather begins to dip below 60°F, I pull out my big stockpot, cans of beans, and hearty spices. It's time to make my simple and hearty Vegetarian chili. It's what we eat while watching college football on Saturdays and cheering on any team that isn't the Patriots on Sunday.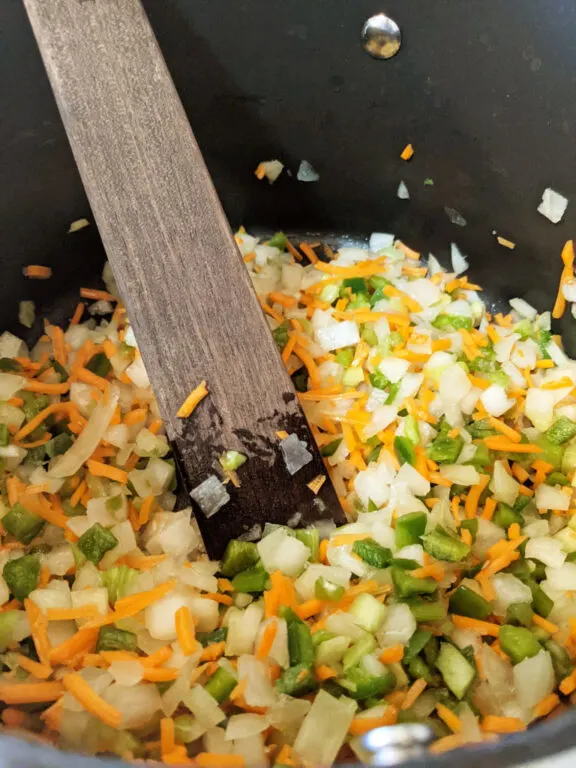 This Vegetarian Chili is very easy to throw together in less than an hour. I start by sauteeing freshly diced onions, peppers, carrots, and celery, then add in my spices and beans, followed by simmering in vegetable broth.
The key to thickening the chili up just a bit is to mix about half of the mix in the blender. It's the last step before adding some garnish and a spoon.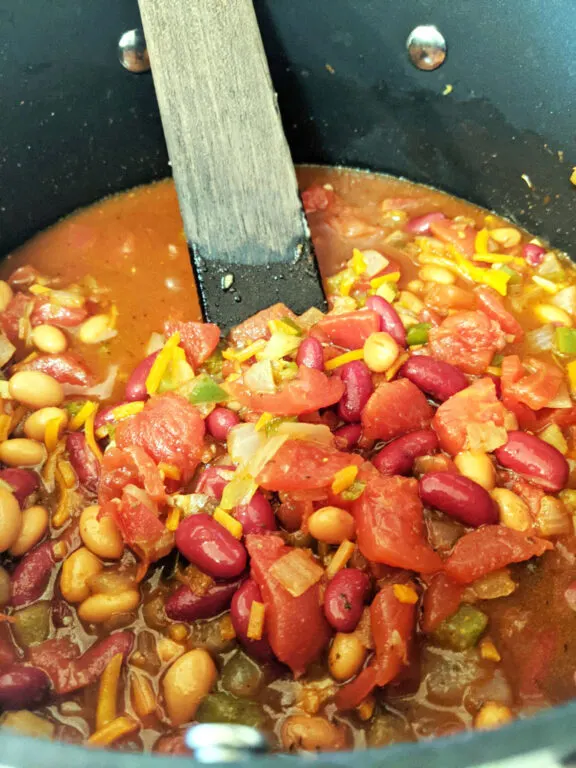 While my beans and veggies are simmering, I will make this easy cornbread recipe to serve alongside the chili. And the cornbread is extra delicious with this Jalapeno Honey Butter.
For an even more hearty flavor add these Cauliflower Walnut Crumbles into the chili.
Use any chili you have leftover as a topping for these Sweet Potato and Black Bean Veggie Burgers or these Walnut-Lentil Burgers.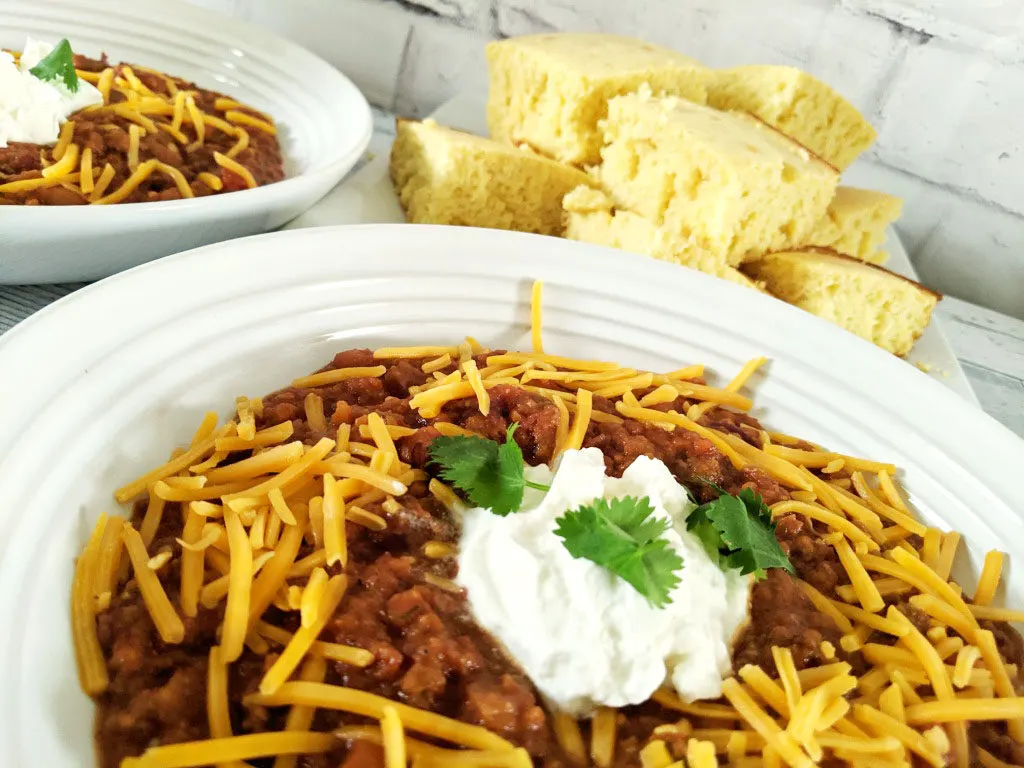 This Vegetarian Chili is also Vegan though I like to garnish my bowl with a dollop of sour cream and shredded cheddar cheese. Keep it Vegan by substituting the sour cream and cheese with crushed Frito corn chips or sliced jalapenos.
You can also add Vegan meat crumbles to enhance the "meatiness" of this recipe.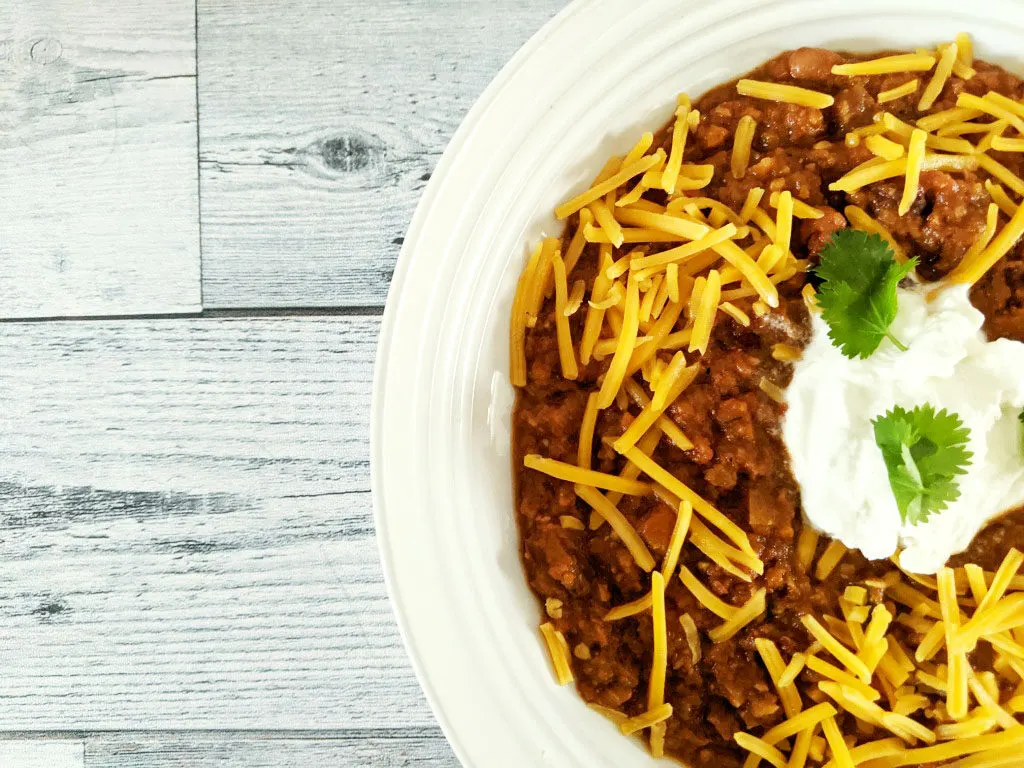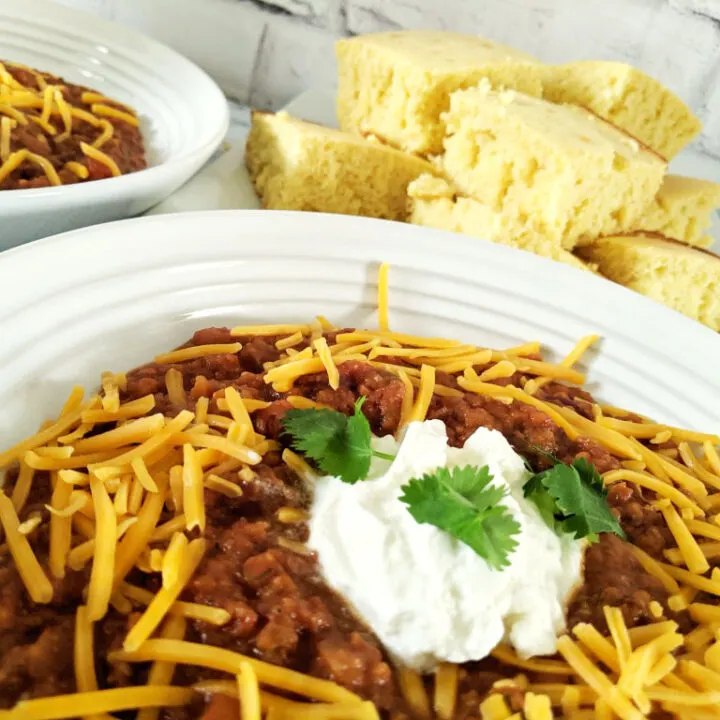 Simple and Hearty Vegetarian Chili
This simple and hearty Vegetarian Chili is chock full of beans, fresh veggies, and warming spices. Perfect for a chilly game day.
Ingredients
2 tablespoons olive oil
1 large red onion, diced
1 large red bell pepper, diced
2 medium carrots, diced or shredded
2 ribs of celery, diced
1/4 teaspoon salt
3-4 cloves of garlic, minced
1 tablespoon chili powder
2 teaspoons ground cumin
1 teaspoon smoked paprika
1 teaspoon dried oregano
1 large can (28 ounces) diced tomatoes
2 tablespoons tomato paste
2 cans (15 ounces each) red kidney beans, rinsed and drained
1 can (15 ounces) pinto or white navy beans, rinsed and drained
2 cups vegetable broth
Lime wedges, for garnish
Sour cream, for garnish
Shredded cheddar cheese, for garnish
Chopped fresh cilantro, for garnish
Instructions
Heat the olive oil in a large stockpot, then add the onion, pepper, carrots, celery, and salt.
Stir to combine and cook until the vegetables are softened, stirring occasionally, for about 8 minutes.
Add the garlic, chili powder, cumin, paprika, and oregano. Stir and cook about one minute until fragrant.
Add the tomato paste and stir to combine.
Add the diced tomatoes with their juices and stir.
Add the drained beans and vegetable broth. Stir and simmer for 30 minutes, stirring occasionally.
Transfer about half of the chili and the liquid to a blender and blend until fairly smooth. (It' best to do this one cup at a time until your chili reaches your desired consistency)
Add the blended chili back into the chili pot and stir.
Spoon chili into serving bowls and garnish with lime wedges, sour cream, cheddar cheese, and cilantro if desired.*
Notes
For a Vegan garnish try crushed Fritos Corn Chips in place of the sour cream and cheese.