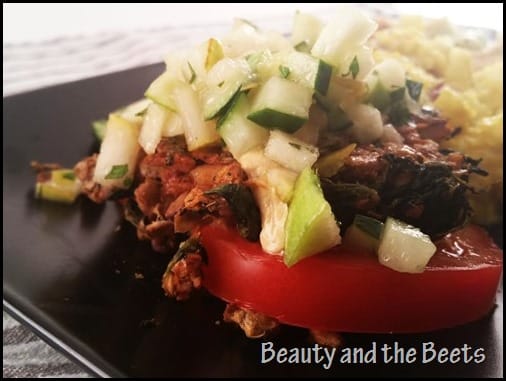 When Chad and I go out to eat, we are always partial to the places that make their own veggie burgers from scratch, as opposed to those other places that serve them frozen from a box. We are especially interested in finding great recipes to make our own at home. My Mom sent me this recipe from Dr. Joel Fuhrman- a Walnut –Mushroom Veggie Burger he made on Live with Kelly and Michael. However, Chad is not a fan of mushrooms so in order for me to make this burger at home, I needed to make some modifications.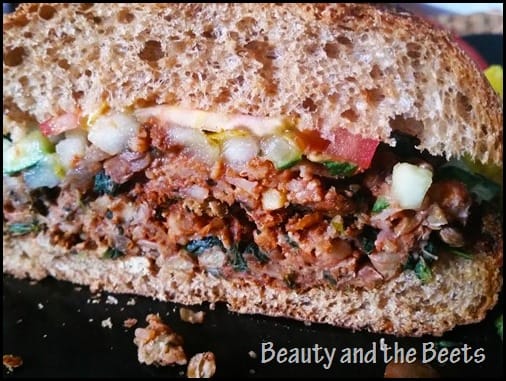 I cooked up some lentils in place of the mushrooms and I have to say they turned out pretty tasty.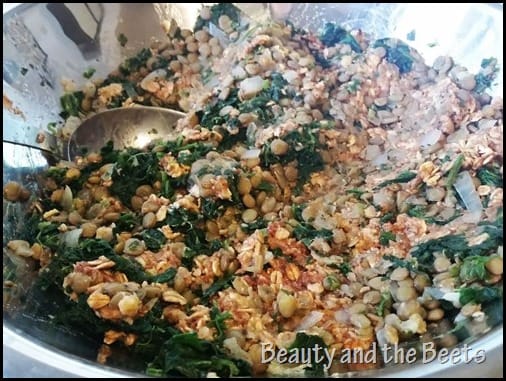 Four power ingredients made me feel like I was going to be able to stop powerful locomotives and leap tall buildings in a single bound. I wonder if Superman ate lentils.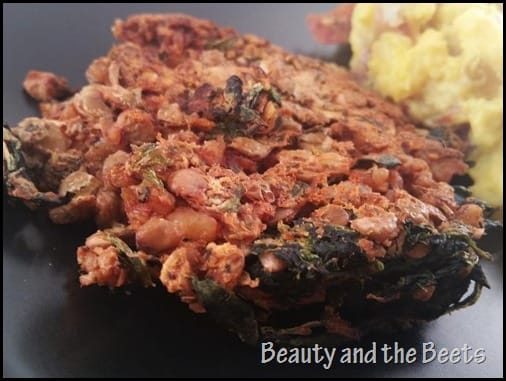 This recipe has lentils, rolled oats, walnuts and spinach. Maybe these burgers were going to make me more like Popeye.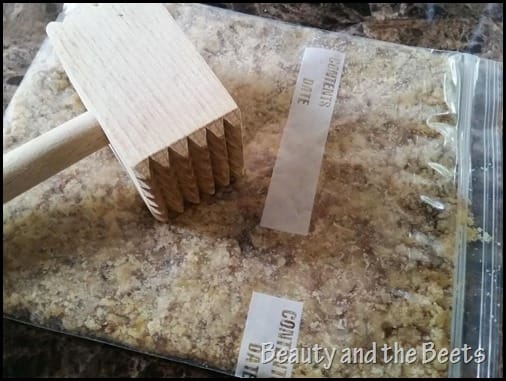 The Dr. Fuhrman version also called for ground walnuts. I crushed mine instead of grinding them because I felt it would make the veggie burger texture a little more chunky and authentic. I just put some walnuts into a plastic baggie and carefully crushed them using a meat tenderizer.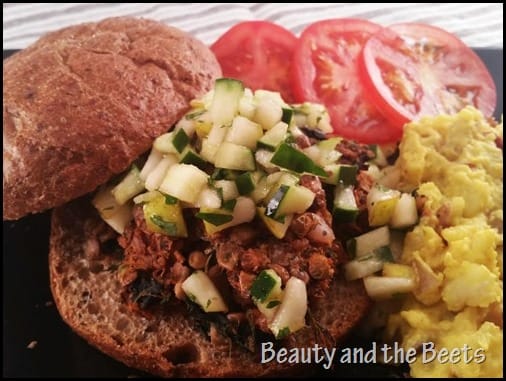 I don't know, what I do know is they were delicious. Chad enjoyed his burger on a whole-grain bun while I skipped the bread and instead had my burger on top of tomato slices.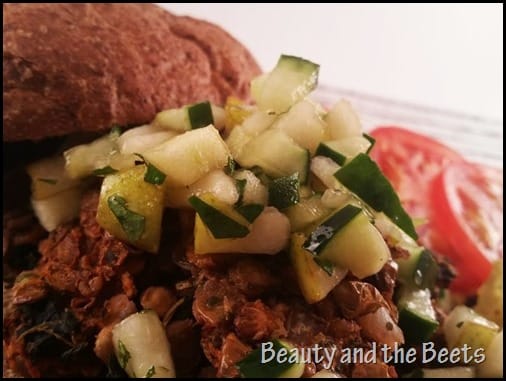 I also made a pear, apple and cucumber salsa to top the burgers. Chad and I had gone to a cute little French Bakery near our house not too long ago and they served this salsa on their own homemade veggie burgers. I loved how fresh it was. No need for any sugar-laced high-fructose corn syrup based ketchup here. I did add a little high-quality Dijon mustard to my own burger. I loved the contrast of the tangy mustard with the sweetness of the pear salsa.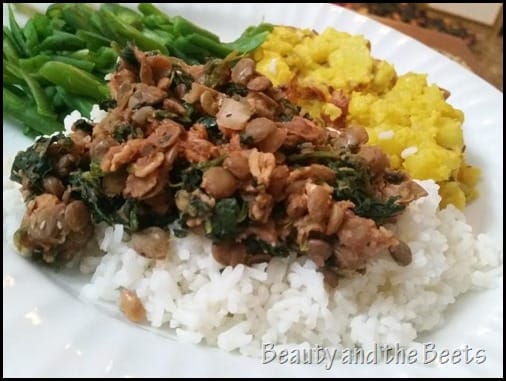 We had enough leftover walnut and lentil burgers that the next day I served the "meat" over white rice with green beans.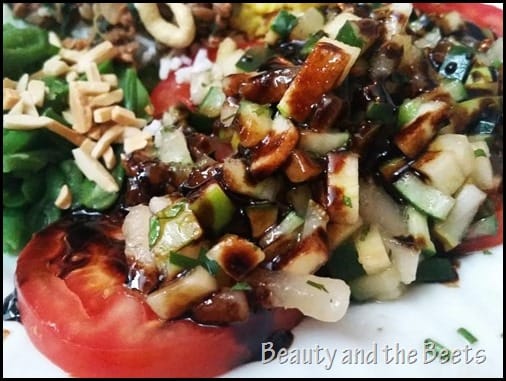 I also used up the rest of the pear and cucumber salsa over tomato slices with a drizzle of balsamic glaze.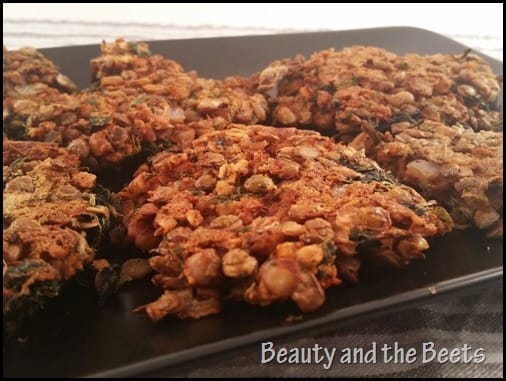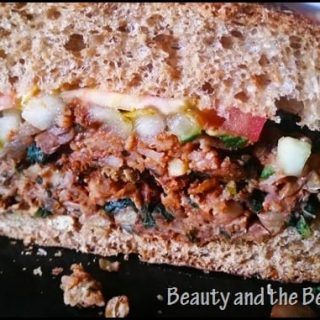 Walnut and Lentil Veggie BurgersPear, Apple and Cucumber Salsa
adapted from Dr. Joel Fuhrman
Ingredients
1 1/2 cup rolled oats
1 cup crushed walnuts
1 cup water
1/4 cup tomato paste
1/4 cup no-salt seasoning blend, (I used Mrs. Dash)
1 cup diced white onion
3 cloves garlic,, minced
6 cups cooked lentils
2 tsp dried basil
1/2 tsp dried oregano
2 tbsp minced fresh parsley
freshly ground pepper,, to taste
2/3 cup frozen chopped spinach,, thawed
non-stick spray
1 cup cubed Bartlett pear
1/2 cup cubed Granny Smith green apple
1 cup cubed seedless cucumber
1/4 cup finely chopped fresh cilantro
1 tbsp honey
1 tbsp extravirgin olive oil
2 tsp fresh lime juice
Instructions
Preheat oven to 350°. Spray a baking sheet with non-stick spray. Combine the rolled oats and walnuts in a medium sized mixing bowl and set aside.
In a small saucepan, add the water, tomato paste and no-salt seasoning. Whisk together over medium-high heat until boiling. Add tomato-water mix to the oat and walnut mixture.
Heat 2 tbsp water in a skillet over medium-high heat, add onion and garlic. Sautee 5-7 minutes until the onion egins to turn translucent. Add to the bowl with the oats and walnut mixture.
Into the same bowl, add the lentils, basil, oregano, parsley, spinach and black pepper.
Use hands to mash the mixture together well. Shape 1/3 cup of burger mixture into a round patty and place on baking sheet. Continue to fill baking sheet with remaining mixture the same way, spacing each patty apart from each other.
Bake for 15 minutes, flip, and bake another 15 minutes.
Serve on burger buns with pear-cucumber salsa (see recipe below) or other favorite condiments and/or vegetable garnish.
Gently mix all ingredients in a large bowl and refrigerate about an hour to allow the flavors to blend. Use on top of burgers, salads, rice or veggies. I personally leave the peels on the fruit and cucumber but it is your choice.
What do you like to put on your veggie burgers?