Mr. Beet and I spent the weekend up in St. Augustine for another one of our 5K races- but I think the highlight of the trip for both of us was touring the factory of Whetstone Chocolates of St. Augustine.
The Whetstone business started as a small ice cream store in 1967 in the Old Town district of St. Augustine before they ventured into fudge and chocolates.  Now, the factory is one of the premiere tourist destinations for this charming city located on the northeast coast of Florida.
There seemed to be quite a sprinkling of chocolate shops around the historic town but none were raved or talked about as much as Whetstone.  As I was doing research for our little weekend getaway I discovered Whetstone offers tours of their factory.  Well, since it was Mr. Beet's birthday and he LOVES chocolate I called to make a reservation for one of the three tours they offer daily (highly recommended as our tour filled up pretty quickly).
When we first arrived, we were escorted into a small room with plushy chairs and tables while we waited for the tour to begin.  We quickly realized that the walls were all the color of chocolate – light chocolate, dark chocolate, creamy chocolate………we were ready for some sampling!  We didn't have to wait long- as soon as the tour began we were offered fudge- peanut butter fudge and dark fudge with walnuts.  Awesomeness……
We sat in a room and learned about the beginnings of the cacao tree with its fruit pods (did you know chocolate is actually a fruit?) and its separation of chocolate liquor and cocoa butter (it's not alcoholic liquor- that's just the name given to what is basically raw chocolate).  We learned that milk chocolate doesn't actually have real milk in it but rather powdered milk – we learned that good chocolate will contain at least 35% cocoa (most mass produced chocolate contains less than 7% cocoa).
Anyway, it was time for the factory tour- first we had to put on hair nets……and then we got to go into the actual factory…..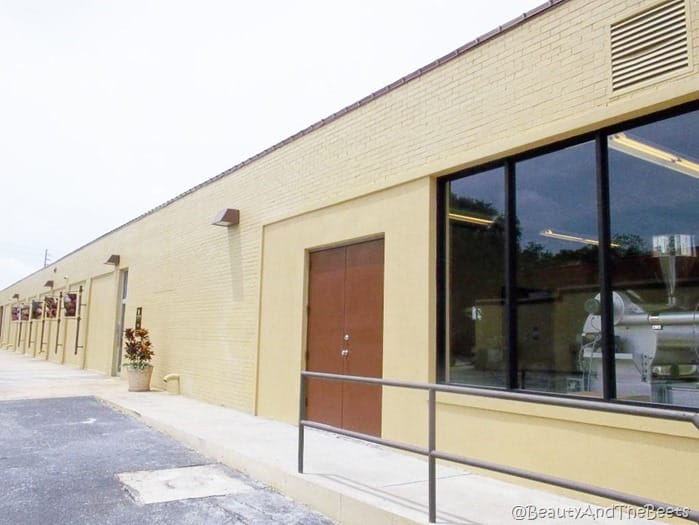 The factory is very small – it is located just next door to one of the Whetstone Shops – however, this is where they make all their truffles, fudge, candies, gelato, hot chocolate etc……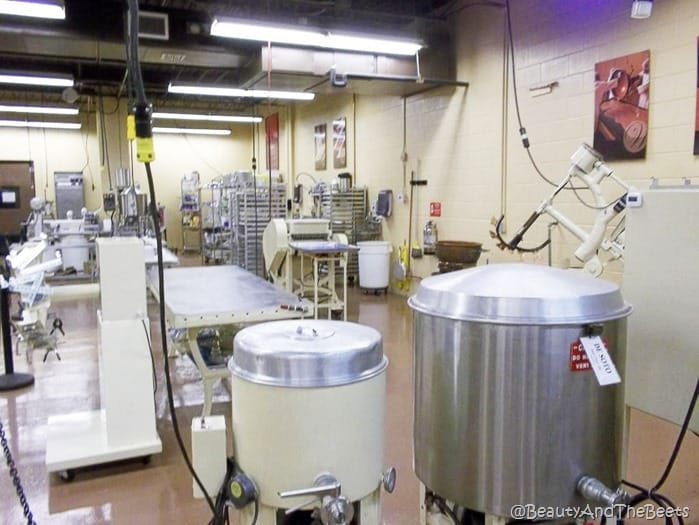 We saw lots of  candy molds lying around….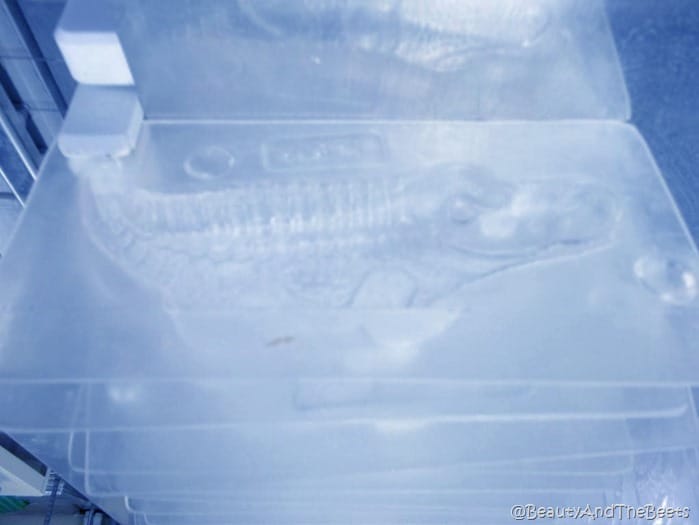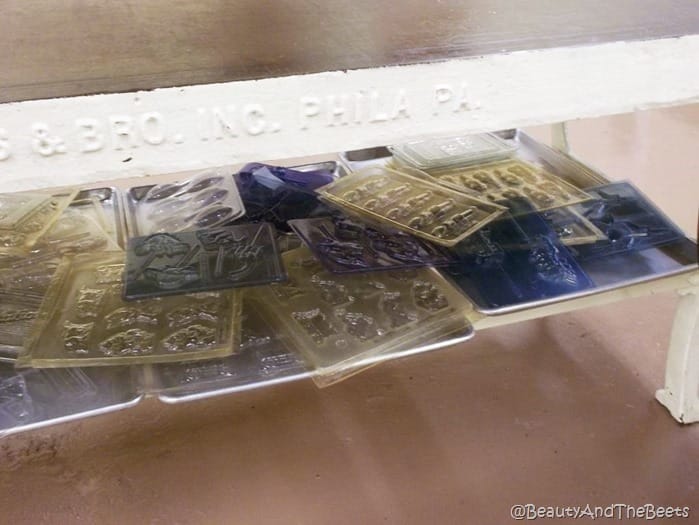 I found my dream mixer…..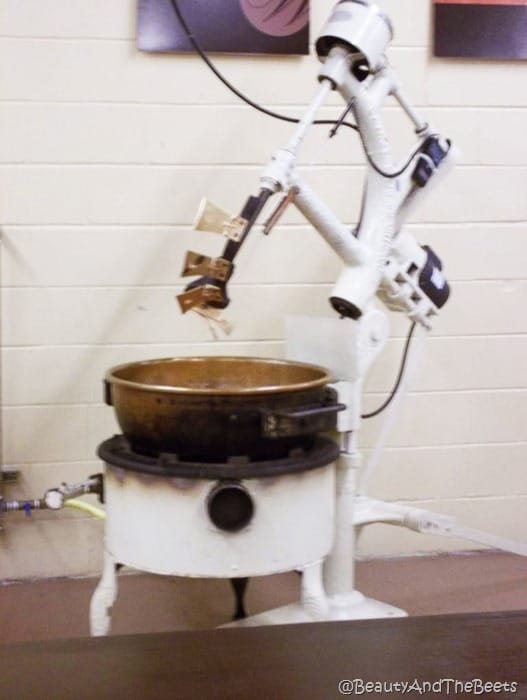 I found my dream open kitchen space……..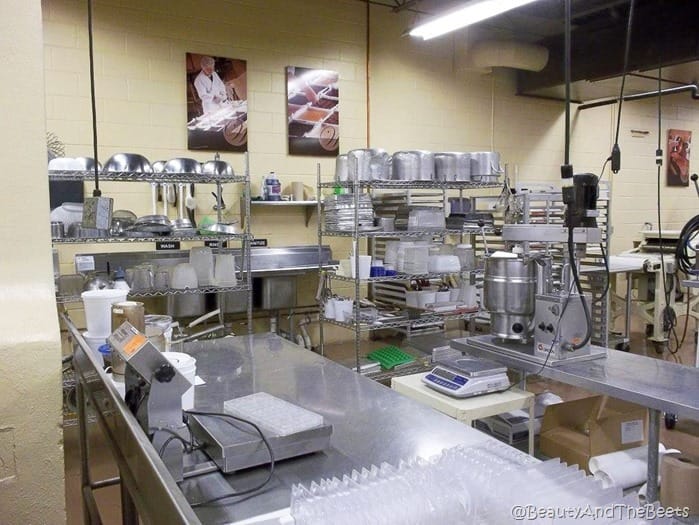 We got more samples……
I even had a chance to help Lucy Ricardo on the production line………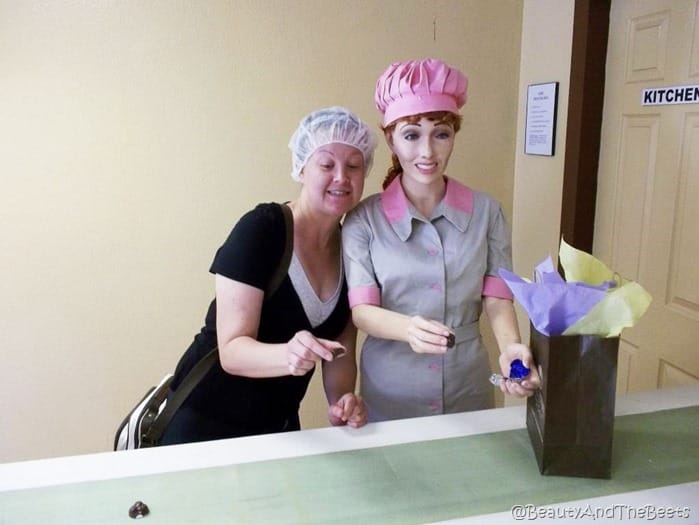 …which was really going great until Mr. Beet wanted to join in and got us into trouble…….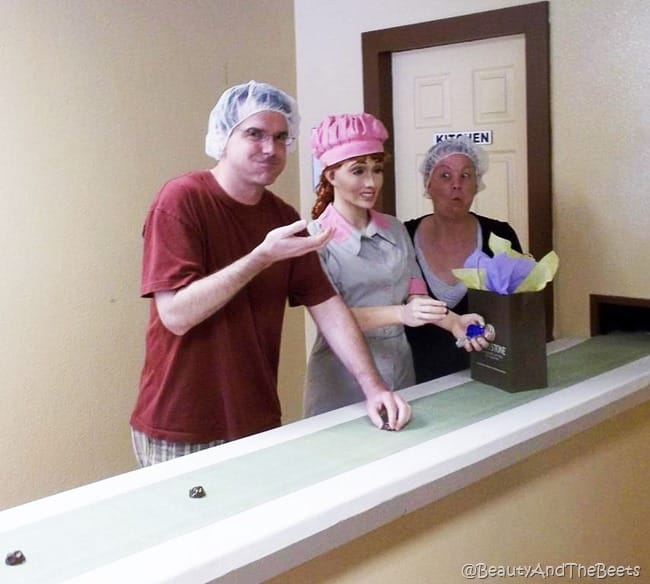 Tours are offered three times daily……I would recommend going on a weekday when they are actually making the chocolate – we went on a Sunday and all the chocolatiers were off!  Tours are $8.00 pp – but then you get a $2 coupon to use at the shop after.  Plus you get plenty of samples on the hour long tour and they allow you to sample anything in the shop.
It was very informative as well as entertaining (and yummy).  We learned about all the benefits of eating chocolate (besides happiness), especially dark chocolate which is full of anti-oxidants.  (The higher the percentage of cocoa the better!)  Also, be sure to check the ingredients in your favorite chocolate- some of the companies with the best reputations will use paraffin wax instead of cocoa butter to save on money but still charge you more (yes- WAX).  I think Mr. Beet and I have officially become chocolate SNOBS!
HAPPY BIRTHDAY MR. BEET!!