Print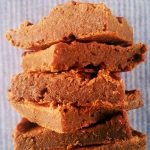 The Easiest 2-Ingredient Pumpkin Brownies Ever
The easiest 2-ingredient pumpkin brownies recipe you will ever need!
Preheat oven to 350° Grease a 13x9 baking dish.

Mix the pumpkin puree and brownie mix in a large mixing bowl. Stir until ingredients are well blended. Pout the batter into the baking dish.

Bake 24-26 minutes, or until a toothpick inserted into the middle of the dish comes out clean.