Print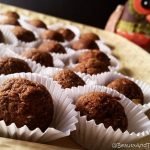 Pumpkin Spice Latte Bites #SundaySupper
No need to wait for your favorite coffee shop to start serving thier Seasonal Pumpkin Coffee, try making these Pumpkin Spice Latte Bites at home.
Servings
20
-23 bite sized balls
Add the dates and the oats to the bowl of a food processor and pulse until the dates and the oats are well mixed.

Add the remianing ingredients to the dates and oats and process until the mixture forms a paste.

Transfer the mixture to a medium sized bowl and chill in the fridge for about 30 minutes.

Roll the mix into bite sized balls, one tablespoon at a time.

Serve immediately, or keep in the fridge until ready to eat. Store any remaining balls in the fridge for up to 3 days.