Print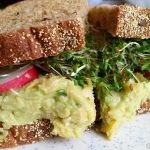 Chickpea Mash
Spread this chickpea mash on lightly toasted bread, add radishes, tomatoes and alfalfa sprouts and top with another slice of bread for a very simple but hearty sandwich!
In a medium sized bowl mash the chickpeas with a fork or a potato masher, leaving slightly chunky.

Cut the avocados in half and remove the pits. Scoop out the avocado flesh and add to the bowl of chickpeas.

Begin to mash the avocado into the chickpeas, again leaving slightly chunky.

Add the lemon juice and mix into the chickpea mixture using a spoon.

Serve immediately or cover and refrigerate. Serve as a spread on sandwiches or as a dip with pita chips and veggies.