Print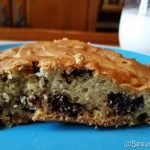 Chocolate Chip Breakfast Cake (Vegan)
This wonderful breakfast cake is Vegan and healthy. You can substitute fruit or nuts for the chocolate chips or add it all in. The cake is a bit on the dry side like a scone so it's perfect for dipping in a big cold glass of almond milk!
Preheat oven to 400°. Lightly spray or butter a 12-inch cast iron pan.

Mix all dry ingredients except the chocolate chips.

Add vanilla extract, butter and milk and slowly mix into the dry ingredients until blended.

Gently fold chocolate or Carob chips into batter.

Spread dough into the cast-iron batter pan and bake in the preheated oven for 30 minutes.

Let cool before cutting into pie slices.
**If you prefer the dairy than by all means, use real butter, chocolate chips and dairy milk.