Print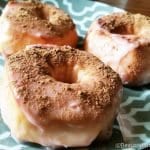 Glazed Biscuit Doughnuts
Easy recipe for Glazed Biscuit Doughnuts with a basic sugar glaze.
1

tube 6-8 count

dinner biscuits

cooking oil spray
Preheat oven to 350°. Spray a baking sheet with cooking spray.

Seperate each biscuit onto a cutting board. Spray a small round cookie cutter and carefully insert into each biscuit, removing the center. You may need to spray the cookie cutter between each biscuit.

Place the biscuit doughnuts onto the greased baking sheet about two inches apart. Spray the biscuits with the cooking spray.

Bake for 12 minutes until the biscuits are golden brown and flaky.
Make the sugar glaze:
Place the sugar in a medium bowl and slowly stir in the milk and vanilla.

Stir until the glaze is mixed well. Add 2-3 drops of food coloring until desired hue is achieved. Spoon or pour over cookies or doughnuts.

Spoon glaze or frosting on doughnuts before serving.
Tip: Place a cooling rack onto a baking sheet when pouring or spooning the glaze to collect the excess.