Print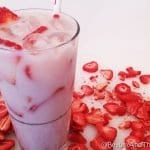 Starbucks Pink Drink Copycat Recipe
This is the original Starbucks Pink Drink copycat recipe.
Servings
1
24-oz. glass (the size of a Starbucks Venti)
1

cup

Freeze Dried Strawberries,

or fresh strawberries, sliced

1/2

cup

sugar,

I prefer coconut sugar

1/4 - 1/2

tsp

Green Bean coffee powder,

the powder of about two capsules broken open

1

cup

white grape juice

2

cups

coconut milk

1/2

cup

fresh sliced strawberries,

for garnish

blackberries,

for garnish

ice
Add the freeze dried strawberries, sugar, white grape juice and green coffee bean powder to a saucepan and bring to a boil. Reduce heat to simmer and simmer for ten minutes, stirring occasionally so the liquid does not burn.

Pour the strawberry mixture through a fine mesh strainer, capturing the liquid into a wide lipped cup or bowl. Gently push the liquid out of the strawberries. **

Allow the liquid to cool. Using freeze dried strawberries should yield about 1/4 cup of syrup, fresh strawberries will make about 1/2 cup. (You can speed up the process by placing the liquid in the refridgerator or freezer, just do not use a glass container as it will crack)

Add a few strawberry slices to the bottom of a serving glass and fill glass with ice. Add the cooled syrup, then add the coconut milk. (Using the fresh strawberry syrup will have less room for the coconut milk so adjust the milk amount accordingly)

To be even more Starbucks authentic, add everything to a cocktail shaker and shake vigorously before pouring back into your serving glass.

Top with the fresh strawberries reserved for the garnish and/or blackberries, if using.

Enjoy!
*Use more or less green coffee bean powder depending on how much caffeine you want in the drink.
**You can use the strawberries left in the strainer for a topping for toast, biscuits, pancakes, etc.
***The Starbucks version also has Acai in it- you can add 2 tsp of Acai powder to the tea process- add to the white grape juice.