Print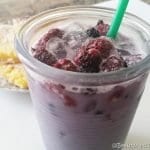 Starbucks Purple Drink Copycat Recipe
The original copycat recipe for the Starbucks Purple Drink.
For the Passion Fruit tea:
5

cups

filtered water

for boiling

6

Passion Fruit Tea Bags

3

cups

cold filtered water
Make the Passion Fruit tea:
Boil 5 cups of water in a teapot on the stove. Steep 6 Passion Fruit tea bags for 30 minutes.

Remove the tea from the stove and pour into a serving pitcher. Add 3 cups of cold filtered water.

*This will make 2 quarts of Passion Fruit tea.
To make the Purple Drink:
Add ice to a tall cocktail shaker. **

Pour 1/2 cup of the Passion Fruit tea over the ice, followed by the Vanilla Simple Syrup and the Soy Milk.

Add half the blackberries to the shaker, add the lid and shake vigorously for 10-15 seconds.

Pour the shaken drink into a serving glass and top with the remaining blackberries.
*Some stores use coconut milk and some people say that it is the soymilk that makes the color more purple. Feel free to experiement and let me know if your drink turns out more purple. However, most comments I have read online claim that the soy milk is used more often.
**If you are not using a cocktail shaker, just add the ingredients to the serving glass and mix with the straw before the serving.