Print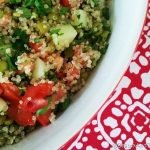 Lentil Quinoa Tabbouleh
A tasty and healthy variation of a traditional tabbouoleh dish.
1/2

cup

cooked green lentils

1/2

cup

cooked quinoa

1/2

cup

diced tomatoes

1/2

cup

diced cucumber

1/2

cup

chopped fresh parsley

3

large green onions,

chopped

3

tbsp.

minced fresh mint

1/2

cup

extra virgin olive oil

1/2

cup

lemon juice

2

tbsp.

minced garlic
Combine the olive oil, lemon juice and garlic in an airtight jar. Shake until well blended. Set aside.

Add the lentils, quinoa, tomato, cucumber, parsley, green onions and fresh mint into a serving bowl and mix together with a spoon.

Drizzle the lemon juice mixture over the lentil mixture until the salad is lightly dressed.

Serve immediately or store in the fridge until ready to serve.