Print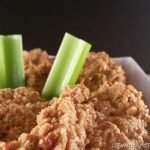 Roasted Pumpkin Seed Dip
A traditional Mexican-inspired dip
In a medium saucepan, add the onions and garlic. Saute over medium heat for 5-7 minutes. Add the veggie broth to deglaze the pan when the onions begin to stick.

In the bowl of a food processor, add the remaining ingredients and pulse a few times to process. Add the onions and garlic and continue to pulse until dip reaches desired consistency.

Serve the dip with tortilla chips, crackers and/or veggies.