Print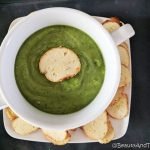 It's Easy Being Green Gazpacho
The healthiest of all soups.
For the Gazpacho
2

cups

fresh spinach

1

cup

arugula

1

cucumber,

peeled and diced

3

stalks celery,

diced

1

cup

cold filtered water

1/2

cup

minced fresh parsley

1/4

cup

fresh lime juice

1/2

cup

salsa verde

2

tsp.

freshly ground pepper

1

tsp.

paprika
For the Salsa Verde:
Add all the ingredients to a pot and cover with water, just to the top of the ingredients.

Boil the water, then reduce heat and simmer for 15 minutes.

Pour the ingredients into a blender and blend until slightly chunky.

Return the salsa to the pot and simmer for 30 minutes.

Let cool before adding to the soup.
For the Gazpacho:
Add all ingredients to the food processor and process until smooth. Add more water if neccesary until desired consistency.

Chill or serve immediately. Garnish with parsley sprigs if desired.