Print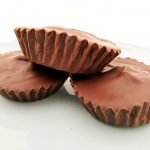 Homemade Peanut Butter Cups
If you are like me you will want to make a double batch. One for yourself, and one to share with others.
Peanut Butter Filling:
1/2

cup

Organic Peanut Butter,

creamy or chunky

1/4

cup

confectioners sugar

2

tablespoons

Organic Coconut Oil,

melted
For the Peanut Butter Filling:
In a medium sized bowl, combine the peanut butter, confectioners sugar, and melted coconut oil. Set aside.
For the Chocolate Cups:
In a double boiler over medium heat, add the dark chocolate, coconut oil and vanilla extract.

Stir continuosly until chocolate mixture is melted and smooth.
Assemble the cups:
Set up about 20 cupcake liners in a casserole dish (or a baking sheet) - this will be placed in the fridge to cool the peanut butter cups

Using a regular teaspoon, add a few dollops of chocolate to the bottom of each cupcake liner. Add enough to fully cover the bottom of the liner.

Add a small marble sized amount of peanut butter onto the center of each chocolate.

Cover the peanut butter with chocolate, filling the liner about 3/4 full.

Place the peanut butter cups in the fridge for at least 30 minutes until the chocolate sets.

Store in an airtight container either in the refrigerator or at room temperature for up to 4 days.