Print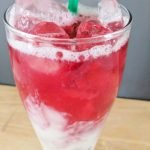 Starbucks OMBRE Pink Drink copycat
The Starbucks Ombre Pink Drink copycat recipe
For the Cool Lime Refresher:
1

cup

peeled and diced cucumbers

1/2

cup

finely chopped fresh mint leaves

finely chopped

1

cup

sugar

1

cup

filtered water

1

tablespoon

Green Bean coffee powder

Juice of 15 fresh squeezed limes,

about 1 1/2 cup lime juice**

2

cups

white grape juice

5

cups

cold filtered water

divided
For the Passion Fruit tea:
5

cups

filtered water,

for boiling

6

Passion Fruit Tea Bags

3

cups

cold filtered water
For the Ombre Pink Drink:
1/2

cup

coconut milk

for each drink

Lime wheel

for garnish
Make the Cool Lime Refresher:
Add 1 cup of peeled and diced cucumbers and 1/2 cup of finely chopped mint leaves into 3 cups of water.

Store in a lidded container and place in the fridge (this can be done up to 24 hours ahead of time- the longer the water mixes with the cucumber and mint, the better.)

Add 1 cup of sugar (or sugar substitute) to 1 cup of water to create a simple syrup.

Heat and stir until the sugar is dissolved. Remove from heat and let cool.

Drain the cucumber/mint water over a strainer, saving the water.

Add the cucumber/mint water into a large pitcher, add the simple syrup and the juice of about 15 limes**

Add the white grape juice and an additional 2 cups of cold water and stir well.

Serve immediately over ice or let the mixture sit in the fridge so the flavors all mix.
Make the Passion Fruit tea:
Boil 5 cups of water in a teapot on the stove. Steep 6 Passion Fruit tea bags for 30 minutes.

Remove the tea from the stove and pour into a serving pitcher. Add 3 cups of cold filtered water.
Make the Ombre Pink Drink:
Fill a tall glass with ice.

In a jar with lid, shake together 1 cup of Cool Lime Refresher and 1/2 cup coconut milk.

Pour the lime coconut mixture over the ice. Add a straw.*

Rinse out the jar, then add 1/2 cup of Passion Fruit Tea.

Add a few ice cubes, seal the jar and shake the tea until frothy. (about 10 seconds)

Remove the ice cubes from the tea.

Place a spoon upside down over the serving glass with lime coconut mix.

Slowly pour the Passion tea over the spoon so it drizzles over the ice and lime coconut mix.

Lay a lime wheel gently on top of the drink, careful not to push the tea layer into the lime layer.

Serve immediately.
*add the straw during the drink construction. Adding the straw once the beverage is made will mix the layers.
**Both recipes for the Cool Lime Refresher and the Passion Tea make about 2 quarts of each. Therefore this recipe for the Ombre Pink Drink will make many servings. Use 1/2 cup of Coconut milk for each glass of the Ombre Pink Drink.