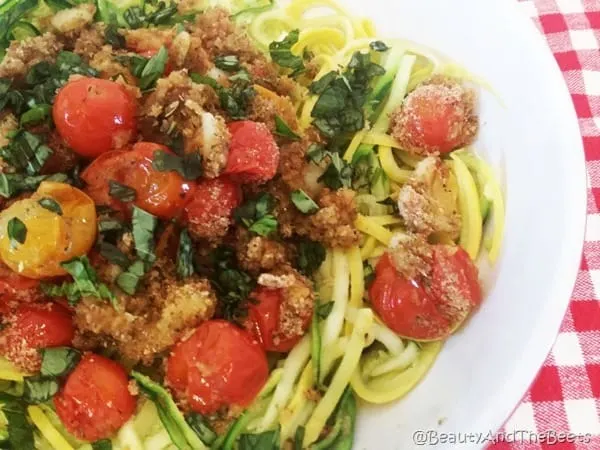 Squash and zucchini noodles, also known as Squoodles and Zoodles, are becoming quite popular. And it doesn't stop there. Coodles (carrots), Boodles (Beets) and Sweepoodles (Sweet Potato) are all the rage. And as you can probably tell, they are all make a fun meal as well. I mean what kid would turn down a plate of Coodles and Sweepoodles, right? I made Squoodles and Zoodles with Roasted Tomatoes, Garlic and Basil.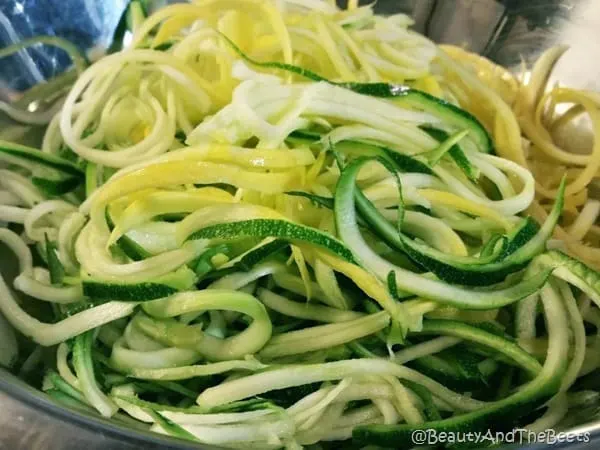 Voodles, or noodles made out of vegetables have been replacing starchy pasta noodles for quite some time now. And just like regular pasta, voodles can be topped with anything from tomato sauce to meatballs to chicken alfredo. For me, summer is the season of fresh vegetables and meals made easy, so I made Squoodles and Zoodles with fresh roasted tomatoes, garlic and basil.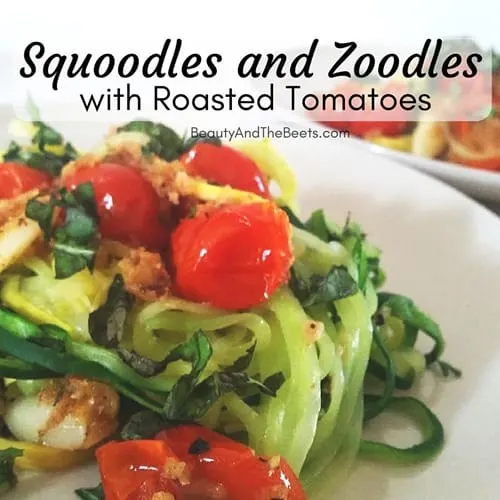 I got my spiralizer from Amazon and it was very inexpensive. I paid less than $10 and I use it several times a week. I personally prefer the hand held version, it is convenient to use and more importantly, easier to clean. And once spiralized, the squash and zucchini "cook" in a pot of boiling water for only 60 seconds. So simple.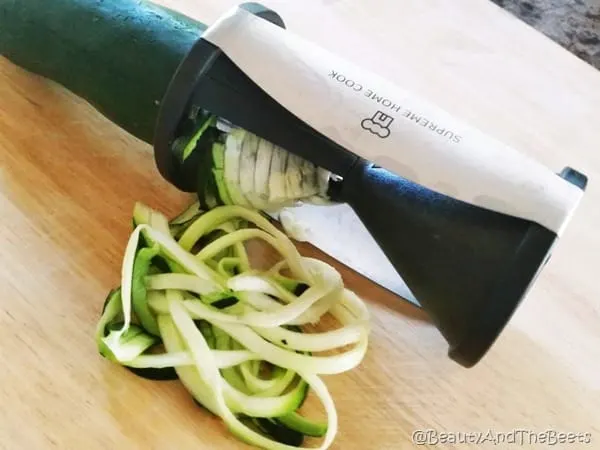 The roasted tomatoes are as easy as throwing a gathering of ingredients into a baking dish and cooking them until the tomatoes blister, about 20 minutes. So in less time than an episode of The Big Bang Theory you can have a light and flavorful meal, colorful and healthy.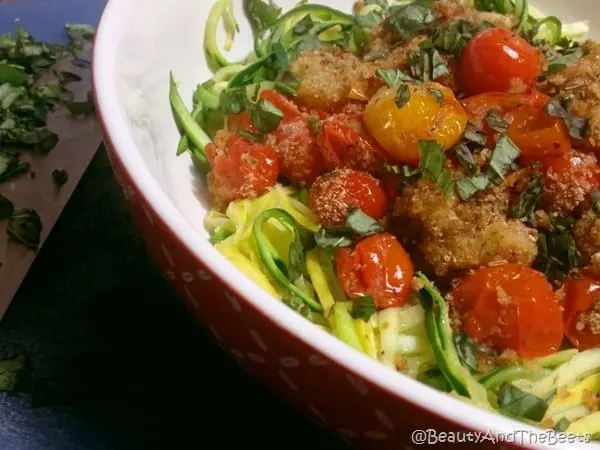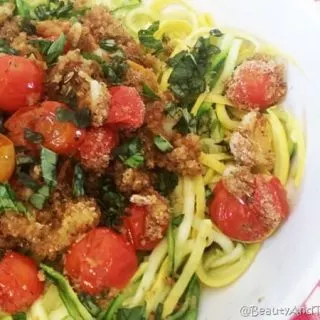 Squoodles and Zoodles with Roasted Tomatoes (Squash and Zucchini Noodles)
Light and flavorful, colorful and healthy. Vegetable noodles (Voodles) with Roasted Tomatoes, Garlic and Basil.
Ingredients
2 medium zucchini
2 medium squash
1 lb. cherry tomatoes
olive oil,, for light drizzle, roughly 2 tbsp.
6-8 cloves garlic
1/2 cup Italian breadcrumbs
2 tbsp. freshly grated parmesan
fresh basil leaves,, loosely torn
Instructions
Preheat oven to 450°
In a 13x9 baking dish, add the tomatoesand garlic in a single layer. Drizzle olive oil lightly over the tomatoes.
Bake tomatoes in the oven for 15 minutes, until the tomatoes begin to soften and wrinkle.
Mix the breadcrumbs and parmesan in a bowl. Sprinkle mixture over the tomatoes and cook another 5 minutes.
While the tomatoes are cooking, bring a pot of water to a boil. Using a spiralizer, spiral the zucchini and squash into noodles.
Add the zucchini and squash to the boiling water and cook for 60 seconds. Drain the water.
Place the noodles in a serving dish, top with the roasted tomato mixture.
Sprinkle the torn basil over top the noddles just before serving.
Pin this recipe for later:

***This post contains affiliate links. I only link to products that I use myself and believe in. Your support is greatly appreciated.***