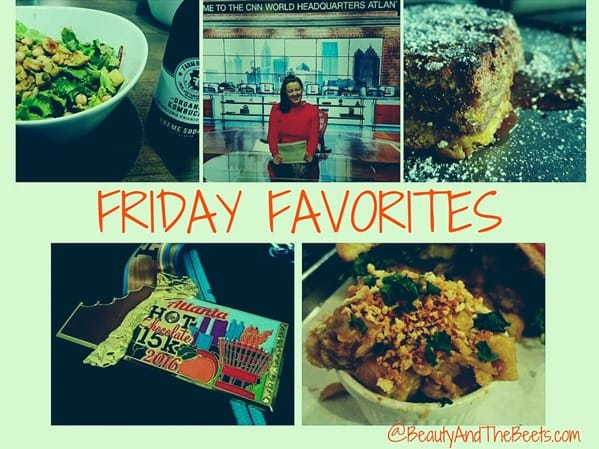 Yipeeeeeee for Friday! Yipeeeeee for no major snowstorms this weekend, yes? The weather will be nice here in Florida and I will be taking advantage of it by running in two events. Saturday is the Lady Track Shack 5k through downtown Orlando while Sunday I will be running the Celebration Half Marathon in the town of Celebration, FL. I am hoping the forecast doesn't change, right now the temperatures are predicted to be in the 50's at the start of both races.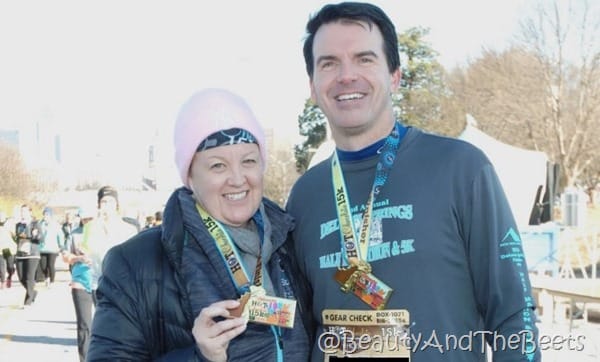 Speaking of temperatures and running races, I am so glad to be back from Atlanta where Mr. Beet and I ran in the Hot Chocolate 15k, and it was 20° at the start of the race. It was cold. I know it is ideal to run in cold weather, but 20° is just too cold. I was bundled up and could barely move…well you can read my recap here –> Hot Chocolate 15k Atlanta.
Anyway, on to Friday Favorites – the things that have been making me smile all week. Mr. Beet and I have had a blast this week:
1. We had a behind-the-scenes tour of the CNN Studios: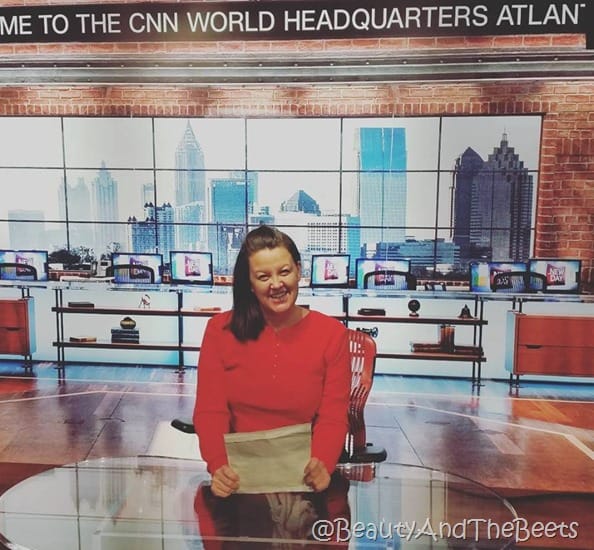 And speaking of Atlanta, while it was very very cold and snowy, we still got out just a little bit to explore the city. The one thing that we did was take a tour of the CNN Studios. I plan to share more pictures next week.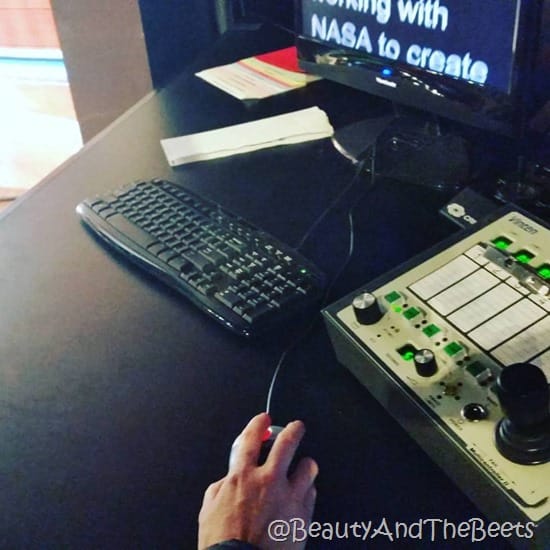 When I mentioned that I was a teleprompter operator at the Golf Channel, I was allowed to tinker with their teleprompter a bit. That was fun. Surprisingly, I learned that not all the CNN anchors use a teleprompter operator, many like to use a foot pedal to scroll the script themselves so they can control their own pace. Interesting.
2. We celebrated National Breakfast Week: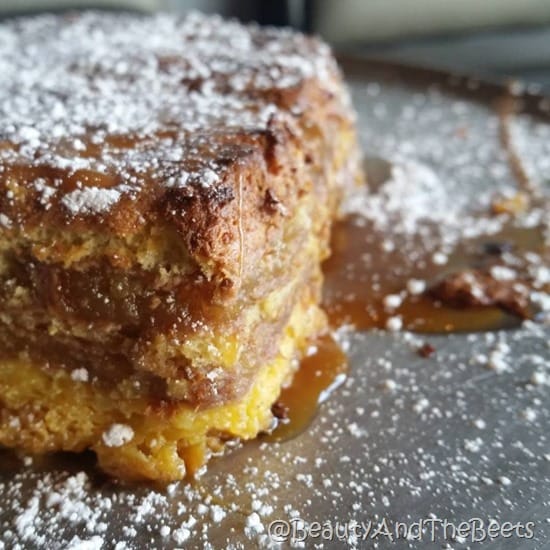 I learned of this glorious event while still in Atlanta, so Mr. Beet and I found a spot called Oy! to chow down on Red Velvet Pancakes and French Toast Casserole. So glad I ran 9 miles the day before to cancel out all these calories. Did you celebrate #NationalBreakfastWeek ?
3. We found two new Vegan restaurants in Orlando: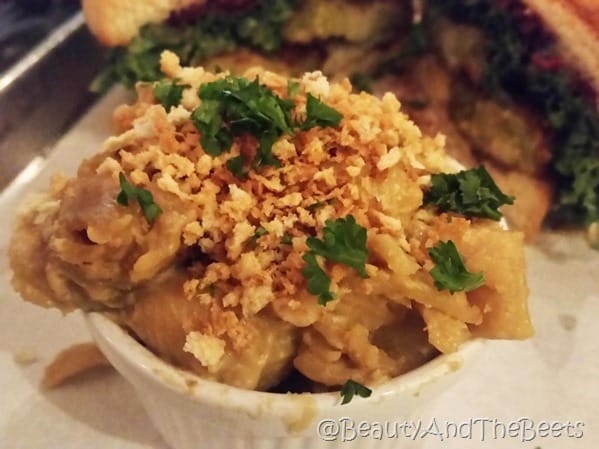 The Vegan community in Orlando is really booming and I could not be more thrilled. We found one place called Market on South that serves up Georgia Peach Sloppy Joes and Pulled Jackfruit BBQ sandwiches as well as plenty of Vegan desserts. In my opinion, the mac and cheese is the best I have ever had, Vegan or non-Vegan.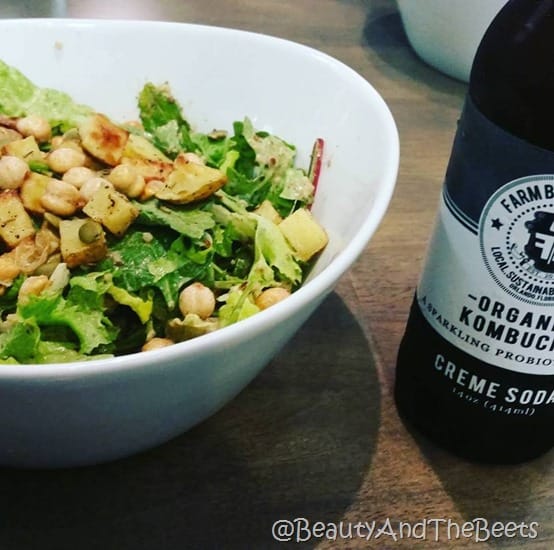 And another place called The Sanctum that offered fancy salads and grain bowls like my Toasted Casear Salad. And this creme soda Kombucha was brewed right here in Orlando. ???
4. This sign cracks me up: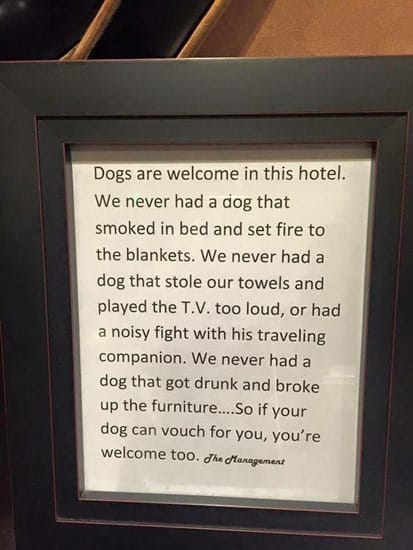 Found at a pet-friendly hotel. Funny and so true.
5. Two great articles worth mentioning: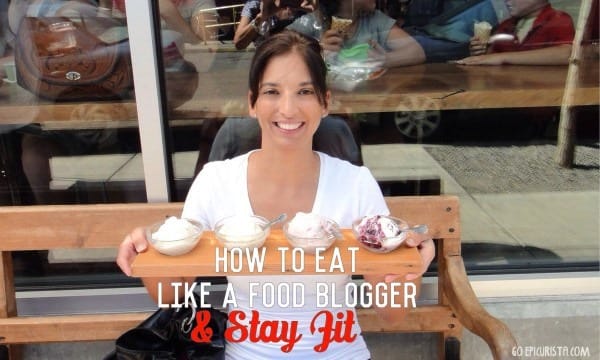 One is from a friend of mine who authors the website Go Epicurista. Christina wrote a fun piece about staying fit as a Food Blogger with all the eating we do. –> How to Eat like a Food Blogger and Stay Fit
The second is from Katy Widrick, who is well known around the blogging sphere. She wrote an article about bookmarking articles on Facebook. In the past I used to post them on my own timeline to just myself so I could read them later, but Katy has taught me how to bookmark them on Facebook to read later. So useful. –> Katy Widrick – Saved For Later: Volume 1
A recap of Beauty and the Beets posts in case you missed them this week: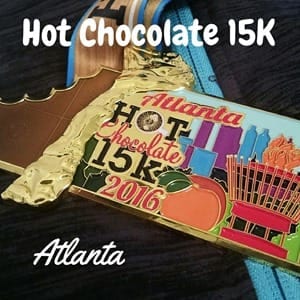 I hope everyone has a fun and safe weekend and thanks for stopping by. If you like this Friday post check out the others over at Life In Leggings.