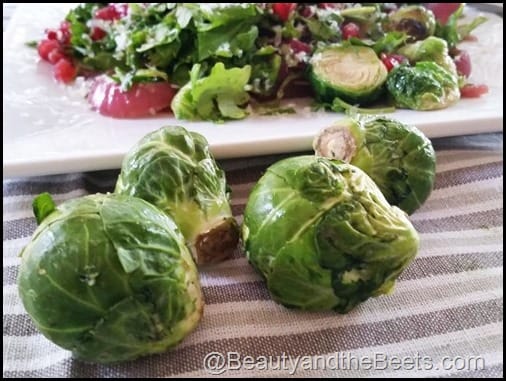 We here at Beauty and the Beets are huge fans of Brussels Sprouts. Huge. Marinated, raw, steamed, roasted, fried- I've done it all to Brussels Sprouts and have met very few recipes I didn't love. I decided to try my hand at putting together a Fried Brussels Sprout Salad. I wanted to make it incredibly healthy and delicious, but I also wanted to make it festive for the upcoming Holiday season.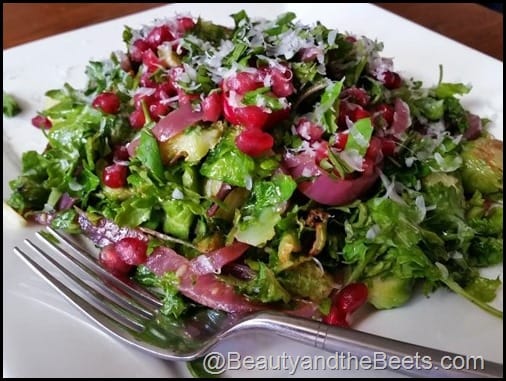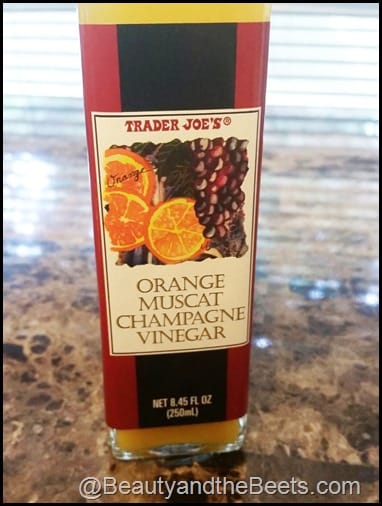 I made an orange citrus vinaigrette because I think that citrus and Brussels sprouts go so well together. I had this Orange-Muscat Vinegar I had picked up at Trader Joe's– I'd been making vinaigrette out of it every time I made a salad lately and this sprouts salad as no exception.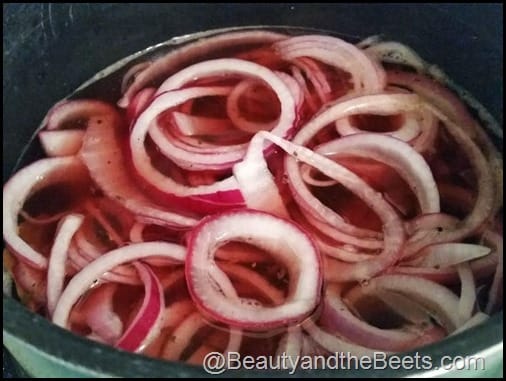 The first step was to make the pickled red onions. I've made these before and used them as a topping on veggie burgers or as a garnish on fish tacos. Very easy to make and quite flavorful, the cloves and spices used really scream out autumn. I made these a few hours in advance so they would have time to sit and marinate.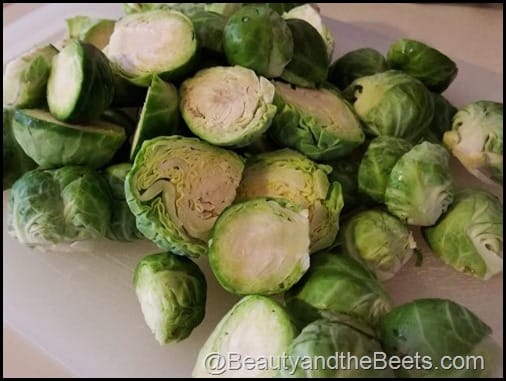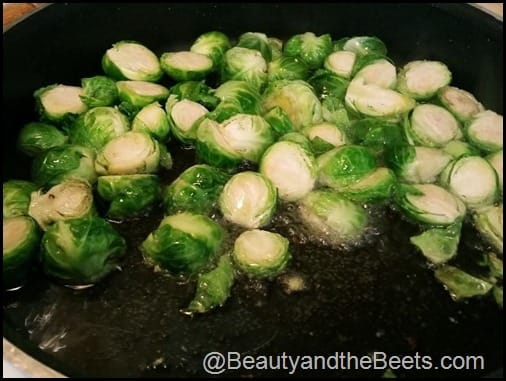 Before putting together the salad, I fried up the Brussels sprouts. The most important thing to remember here is to be very careful adding the sprouts to the hot oil- the oil will splash!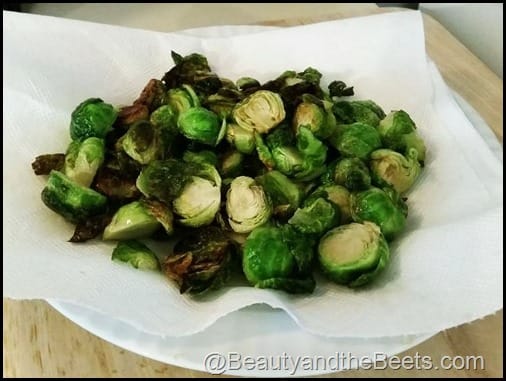 And make sure to let the sprouts drain well so you're not left with an oily flavor that will ruin the salad.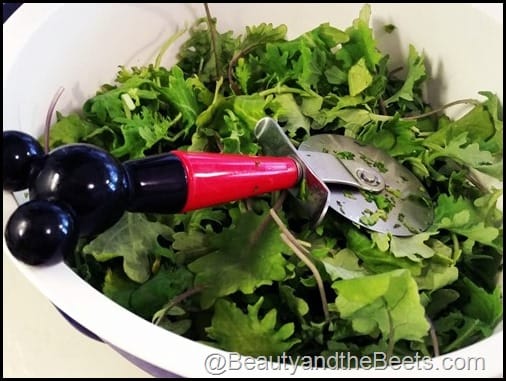 I like my kale and frisee chopped up, almost confetti like. I have found that using a pizza cutter is efficient in trimming up any type of salad greens. To me it just makes salad easier to enjoy when the lettuce is sliced into more manageable bite sized pieces.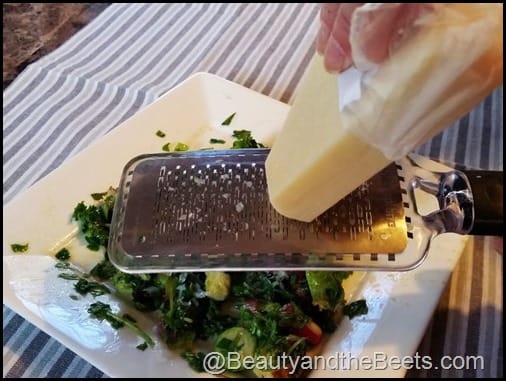 Adding fresh grated parmesan cheese over the top made it seem like the salad had been snowed on! However, the cheese can be left off to keep the salad Vegan-friendly.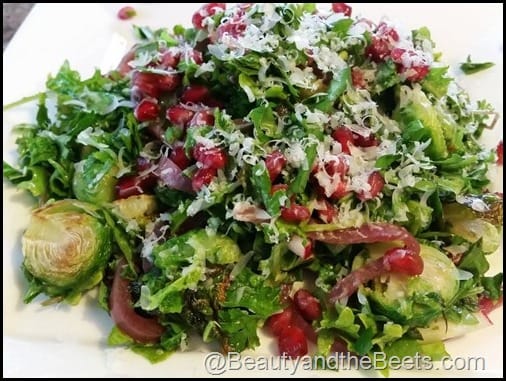 The end result is a colorful, festive and incredibly healthy salad.
Although I liked the pomegranate arils, I feel that I would use fresh cranberries next time as the seeds from the pomegranate were a bit tough to chew. But they sure made the salad pretty!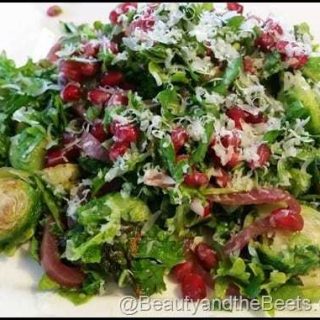 Fried Brussels Sprout Salad
This will make 2 large entrees or 4 side salad servings. Omit the cheese at the end to make the recipe Vegan.
Ingredients
For the Salad-
1 cup vegetable oil
2 cups Brussels sprouts
4 cups Kale-Frisee blend
1/2 cup pickled red onions,, recipe follows
2 tbsp fresh parsley leaves
3 radishes,, thinly sliced
2 tbsp pomegranate arils,, can also substitute fresh cranberries
4 tbsp orange citrus vinaigrette,, recipe follows
2 tbsp fresh cilantro leaves
2 tbsp fresh grated Parmesan cheese
For the Pickled Red Onions-
1 cup red wine vinegar
1 tbsp sugar
1/2 tsp dried oregano
1/4 tbsp kosher salt
1/2 tsp ground black pepper
1/2 tbsp dried red pepper flakes
3 whole cloves
2 bay leaves
1 large red onion,, thinly sliced, separated
For the Orange Citrus Vinaigrette-
1/4 cup orange champagne vinegar,, pomegranate vinegar would work well too
1/2 cup extra virgin olive oil
1/2 tbsp minced garlic
1/2 tbsp dijon mustard
1 tbsp fresh lemon juice
Instructions
For the Pickled Red Onions- (can be made up to 24 hours in advance)
Combine vinegar, 1/2 cup water, sugar, oregano, salt, black pepper, red pepper, cloves and bay leaves in a medium pot and heat over medium-high heat.
Once the mixture begins to boil, carefully add the red onions, stirring well to cover all the onions with vinegar mixture.
Bring back to boil, stirring again, then reduce heat to just below boil and cook onions until tender, about 5 minutes.
Remove pot from the heat and cover. Allow onions to cool down completely, remove the bay leaves, about an hour, then transfer to a covered container and place in refrigerator up to 24 hours in advance.
For the Vinaigrette-
In a glass jar, combine all ingredients and add lid. Shake until all ingredients are blended.
For the sprouts salad-
Using a high sided saute pan, preheat vegetable oil over medium high heat. Cut the stems off the Brussels sprouts and cut each sprout in half- top to bottom.
When the oil just begins to smoke, CAREFULLY add the sprouts. The sprouts will splatter as they hit the oil.
Saute until the sprouts begin to brown slightly, about 3 minutes. With a slotted spoon, remove the sprouts and allow to cool on a paper towel lined plate, allowing to drain.
Place the kale and frisee in a larger mixing bowl. Using a pizza cutter, cut through the lettuce, shredding it into smaller bite-sized pieces.
Add the fried sprouts pickled red onions, parsley leaves and radishes and toss lightly. Drizzle with vinaigrette dressing and toss lightly again.
Add the cilantro and divide mixture to 2 large plates. Sprinkle the pomegranate arils on top of the salad.
Garnish with the Parmesan cheese and serve.