Walt Disney World introduced the lineup of artists for the 2018 Eat to the Beat concert series. Anyone who reads Beauty and the Beets knows that my heart went pitter patter when it was announced that my favorite band The Hooters were going to be there. And my heart is a flutter again because guess who is coming back? Yeeeeeeessssss – The Hooters.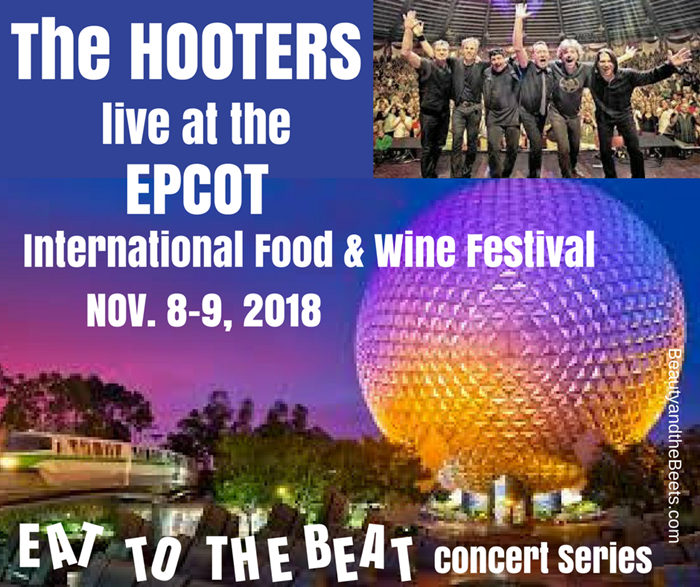 Last year The Hooters played over Labor Day weekend – one week before Orlando was introduced to its archenemy Hurricane Irma. This year, they have secured a spot during the final week of the Epcot Food and Wine Festival – November 8 and 9. As a fan, this is good news. Last year, Epcot was ridiculously packed over Labor Day weekend, and it was hot and rainy. In November, Orlando will be out of hurricane season and the weather should be cooler and more pleasant.
If you are not familiar with The Hooters, allow me to enlighten you. They are a Philadelphia-based band behind hits like And We Danced and All you Zombies – they are the songwriters behind hits by Cyndi Lauper (Time After Time) and Joan Osborne (One of Us) – both Grammy nominated songs. The Hooters have been not only writing for other artists like Billy Joel and Bon Jovi, they have also been spending the last few years touring across Europe. The Hooters are ginormous in Europe. They were in regular rotation on MTV (back when MTV played music videos) and were the subject of a live concert broadcast on Thanksgiving day. But wait- there's more – The Hooters were also featured at Live Aid in Philadelphia- perhaps one of the most famous concerts in history. They played at the Amnesty International concert in New Jersey and the famous The Wall concert with Roger Waters of Pink Floyd when the Berlin Wall fell in 1990. They have a way of incorporating instruments that are not "rock and roll" into "rock and roll". An amazing band to see live on stage. The talent is immeasurable.
OK, enough gushing about "my" band – here is the lineup for this year's 2018 Eat to the Beat concert series –
August 30-31: Blue October
September 1-3: Tiffany
September 4-5: MercyMe
September 6-7: Glass Tiger
September 8-9: Tauren Wells
September 10-11: Postmodern Jukebox
September 14-16: Baha Men
September 20-21: Living Color
September 22-23: Sheila E
September 24-26: Sugar Ray
September 27-28: David Cook
September 29-30: Jeffrey Osbourne
October 1-2: Jim Belushi & The Sacred Hearts
October 3-4: Everclear
October 5-7: Mark Wills
October 8-10: Air Supply
October 15-16: 98 Degrees
October 17-18: 38 Special
October 19-21: Devon Allman Project
October 24-25: Billy Ocean
October 26-27: Starship featuring Mickey Thomas
October 29-31: Hanson
November 3-4: Taylor Dayne
November 5-7: Boyz II Men
November 8-9: The Hooters
November 10-12: Big Bad Voodoo Daddy
Who are you excited to see at the 2018 Eat to the Beat concert series?