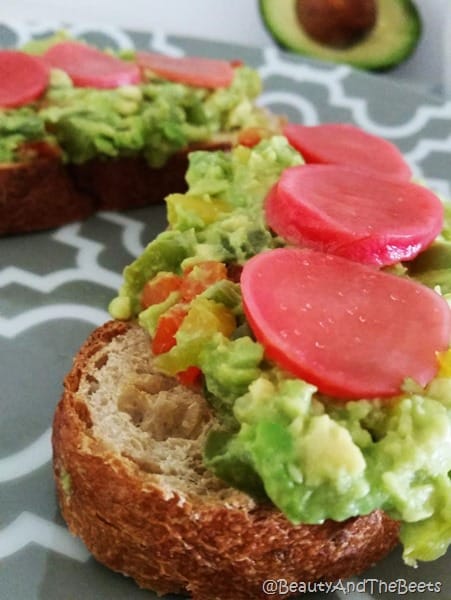 In recent years breakfast has become more than eggs and bacon or pancakes and syrup. There has been an influx of new meals like smoothie bowls and avocado toast. some restaurants have even begun to offer avocado toast as an entrée, usually served with an egg or a bowl of yogurt. I usually try to eat healthy while dining out so I will order a side of avocado toast with some fruit. However, I am never fully satisfied as I feel that restaurants are places that one should order something that one would normally not make at home. And how hard is it to slap some avocado on a piece of toast and be on your way? Here is my Avocado Toast with Pickled Radish.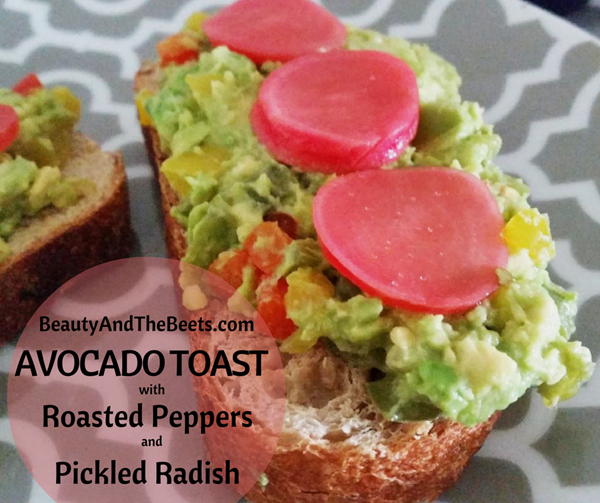 However, I recently experienced Avocado Toast at a pop up brunch here in Orlando. Farm-Haus, normally a gourmet meal service, offered a pop up brunch for a few weekends where they were able to test out some of the new food they will be offering at their soon-to-be-open brick and mortar location at East End Market in Orlando. The particular day I visited, they were offering Avocado Toast and I decided to give it a shot, though I wasn't expecting much.
To say that the Avocado Toast at Farm-Haus was delicious is an understatement. This was life changing. First, the bread. The bread was thick and crusty. And fresh. Baked from another local purveyor at East End, the bread was then toasted lightly but enough to withstand the avocado mixture and not get soggy. Next the avocado was mixed with some roasted vegetables and then spread thick onto the toasted bread. Topped with a little salt and pepper and I was eating a divine creation.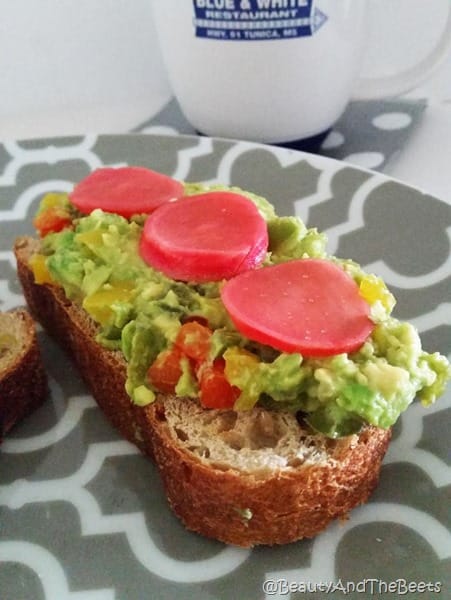 So why wouldn't I want to make that at home? I roasted some peppers, mashed them into avocadoes and spread that onto some toasted crusty whole grain bread. I took it even a step further and pickled some radish slices to top my avocado toast. And the pickled radish really was spectacular. I made my version a little more simple than Farm-Haus, and left off the cheese. But a light sprinkling of Cotija cheese would be nice here.
The pickled radish slices were so good I ended up adding them my veggie burger later that day. And then to a bagel the next morning. And to a salad. I am fairly certain that pickling radishes is going to be my new thing. The fact that the process is so simple but yet will transform any dish from ordinary to extraordinary.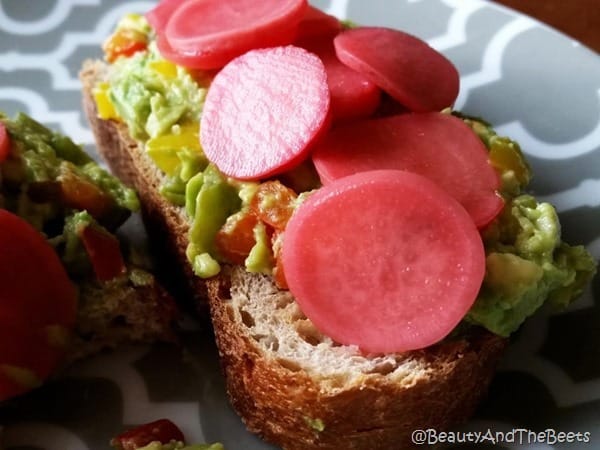 The pickling process was nothing more than adding a vinegar pickling liquid to a jar of radish slices. Then let the radishes sit and marinate for a few hours. I hope you enjoy this recipe from my kitchen to yours!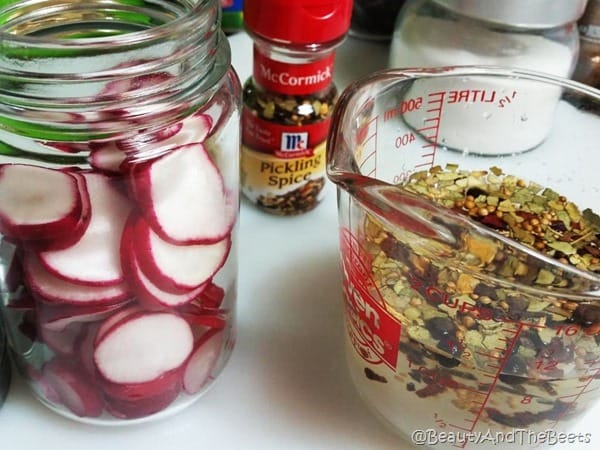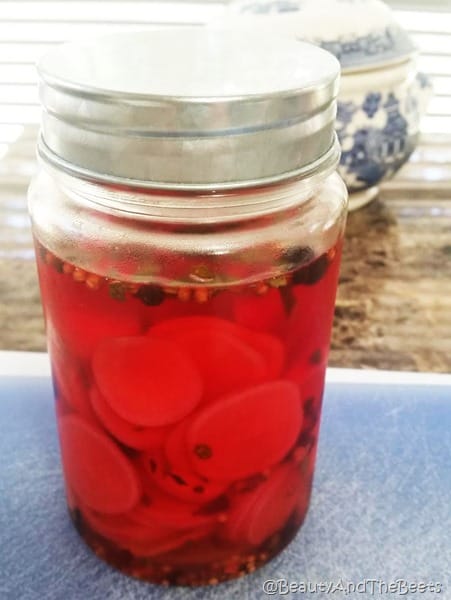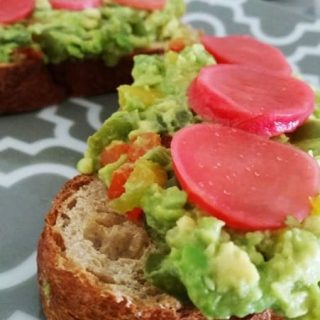 Avocado Toast with Pickled Radish
Ingredients
For the pickled radish:
6-8 radishes,, scrubbed and sliced thin
1/2 cup filtered water
1/2 cup white wine vinegar
5 tbsp. sugar
For the roasted peppers:
1 green pepper,, diced
1 red pepper,, diced
1 yellow pepper,, diced
2 tbsp olive oil
For the avocado toast:
2 ripe avocados,, pitted and scooped
4 slices whole grain bread
sea salt,, to finish
Instructions
For the pickled radishes:
Add the radish slices to a clean glass jar.
Add the water, vinegar, sugar and pickling spices to a saucepan and bring to a boil.
Remove from the heat and carefully pour over the radish in the jar.
Allow the radishes to cool for 30 minutes.
Refrigerate any unused portion and use with two days.
For the roasted peppers:
Preheat oven to 450° Line a baking sheet with parchment paper.
Add the peppers to the baking sheet in a single layer.
Sprinkle the peppers with oilve oil (or use vegetable broth if you avoid oil) and roast in the hot oven for 20 minutes. Peppers will begin to brown.
For the avocado toast:
Add the scooped avocado flesh to a medium sized bowl and gently mix in the peppers.
Toast the bread, then spread on a thick layer of the avocado and peppers.
Top the avocado mixture with a row of pickled radish and lightly sprinkle with sea salt.
Serve immediately. *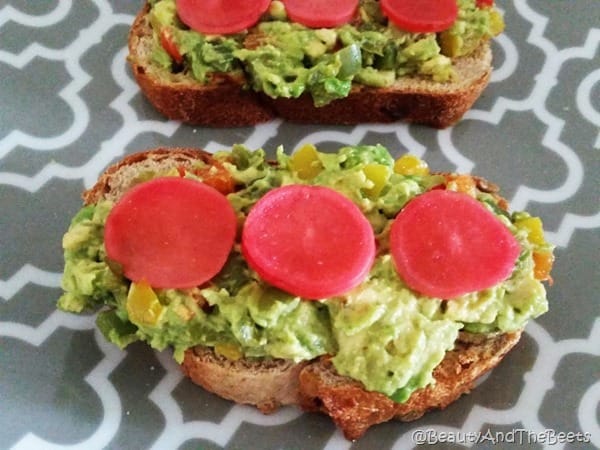 Pin this recipe for later: