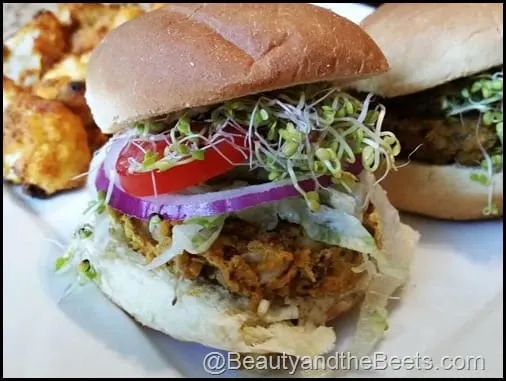 It's Meatless Monday time! I've been trying to stick to mostly Vegan fare but sometimes you see a great recipe and decide this is what you crave this week. I found a basic recipe for these black eyed pea sweet potato sliders, tweeked them slightly and immediately wrote up my shopping list. First of all, I have been trying (unsuccessfully) to avoid cheese this month and these sliders are dairy free. Secondly, these are sliders! How cute and trendy are sliders right now?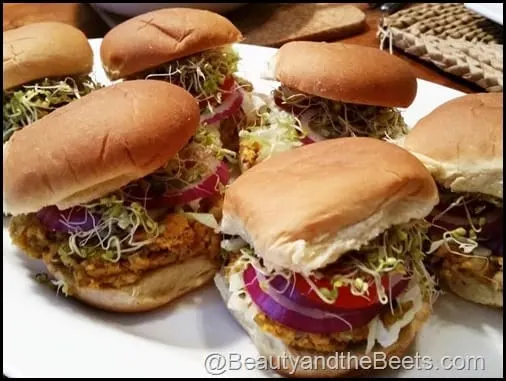 I had no problem finding anything on my shopping list except those slider buns. Pepperidge Farm makes a mass produced version of slider buns that we found in our local Publix. However, they contain dairy- milk to be specific. I decided to keep looking but after we looked at two other smaller specialty grocers as well as a Fresh Market, I found myself back at that original Publix buying those Pepperidge Farm buns. Therefore, I can't claim this recipe as Vegan. Then again, as Vegetarian-friendly as people in Orlando claims it to be, I often find it difficult to find certain Vegan ingredients even in Whole Foods. A reader told me that Trader Joe's does make Vegan slider buns so should Orlando ever became hip enough, maybe we will get a Trader Joe's of our own and I can shop there. **(10/16/2015 update: Since I wrote this post we have a Trader Joe's in Orlando now and they do indeed sell Vegan Slider Buns)**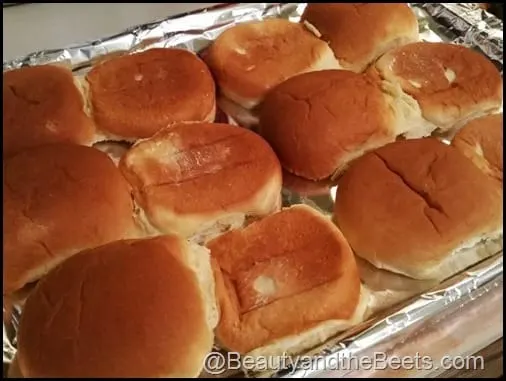 Anyway, enough of my rant. The burgers were super easy to make. The time consuming part was baking the potatoes and letting them cool. Other than that, they were rather quick.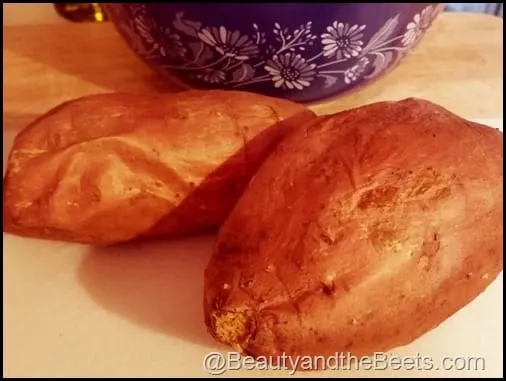 I love the idea of using black-eyed peas instead of black beans or chickpeas. Black-eyed peas are rather unusual and unexpected in a veggie burger recipe.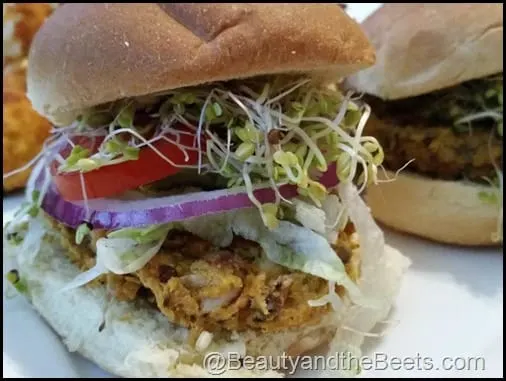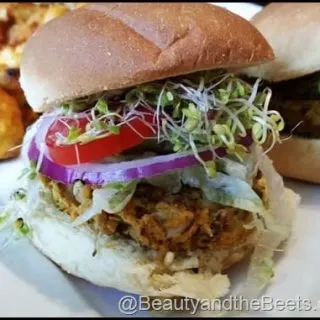 Black Eyed Pea Sweet Potato Sliders
Total Time:
1 hour
3 minutes
I searched high and low for Vegan slider buns. I am told Trader Joe's has a Vegan version but we settled for a non-vegan brand. Everything in the burger itself is Vegan however.
Ingredients
1 16 oz bag frozen black eyed peas
2 medium to large size sweet potatoes
2 tbsp tahini paste
1 tbsp virgin olive oil
pinch of salt
pinch of pepper
1 tsp paprika
1 tsp cumin
1 12-count pkg of slider buns
spicy dijon mustard
1 medium red onion,, thinly sliced
1-2 medium tomatoes,, thinly sliced
1/2 cup sprouts,, alfalfa, kale, sunflower, etc.
Instructions
Preheat oven to 450°. Wash and scrub sweet potatoes, dry with a paper towel and place on a foil lined baking sheet. Poke a few holes into the potato with a fork, then bake in the oven for 30 minutes.
While the potatoes are baking, cook the black eyed peas according to package directions, usually in a microwave to steam them.
Once the potatoes have cooled, reduce the heat in the oven to 350°. Cut the potatoes in half and scoop out the flesh into a medium sized bowl. Add the black eyed peas and the remaining ingredients.
Using a potato masher, mash the ingredients until well mixed but leave slightly chunky. Scoop some mixture the size of a golf ball and place on a foil lined baking sheet. Mash slightly downward to form more of a burger, but do not smush them flat. Repeat with the remaining mixture, allowing some space between the patties to allow for cooking.
Bake in the oven for about 18 minutes, until the patties are formed and sightly browned.
While the oven is still hot, slightly toast the slider buns.
Assemble the burgers with the dijon mustard, red onion, tomato and kale sprouts. Serve 3 sliders per person.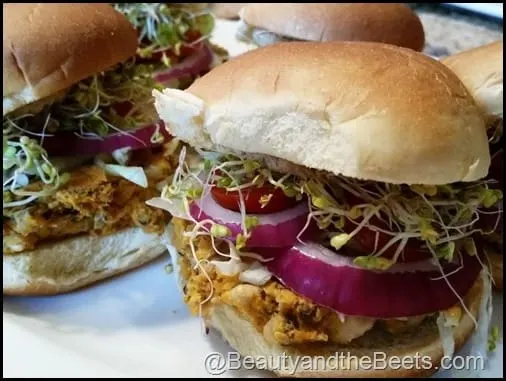 I used nutritional yeast as an ingredient to give the burgers a slight cheese flavor. I did not use any real cheese in the recipe. I also only recommended using dijon mustard as a condiment. It's just more simple and allows the black eyed pea and sweet potato flavor shine through. However, if you can't have a burger without a dose of ketchup then go for it.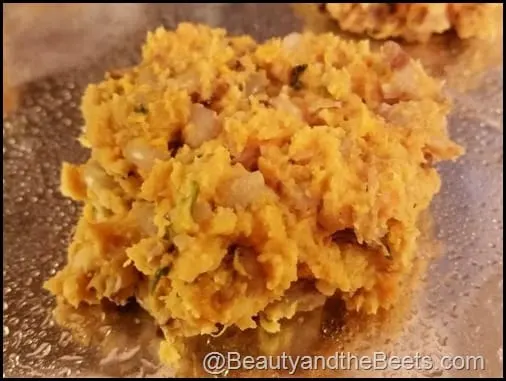 It is important to not flatten these out before baking like you may do to a regular beef patty. Keep them in a semi ball and let them bake themselves out. Smushing them too flat will dry them out and they will be hockey pucks, not moist tasty veggie burgers.