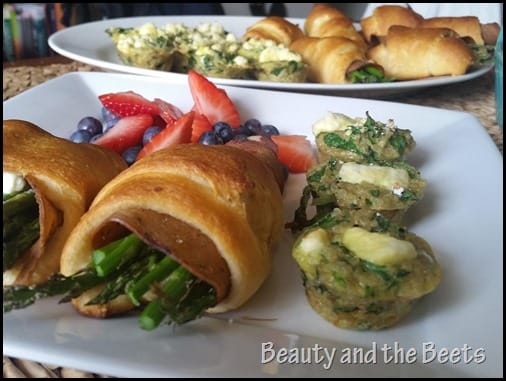 Every once and a while I love to get a few recipes together to make a quick bites meal- like brunch. I had two recipes I wanted to try, neither of which was really an entrée on their own but together they could make a hearty and healthy meal. In addition, I cut up some fresh fruit we needed to use and suddenly I had a great brunch for Chad and I.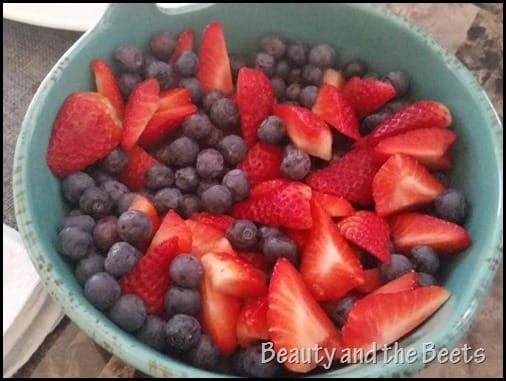 We try to incorporate fresh fruit into our daily diets and it's easier when ingredients like strawberries and blueberries are in full swing. Berries are in full bloom here in Florida.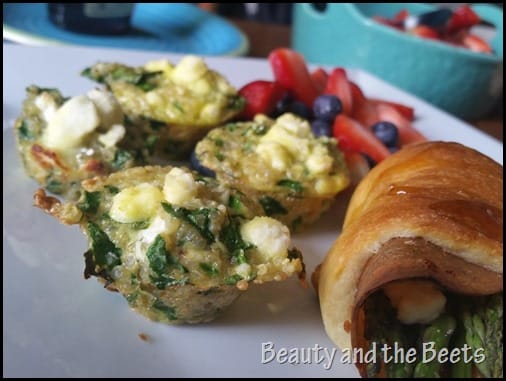 The first dish I made was these adorable Quinoa Egg Bites. I was inspired by a recipe from Haylie Duff, my new favorite TV Chef. I've been making a lot of stuff based off of her recipes lately. These little quinoa egg muffins that are so easy to just pop in your mouth. Spinach adds a little iron to the already healthy quinoa and egg.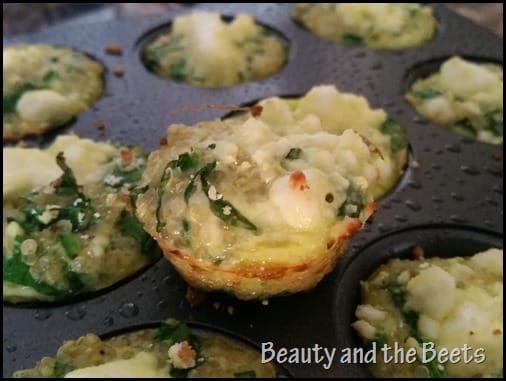 I just mixed up the ingredients and filled a mini muffin pan with the egg batter. In less than 10 minutes I had these adorable little quinoa egg bites.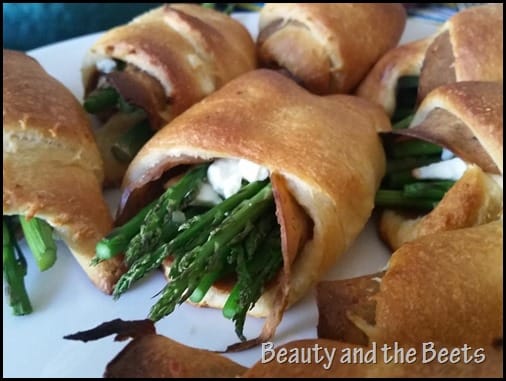 The second dish I made was Asparagus "Deli" Crescents with store bought crescent rolls. The original recipe called for prosciutto and I substituted the meat with a spicy deli "meat" from the TofuTurkey brand.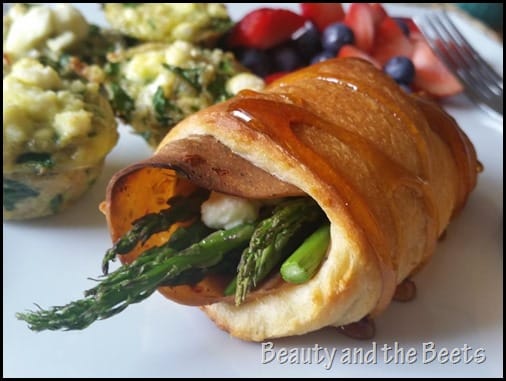 I drizzled a little honey over top the finished product to add a little sweetness to the roll.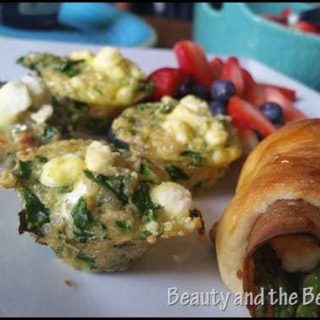 Quinoa Egg Spinach BitesAsparagus "Deli" Crescents
adapted from a recipe from Haylie Duff
Ingredients
3 eggs
1 cup cooked quinoa,, cooled so as to not cook the eggs
1 cup roughly- chopped fresh spinach
2 tbsp goat cheese plus additional for toppings,, (can substitute feta)
pinch cayenne pepper
pinch sea salt
black pepper
2 8 ct. tubes refrigerated crescent rolls
2 tbsp. dijon-style mustard
12 slices Tofurky Italian deli slices
1 cup crumbled feta cheese
1 lb. fresh asparagus spears,, trimmed
honey for drizzling, optional
Instructions
Preheat oven to 350°. Spray a mini muffin pan generously with coconut oil spray or other non-stick cooking spray.
Beat the eggs in a large bowl.
Add the quinoa, spinach, goat cheese, cayenne pepper and salt and stir to combine.
Fill the mini muffin cups 3/4 of the way full with the egg mixture. Add a few crumbles of the cheese on top of each muffin then sprinkle with black pepper.
Bake 7-9 minutes until the muffins are set and turning golden brown.
Preheat oven to 375°. Open cresecnt rolls package and roll out the dough- seperating the dough at the perforated edges.
On each triangle, place a small dollop of mustard, a slice of the Italian deli, a few crumbles of feta cheese and a couple spears of asparagus. Roll each crescent up and place on a greased cookie sheet.
Bake about 10-12 minutes until golden brown.
Drizzle with a little honey before serving.