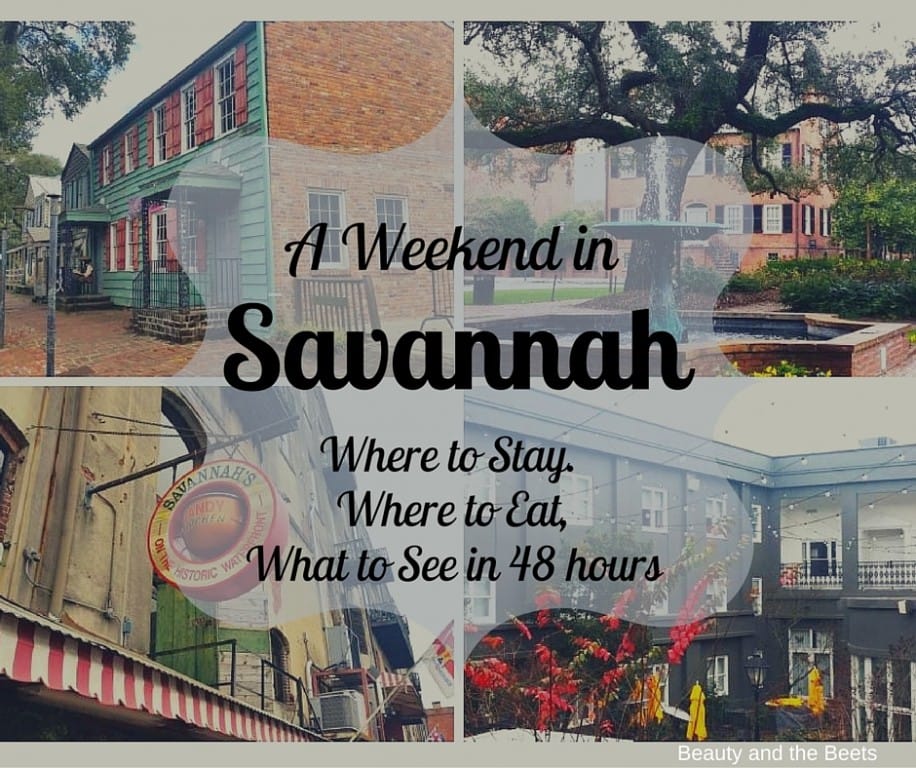 I have decided I am moving. I am packing up the cats, whatever clothes will fit into my suitcase and moving. I am moving into one of those old mansions in the historic district of Savannah. You know the ones I am talking about. Those houses with the grand staircase entrances and the wrought iron adornments. By the time you read this, I will be sipping lemonade on my front porch, watching the tourists walk by and admire my home.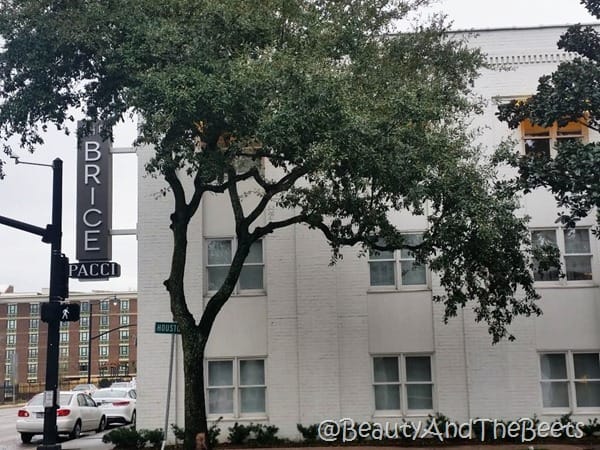 And then I woke up from my dream. Sort of. I did get to spend a weekend in Savannah exploring the city before my big race. I am an ambassador for the 2016 Publix Savannah Women's Half Marathon in April. On my birthday to be exact – April 2. The wonderful folks at Visit Savannah set me up for a weekend at an awesome hotel, right in the middle of the historic district and let me loose in their town to explore, eat and shop.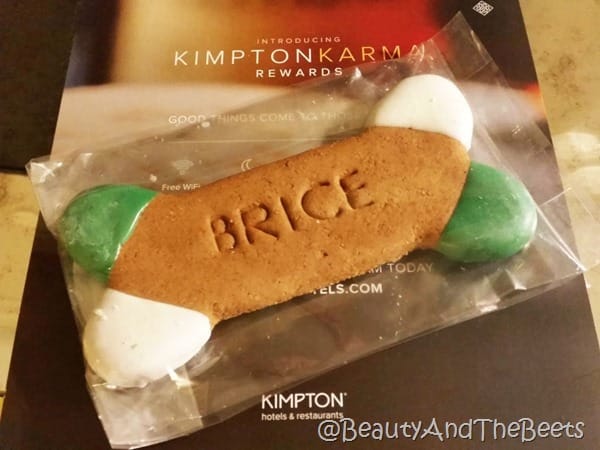 First of all, let's talk about the hotel. Chad, Sully and I had a suite at The Brice. Yes, Sully…the cat came along. He is on medication so we like to take him with us on short haul trips when we can. And The Brice is super pet friendly. When we arrived into our room, the hotel staff had set him up with a bed, food and water bowls and even given him a special treat to welcome him. Yes, he is a cat so while he didn't quite appreciate the dog bone, it was a nice touch. However, The Brice is not a pet-only hotel. There are plenty of fabulous pet-free rooms too.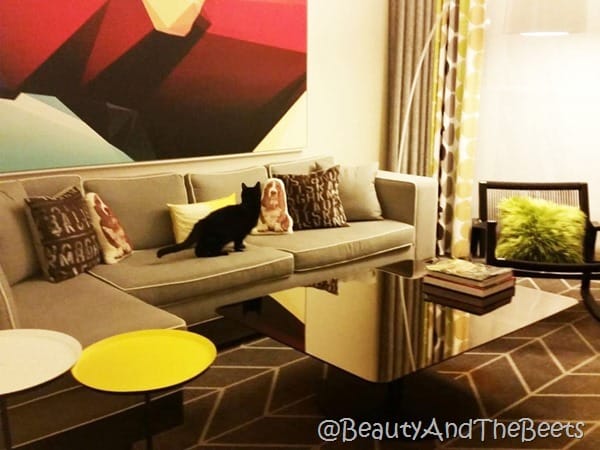 We had a separate living room with a super comfortable couch and fuzzy pillows…..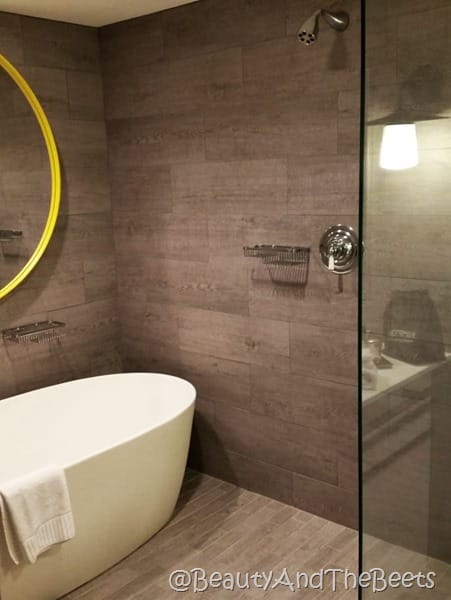 A bathroom with a huge shower and tub…..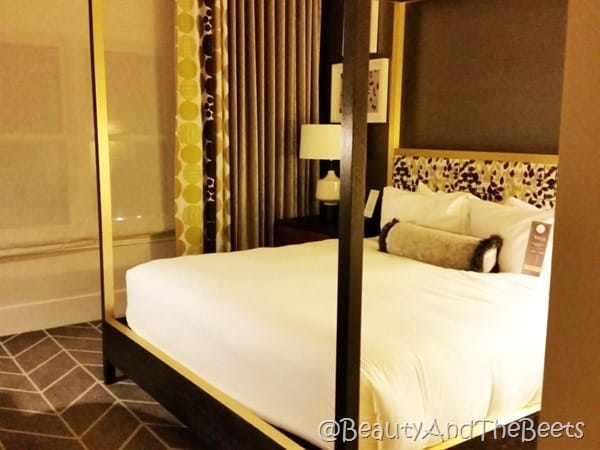 ….and a bedroom with a huge cozy king sized bed.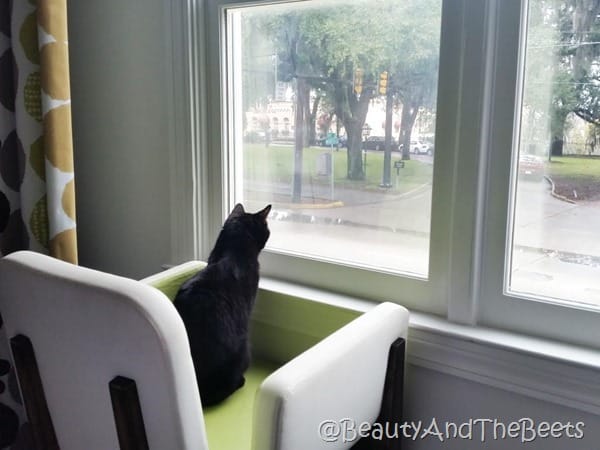 Sully spent the weekend watching the people walk down Bay Street and the boats go up and down the river. He was a happy kitten all weekend.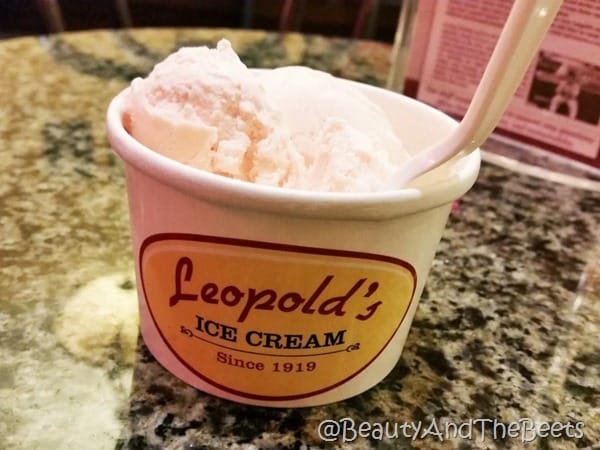 We got into town late on Friday night and even though it was 40° outside, we walked a few blocks to get our Leopold's Ice Cream fix. If you have ever been to Savannah you are probably familiar with Leopold's and their amazing ice cream. I have yet to try their lavender flavor but I love their rose ice cream. Oh Heavens.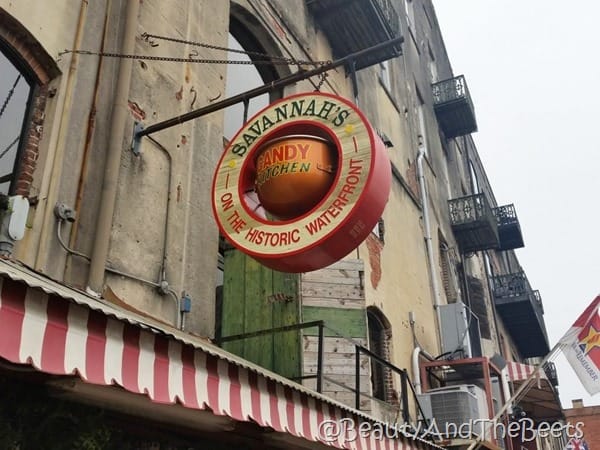 Saturday morning, I met up with a group of out-of-towners to take the Savannah Taste Experience food tour in the historic district. That's a whole separate post you can read here –> (Savannah Taste Experience) to me this is the best way to experience a new city. We ate everything from pecan fried chicken at The Pirate House to praline candies at the Savannah Candy Kitchen.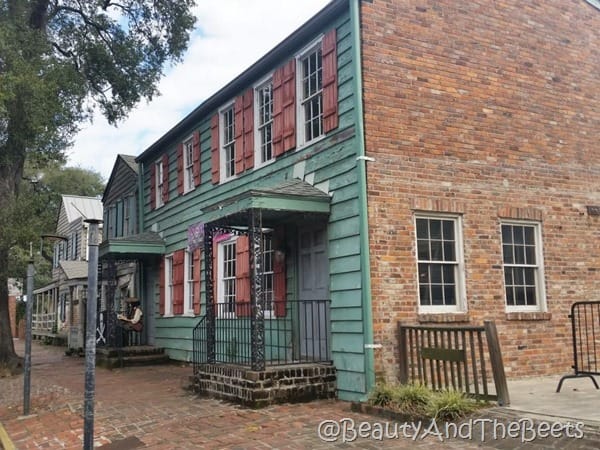 Chad opted to skip the tour and take a long run along the river. After my tour, we decided to get out and explore the city even more with another tour.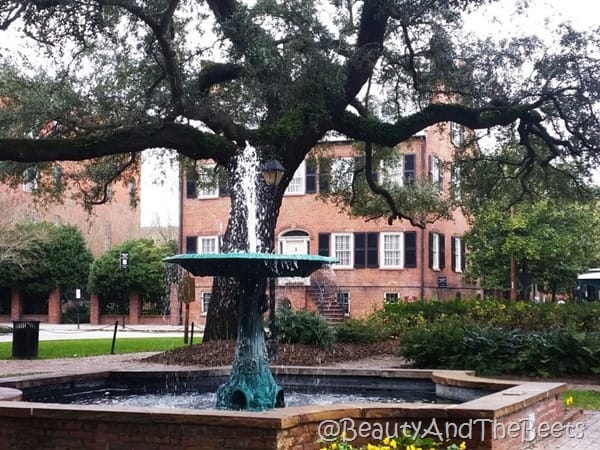 We walked down to the Davenport House, a historically preserved house from the early days of Old Savannah. Built in the early 1800's, the house was originally the target of a wrecking ball in 1955 before a group of citizens joined their money together and bought the house, preserving its history and beauty. The Davenport House was the first among many houses to be saved as part of the Historic Savannah Foundation. Sorry, no pictures were allowed inside. You will just have to take the tour for yourself.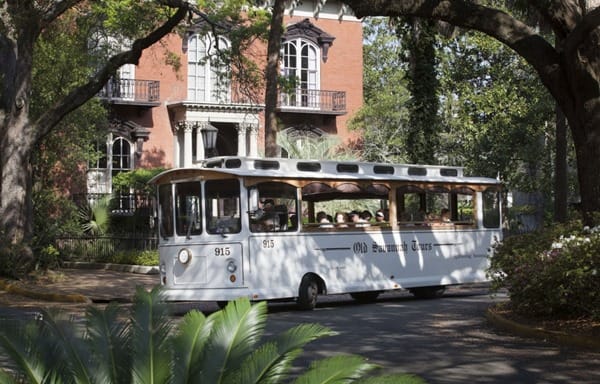 Next we hopped aboard the Old Savannah Tours white trolley and enjoyed a 90-minute ride through the city, visiting landmarks and learning more about the history of the city. Our favorite parts of the tour were the times when various characters would hop on the trolley and tell their story. We had a house caretaker of a haunted house, a pirate and our favorite- Forrest Gump board the trolley.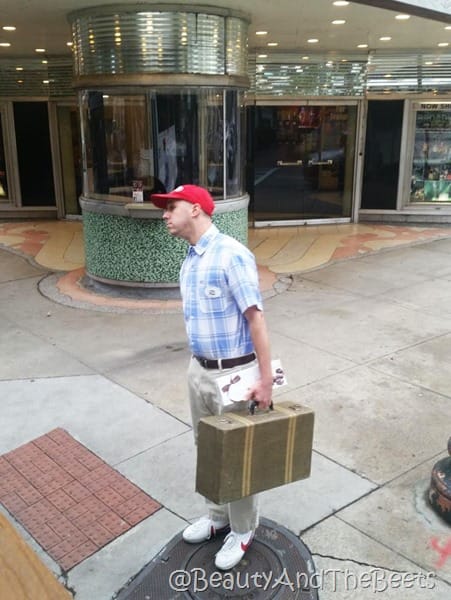 Forrest Gump brought his chocolates on board but wouldn't share them.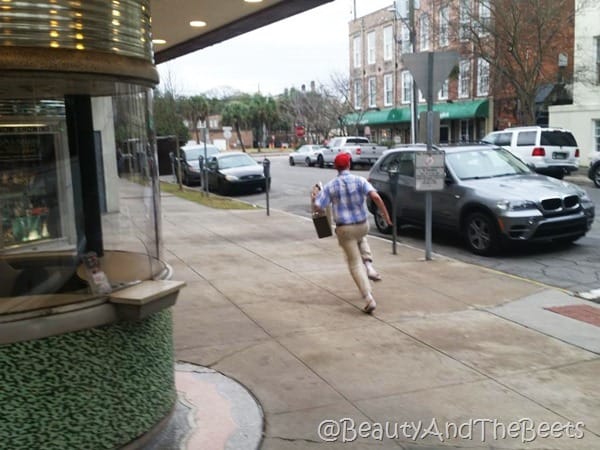 And he didn't stay long, he had to run Forrest, run.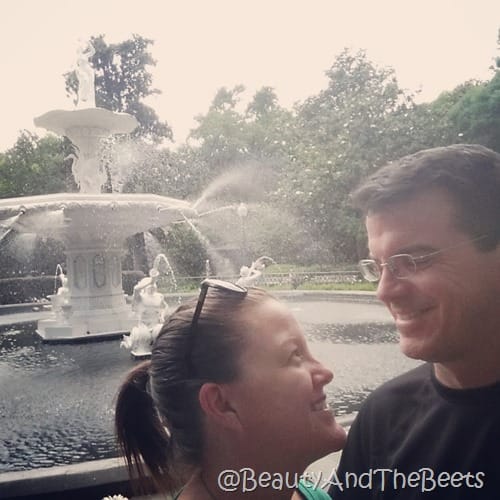 We stopped by Forsyth Park to see the fountain which will be the finish line of my little 13.1 mile run in April.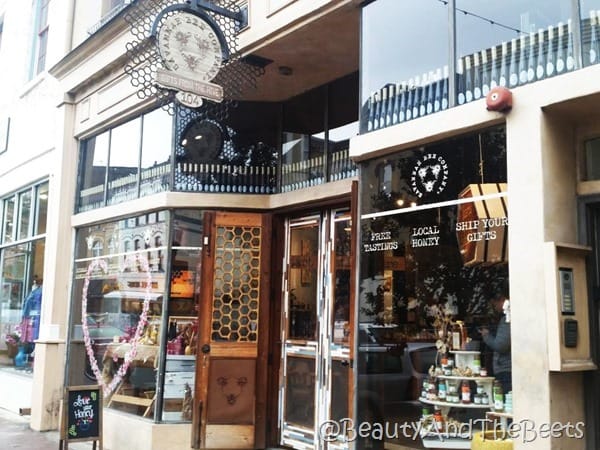 We hit the Savannah Bee Company flagship store on Broughton Street.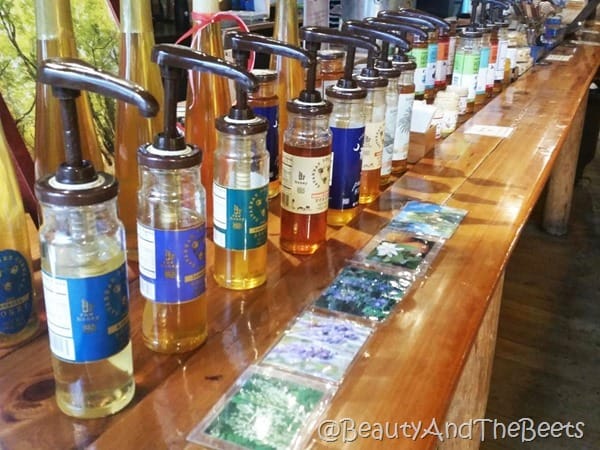 There we tasted honey from their honey bar…..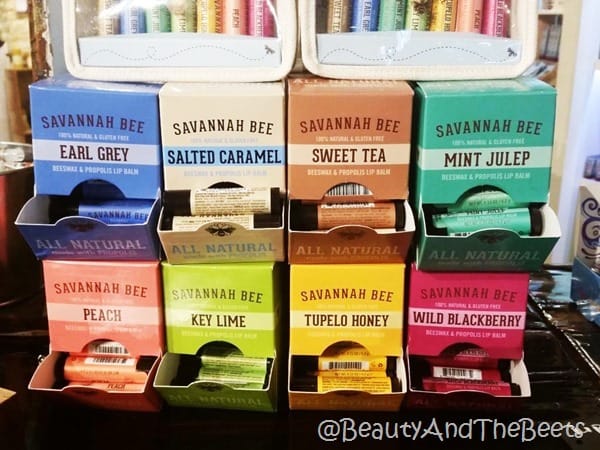 ….and I stocked up on my favorite lip balm.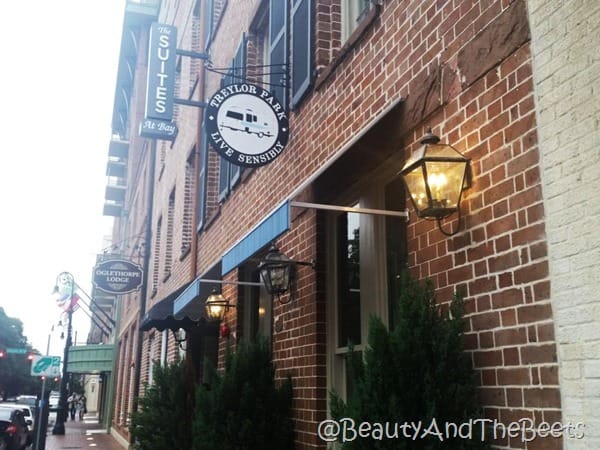 Dinner time was quickly approaching and we decided on a quaint spot on Bay Street called Treylor Park.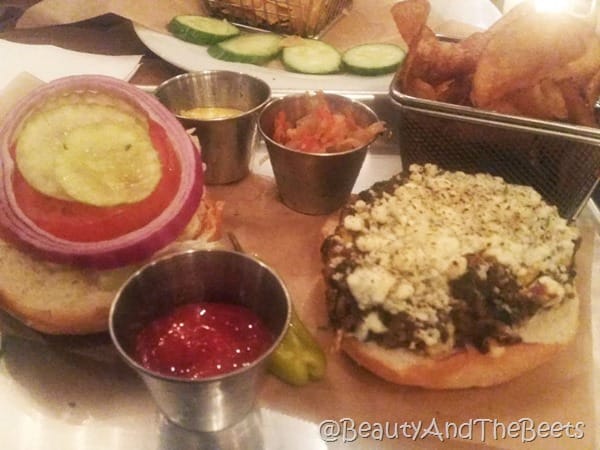 We had hummus, fish stick tacos (not your frozen fish sticks) and veggie burgers. There was nothing we wouldn't order again and we look forward to eating there again. (I've got the shrimp n' grits taco on my radar for next time).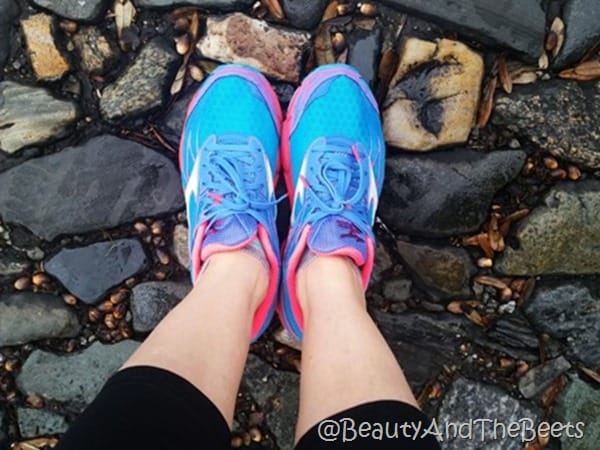 Sunday morning we took a run down by the river…….followed by brunch at one of my favorite spots in Savannah – Huey's by the River.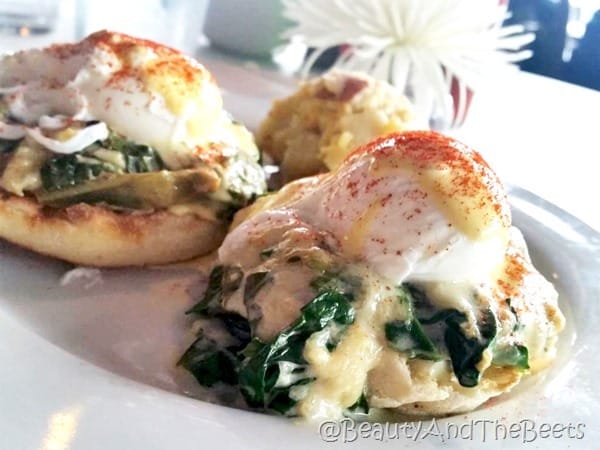 Eggs Sardou…creamed spinach and artichoke eggs benedict.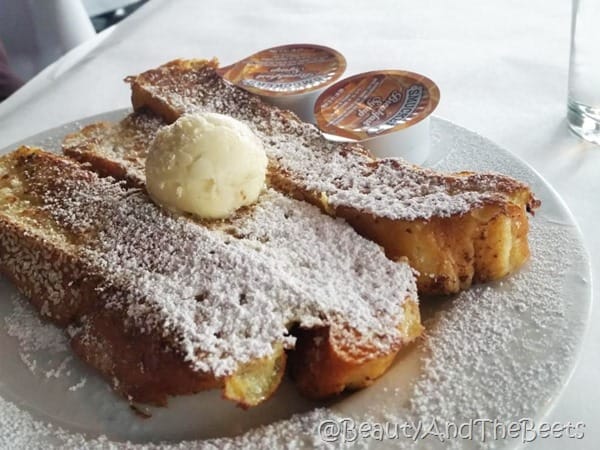 Pain Perdu.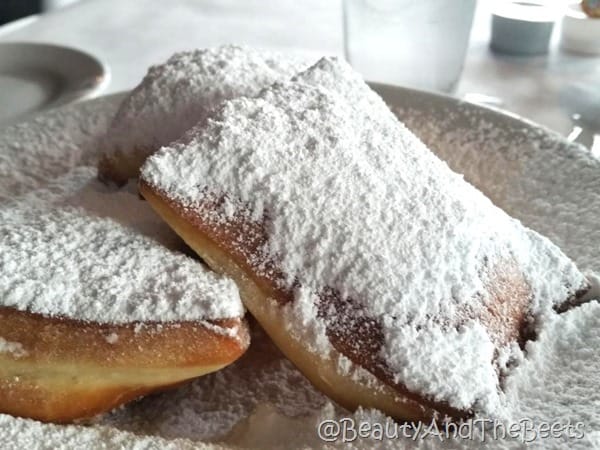 And for our final taste of Savannah – fresh warm beignets….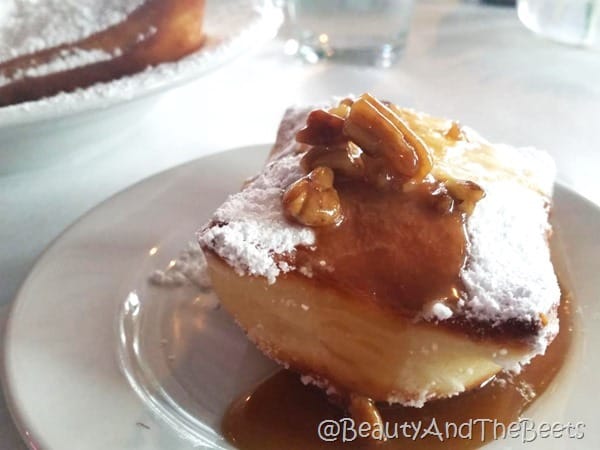 …with Praline Sauce. Oh my stars.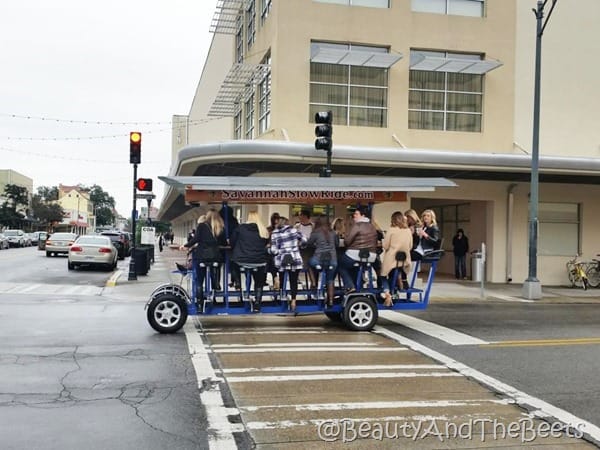 Next time we are in town, I think we are due for a group bike ride, anyone care to join us? We are sad to be leaving but I am looking forward to spending my birthday here and earning some bling along the way.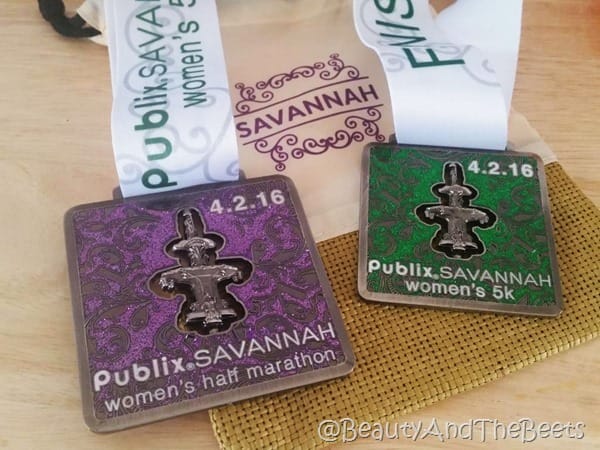 The Publix Savannah Women's Half Marathon is on April 2 will include not only a half marathon, but also a 5K. Use the code BEETS10 to receive $10 off your registration and come run/walk with me!! And if running just isn't your thing, come join us for a special session of New Balance Yoga on the Square Sunday morning from 9-10am on Ellis Square. I will be there too, stretching my sore and achy muscles. Then eating beignets. Who's with me?
Register here for the 2016 Publix Savannah Women's Half Marathon and don't forget to use the code BEETS10 for your discount!
[bctt tweet="A Weekend in Savannah: Where to Stay, Where to Eat and What to See in 48 hours. "]
And for more on Savannah check out my other posts: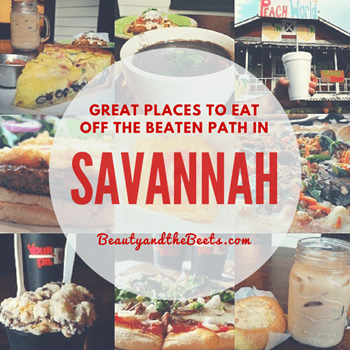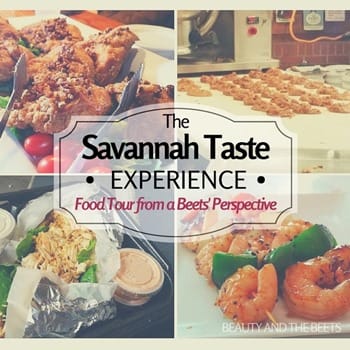 And for more information on The Brice in Savannah- visit their website here: The Brice, a Kimpton Hotel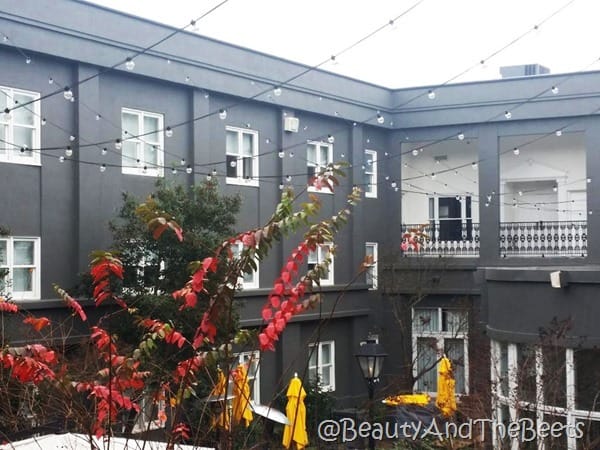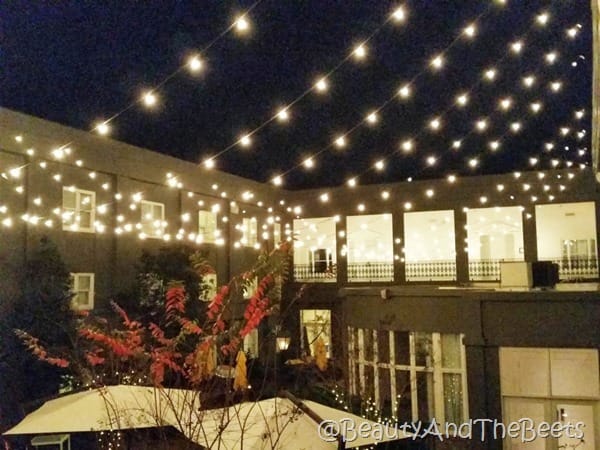 See you in Savannah!!