It's part Mexican, it's part French. Wake up your fiesta with these Breakfast Tacos with warm maple syrup and French toast tortillas.
Throughout the state of Texas you can't trip over your own feet without falling into a taco joint. Tortillas are serious business. San Antonio is where I learned to make Grilled tortillas with Blueberry Butter. My first experience with breakfast tacos and warm maple syrup was at a little spot in Austin and was quite intrigued. The tortillas were prepared like French toast, and eggs, onions, and chorizo were drizzled with warm maple syrup. Now I find plain eggs on plain tortillas boring.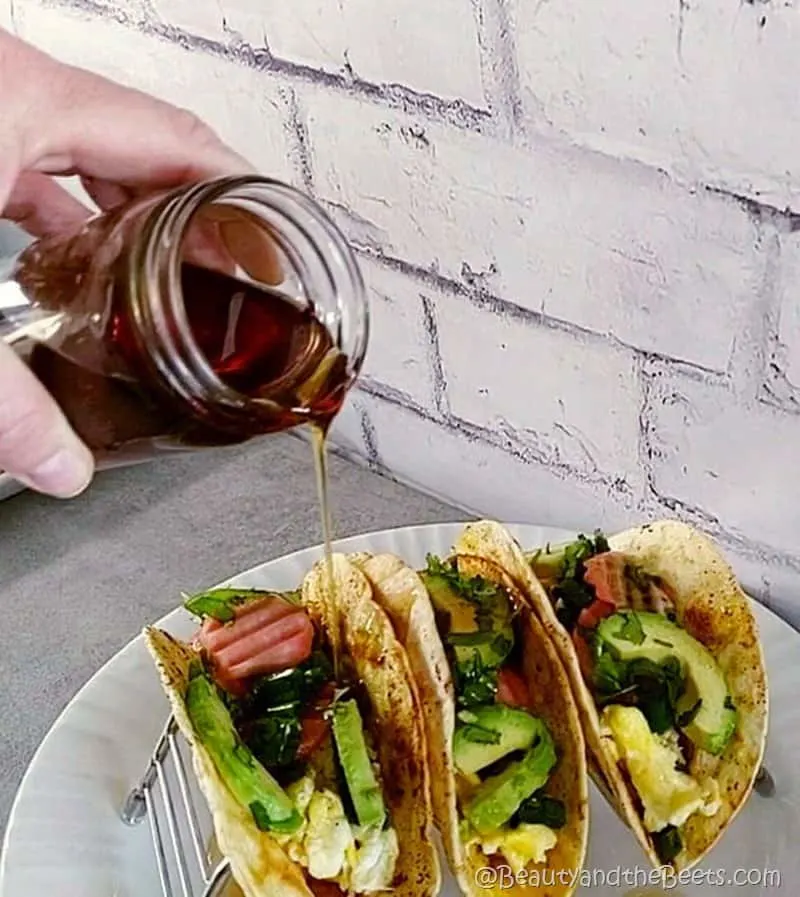 The key to making impeccable breakfast tacos is the tortillas. Soft flour torts dipped in a cinnamon and nutmeg egg wash, then griddled on the stovetop. Sometimes I will stop right there, add fresh fruit, sweet butter, and serve them like I would any other stack of pancakes or French toast. But then that wouldn't make a good breakfast taco recipe so let's keep going.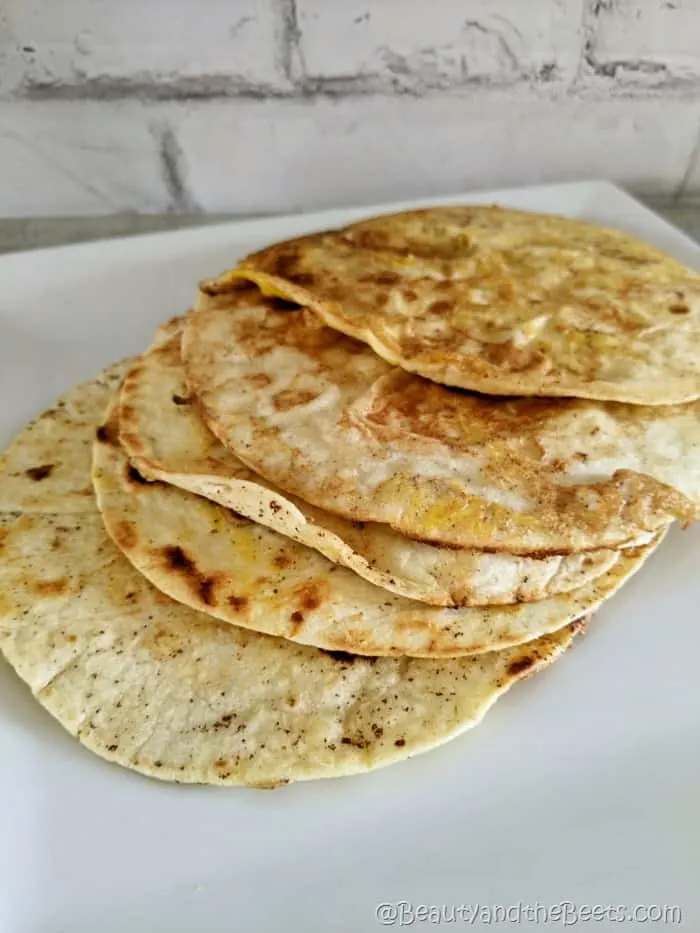 Something else to keep in mind is that once the tortillas are cooked on the gridle, they can easily become unpleasantly chewy, so I prepare my tortillas last. This is very important. You will be greatly judged for serving a chewy tortilla. For this reason, these breakfast tacos are not exactly a great compliment to a fancy brunch spread. But that's ok. These tacos on their own will speak for themselves.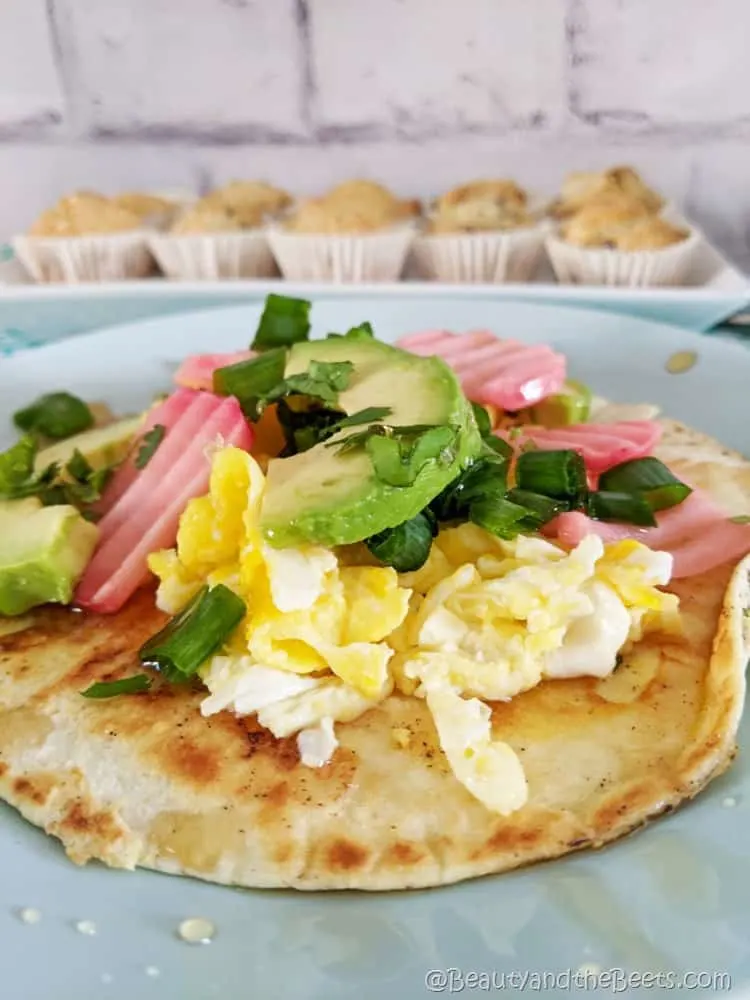 I personally like to add pickled radish to my scrambled eggs. I could pickle an old work boot if I thought it would taste good. Pickled radish is easy to make – 5 minutes hands on, 30 minutes to chill. I like to make these the night before so they are ready to go when I am throwing together my breakfast tacos. (And pickled radish is also really good to throw into a salad)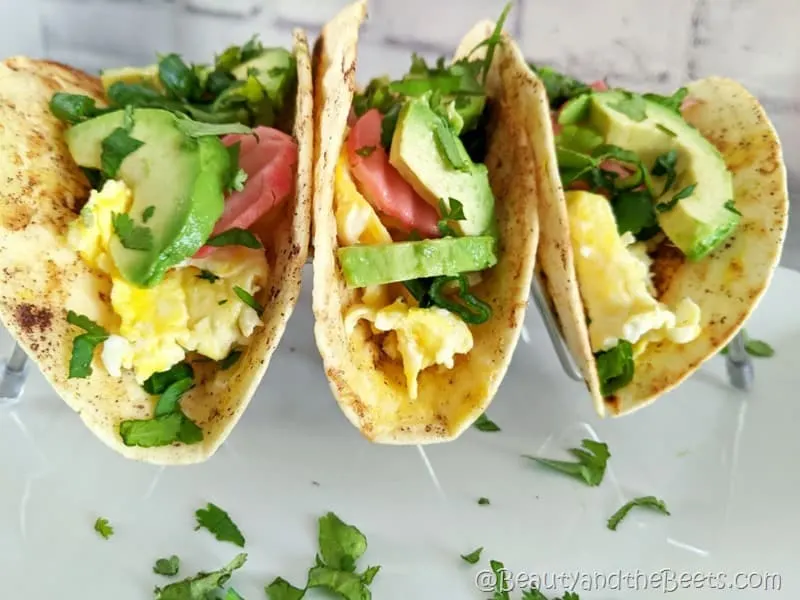 And as with any taco or scrambled egg dish, the variations can be endless. Though my recipe is Vegetarian, it's easy to crumbled chorizo or crispy bacon. Substitute the scallions for steamed asparagus, switch out the scallions for pea shoots.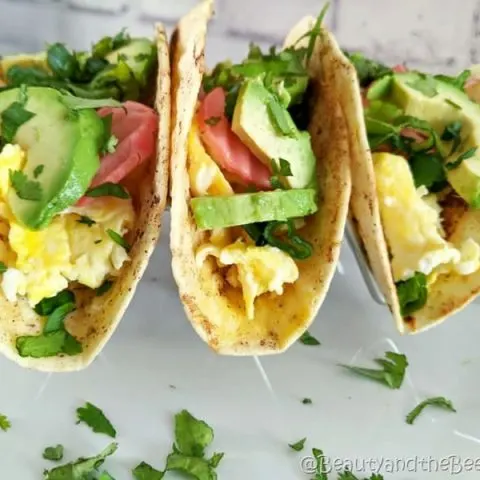 Breakfast Tacos with Warm Maple Syrup
It's part Mexican, it's part French. Wake up your fiesta with these Breakfast Tacos with warm maple syrup and French toast tortillas.
Ingredients
For the scrambled eggs
5 eggs
salt and pepper to taste
French Toast Tortillas
Garnish
2 avocados, sliced
4 scallions, sliced, green parts only
2 tablespoons cilantro, chopped
Instructions
Prepare the scrambled eggs in another bowl: beat 5 eggs with salt and pepper. Add milk or heavy cream and mix.
Heat a non-stick skillet over medium high heat.
Pour the scrambled eggs mixture onto the heated skillet.
Stir eggs occasionally until they just begin to set.
Continue to cook the eggs until they have thickened and no liquid remains, about 4 minutes.
Remove scrambled eggs from heat. Keep warm by covering pan with aluminum foil.
Heat a second non-stick skillet over medium high heat.
While the pan heats, prepare the egg wash for the French toast tortillas: In a medium bowl, beat two eggs with cinnamon and nutmeg.
Dip each tortilla into the egg wash, covering both sides, then place into the heated skillet. (You will probably have to work in batches)
Let the tortillas cooking about 5 minutes, flipping over halfway until they are golden brown.
To assemble the breakfast tacos: Divide the scrambled eggs onto each tortilla.
Top with pickled radish, avocado slices, sliced scallions, and chopped cilantro.
In a microwave proof glass or measuring cup, heat the maple syrup for 20-30 seconds until warm.
Drizzle each breakfast taco with the warm maple syrup and serve immediately.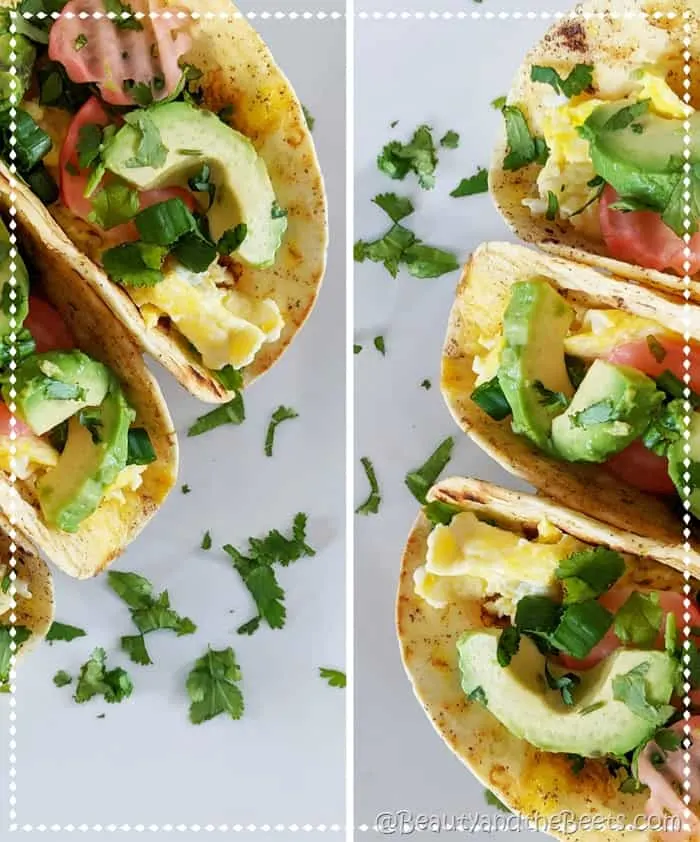 Check out this recipe for Blueberry Butter and Grilled Tortillas: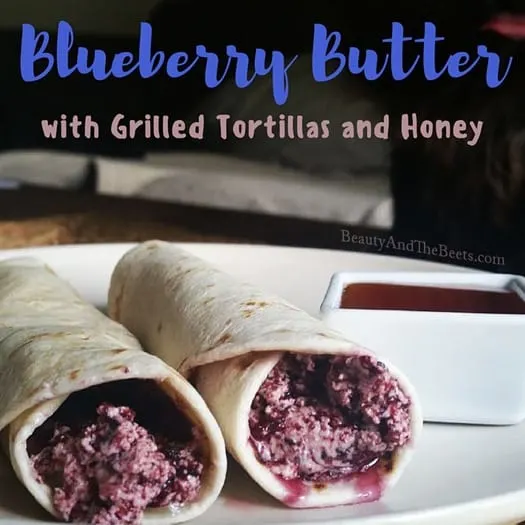 **This post contains affiliate links. I only link to products that I use myself and believe in. Your support is greatly appreciated.**