Last week I shared a recipe for Beet Avocado Toast that was inspired from a breakfast I enjoyed in Utah. And this week, I am again sharing an inspired recipe from that same trip – Egg Salad Toast.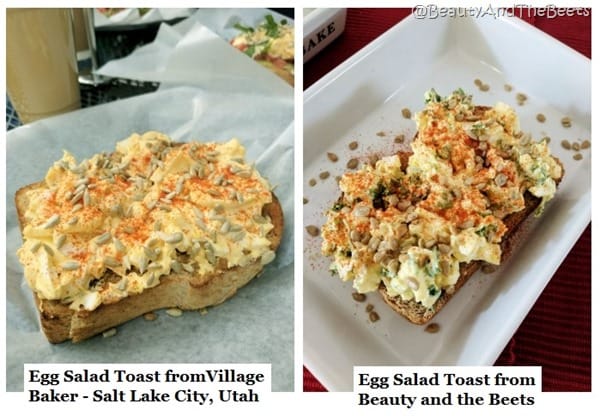 I was in Salt Lake City, Utah for a food blogging conference so I was making it a point to get out and experience as much of the local culture as I could. On the last morning of the conference, I ventured next door to the venue – a place called Village Baker. There was plenty on the menu from bagels and pastries to avocado toast and coffee. I opted for the Egg Salad Toast, something that most people tend to order for lunch, not breakfast. But why can't one eat a delicious and tangy egg salad sandwich for breakfast? It's eggs and toast, right?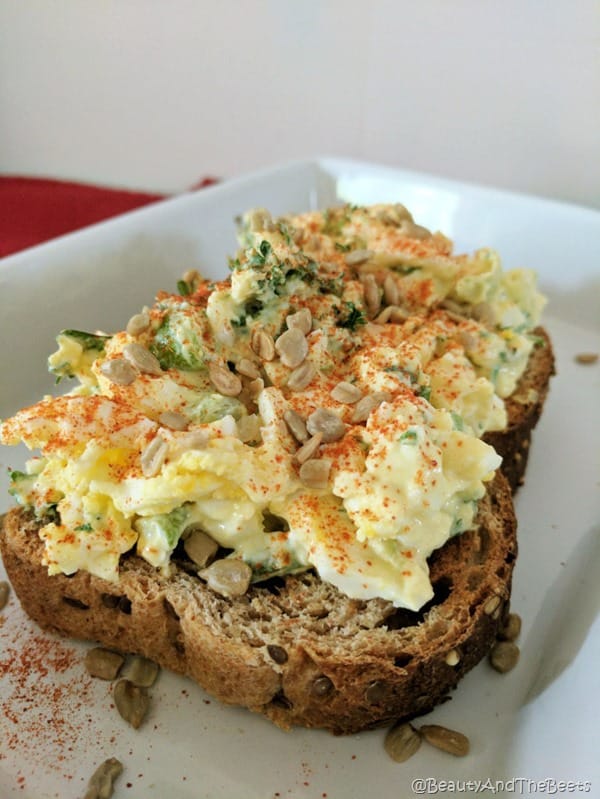 When I made it back to Florida, I decided to recreate this dish as well as the Beet Avocado Toast. Only for the egg salad, I wanted to stretch the recipe beyond the traditional mayo and celery variety. First of all, the toast I had on Utah was incredibly creamy and rich, and without crunchiness. So if you need crunchy in your egg salad, by all means, add the celery. The only crunch my meal had in Salt Lake was a sprinkling of sunflower seeds over the egg salad. So that is what I made at home.
I ditched the heavy tasting mayonnaise and used plain Greek yogurt instead. I often substitute plain unflavored yogurt for sour cream as it is tangy and tart, which is also perfect for egg salad. Using yogurt also eliminates the need for adding a smorgasbord of additional flavors and spices – I added some green onion for a little earthiness and minced fresh parsley for color, then sprinkled the toast with cayenne pepper for some spice, and the sunflower seeds for just a hint of crunch.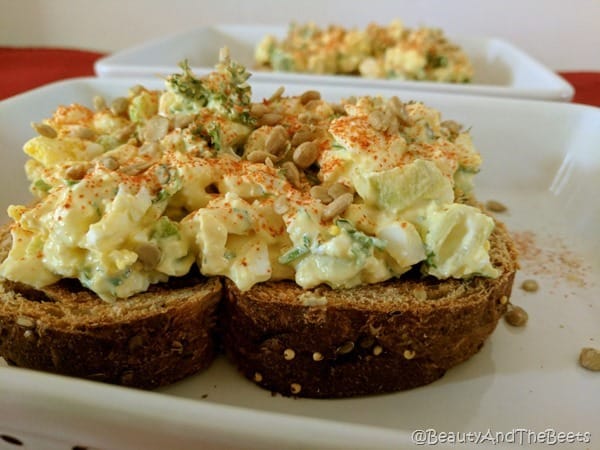 I also think the thicker the bread, the better the result here. I found a nine grain loaf, the same that I used for the Beet Avocado Toast from last week. Thick and hearty bread holds up to all you pile onto it.
So now it is your turn to share, what do you add to Egg Salad to make it extra flavorful?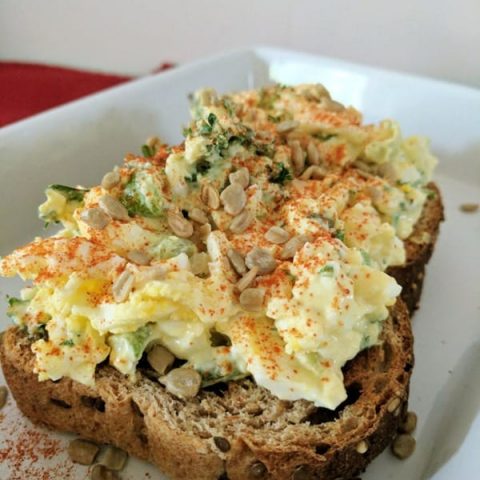 The Tastiest Egg Salad Toast
Yield:
2 slices egg salad toast
Not only is this egg salad tangy and tasty, it's healthy too!
Ingredients
4 hard boiled eggs,, peeled and roughly chopped
1/4 cup plain Greek yogurt
1 teaspoon dijon mustard
1 green onion,, finely chopped
1 tbsp. finely minced fresh parsley
2 slices extra thick 9- grain bread
cayenne pepper,, for garnish
sunflower seeds,, for garnish
Instructions
Preheat oven to 350° Place bread on a baking sheet.
Bake the bread about 8 minutes, until toasted.
While the bread is toasting, combine the chopped eggs, yogurt, mustard, green onion and parsley together until well mixed.
Divide the egg mixture onto 2 pieces of toast (how ever much you desire).
Sprinkle cayenne pepper and sunflower seeds over the egg salad.
Serve immediately.
Store any extra egg salad in an airtight container in the refrigerator for up to 2 days.
Pin this recipe for later: